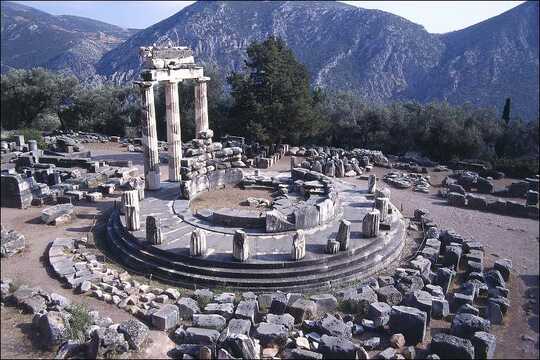 If you thought you'd experienced all a Greek Island holiday has to offer, a visit to the idyllic resort of Tholos will certainly change your mind! Also named Theologos, the town is a colourful modern place that is widely acknowledged to have retained its traditional aura in spite of its growth in popularity as a tourist resort. Located in the municipality of Petaloudes, Tholos offers you an adventure packed holiday, with a beach popular for watersports, a bustling market, ancient ruins, and excursions to nearby towns to really explore Rhodes island in depth.
Located 20 kilometres from Rhodes Town on the northwest coast, Tholos is blessed with beautiful scenery and an ambient, welcoming mood; don't be surprised if many locals greet you, so friendly are they. Whether holidaying with the kids or just looking to get away from it all with friends, Tholos is a clean, safe and inviting destination for your Rhodes holiday.
View destination on a map
Tholos Weather
Sun-lovers are recommended to visit Tholos in July or August when the Mediterranean summer reaches its peak. Though Tholos is sunny all year round, you can expect a temperature of around 30° Celsius then, with a fantastic 12 hours of bright sunshine: the crystal clear waters of the sea will definitely appeal to you then! The temperature will drop only a little during the evening, when it's still likely to be very warm at around 24 or 25° Celsius. During these times it is likely visitors experience any rainfall at all.
If hot temperatures aren't your thing, visiting in April or May would be ideal for you when temperatures are a more comfortable 23° Celsius, with a slightly higher chance of rainfall. There will still be around 8 hours of bright sunshine, though Tholos' breezy weather will be more evident - ideal if you're feeling a bit hot under the collar!
Landscape
The scenery around Tholos is particularly rustic, with Olive groves and scrubby hillsides covered in wildflowers and shrubbery. With a beautiful beach and stunning mountain backdrop, the development of the town has been considered very well. The selection of luxury hotels the town possesses is awesome; they are grand, but they don't upset the traditional character of Tholos.
Natural beauty exists seamlessly alongside these wonderful buildings, with lots of trees and colourful flowers located all over. The pine forests located on various hillsides are also particularly wonderful. The centre of Tholos town is also fantastic. Wandering through town, admiring every aspect of the winding, narrow streets, could take up all day! The homes of the villagers are ornate and small, with colourful shuttered windows. With such a mixed landscape, any visitor to Tholos is sure to find a view that will transfix them.
Things To Do on Tholos Holidays
Tholos offers a range of activities for visitors looking to really enjoy an action-packed holiday. There are lots of opportunities for watersports on offer, so get down to the beach and get windsurfing! After this, be sure to visit Agios Spiridonas church, a traditional Rhodian building with a wonderful white tower. Nature-loving kids and adults alike will love a visit to the Valley of the Butterflies, which is only 5 kilometres outside of town. A wonderful green valley with picturesque bridges and stepping-stone paths, it's home to not only butterflies, but frogs and turtles too!
Rhodes Town will also satisfy history-fanatics with its array of medieval sites. The Municipality of Petaloudes also features the archaeological site of the temple of Apollo, which is about 8 kilometres outside of Tholos. With so much to see and do, a stay in Tholos will keep everyone busy!
Culture
For serious history fans, a visit to Tholos will be a great experience. The town is thought to have been established around 2000 years ago, where the Parians settled before the 8th Century AD. Way back then, Tholos was an extremely prominent village with regard to the economy and agriculture on the island of Rhodes, but in spite of a decline in stature it has still retained its atmosphere and liveliness unlike some other mountain villages.
To explore the historical sites of the island even further, be sure to visit Rhodes Town and Lindos, where the ancient ruins will have you in awe all day!
If you're looking for a holiday with plenty of opportunities for cultural observation, Tholos is the ideal place. As a Greek Orthodox town, Tholos takes its religion very seriously but also welcomes anyone who wishes to participate; a service on a Sunday is a fantastic chance to view the villagers practicing their faith.
For something a little cheekier, visit one of the bars in town to enjoy some belly dancing! A hugely popular Greek custom, it has been going on for thousands of years, and some dances are suitable for children too. If you're visiting in December, make sure to watch out for locals' celebrating at their church, with processions of religious icons through the town and several feasts.
In the wider Municipality of Petaloudes, there is also a handicraft fair that runs from the 11th to the 23rd of August, so to purchase some fantastic gifts make sure to ask locals about the best places to visit!
Nightlife
With a good selection of restaurants and taverns, a night out in Tholos is lively but still representative of the quaint atmosphere of the town as a whole. The centre of town is a thriving and busy place with an array of places to eat, drink, and listen to traditional music. You should try the culinary specialities of the town, especially locally made Mousakka and keftedakia. Some places also serve English food if you're a little bit homesick!
Being a quiet town though, Tholos does not possess a great selection of places to party the night away, so anyone looking to be up all night should definitely sample the bars and clubs of Faliraki. For those who enjoy a peaceful night though, most hotels in Rhodes provide plenty of entertainment, food and drink.
Book a Tholos Holiday now!
Tholos is perfect for anyone who really wants to get the most from their holiday no matter what age. With fantastic scenery, a thriving yet quaint town centre, and plenty of opportunities for historical excursions and watersports, Tholos is a multi-faceted town that'll definitely have you wanting to visit again.
Book now with On The Beach and we'll find you bargain flights and hotels in Tholos with our convenient live booking system, the easiest way to create a customised holiday in Rhodes anywhere online!