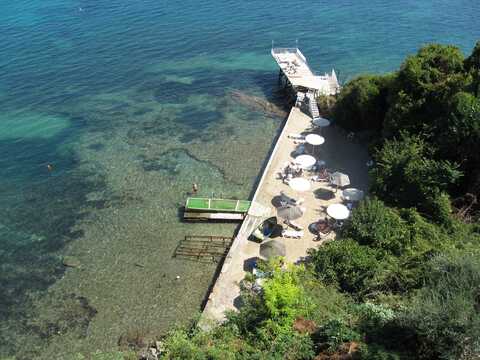 Surrounded by turquoise seas and fresh-scented forestry, you'll have a relaxing time watching the world go by in Perama. A resort for people who want to unwind, Perama is located on the stunning east coast of Corfu with crystal clear seas perfect for exploring the sea life or taking a dip. There are a number of quality hotels scattered around the resort, those near the beach offer spectacular views and are close to many restaurants and bars. The resort is particularly beautiful in the summer when the sun hits the tranquil waters and allows for you to get a gorgeous golden tan!
View destination on a map
Perama Weather
The weather in Perama is predictable for Corfu as months like July and August offer the best weather for sunbathing. It may get too hot at times so remember to use plenty of protection for the optimum bronzed look. For those who are not sun lovers, the best time to visit the resort would be from January to March and in autumnal months of September to November. Remember to bring a jacket as although the temperature may stay around the mid 20's, it can get chilly at night.
Landscape
You'll find the resort of Perama nestled on the eastern coast of Corfu opposite the Kanoni peninsular. The beaches are very secluded with shingle sand and stunning clear water, ideal conditions for those who want to try out some snorkelling. Those wanting some peaceful time away from tourists should head to some of the coves where you can really get away from things and enjoy a day with a beach of your own!
Things To Do on Perama Holidays
The best attractions has to be the fantastic scenery that surrounds Perama. Corfu's most photographed spot, Mouse Island, is nearby and has become famous for an age old legend that it is actually a ship turned into stone! Other local attractions include Achillion Palace and the shell museum in Benitses, so make sure you have your cameras ready. There are also a number of gift shops scattered around along with traditional tavernas, so why not partake in some light shopping then head to a taverna for a cool beer or glass of wine.
Culture
There are a number of mini markets in the area, perfect for finding that special gift for friends back home. If you really want to experience the culture of the resort, head out of Perama and visit some of the neighbouring villages. There are usually no festivals in Perama but we suggest heading to Corfu Town as in August there is The Varkarola, a festival including boats, music and fireworks. Then in September there's the Festival Of Corfu in Corfu Town, the island's most important celebration. There are also plenty of festivals around the year in Paleokastritsa.
Nightlife
Perama holidays suit both family and independent travellers looking for quiet relaxation who come here for the laid back and relaxing atmosphere. There is not much noise and the resort is the perfect place to unwind, but there are a few bars and traditional tavernas where you can wind down after a day on the beach. Those wishing to liven up their holiday will find there are regular bus connections from to Benitses and Corfu Town Why not try out some of the local delicacies such as pasta or a delightful Greek salad at some of the local restaurants or head to Corfu Town for a more expensive meal and maybe sample some of the local wine?
Book a Perama Holiday now!
Perama may not be the ideal resort for those wanting a lively holiday, but for those wanting a peaceful and relaxing break away in the sun, this is the place for you. On The Beach offers great deals on flights and accommodation in Corfu; use our live online booking system to create your own customised holiday by combining flights and hotels at the lowest prices!