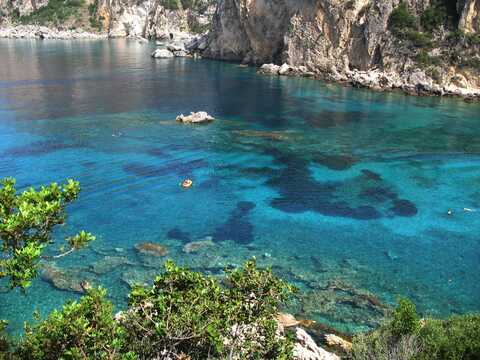 Read more about Paleokastritsa
An area of stunning beauty with scenic views and beautiful beaches - this is what you can expect from Paleokastritsa. Known as one of Corfu's finest beauty spots, the island has five stunning bays and a pretty monastry on a clifftop. Paleokastritsa has a warm Mediterranean climate so you can expect good weather all year round. There is a distinctly friendly atmosphere which makes Corfu extremely enjoyable whether it is a family or couple on holiday looking for a pleasant place to relax. When picking a holiday in Corfu, Paleokastritsa should definitely be on your list as it's stunning scenery will definitely leave you breathless!
View destination on a map
Paleokastritsa Weather
If you are looking to top up your tan then take your holidays to Paleokastritsa in the summer. Expect the temperature to be in the 30's in the summer but evenings will be a little cooler, a light jacket would be suitable. The winter is again fairly mild with occasional spells of cloud or rain. Take your umbrella with you if you are planning to visit between November to March but expect the temperatures to still be fairly high.
Landscape
Paleokastritsa beach is famous for it's clear water and stunning sands, which not surprisingly attract thousands of visitors. You can rent boats from the bay and a number of water sports are available including scuba diving. Also a taxi boat service is on offer which can take you to some of the quieter bays in the nearby area. If you want to get closer to the scenery then taking a road trip to some of the small inland mountain villages offers some great views.
Things To Do on Paleokastritsa Holidays
The first place to visit on your list should be the monastery located on the headland where you can actually get inside and view the famous ceiling carving, the 'Tree of Life'. Make sure you are dressed sensibly though as you do not want to offend the locals. Nearby there is a stunning medieval castle, Angelokastro sited on a hilltop, which can be reached by a very scenic drive via the village of Lakones, or on foot if you have time. A number of sea caves can be visited by boat so if you enjoy a good boat trip, these last about 30 minutes and are well worth it!
Culture
There are many mini markets and tourist shops which offer a lot of traditional gifts for yourself friends back home. If you want to experience the culture of the island, Paleokastritsa is well known for hosting a plethora of celebrations and festivities around the calendar. A three day festival takes place every second week of July, with plenty of food, music, and wine on offer. The festival features local dance groups in traditional dress and ends with a spectacular fireworks show. On the 15th August is a national celebration of the Virgin Mary, with flee markets and local singing bands, local food and plenty of those specialty local drinks flowing.
Nightlife
You can't go wrong with a visit to one of the local tavernas that are renowned for serving up delicious locally caught lobster. There are a number of inexpensive tavernas to visit but if you fancy something a bit more upmarket there are also ones offering expensive cuisine. Should you fancy a taste of the local specialty drinks, the tavernas also offer a range of Metaxa and Ouzo. Those who want a lively night out will be pleased to know the island has a number of bars and nightclubs where you will find a number of wines, cocktails and beers on offer.
Book a Paleokastritsa Holiday now!
This island is one of the most beautiful Greek Islands with a magical identity of it's own. On the Beach offers some plenty of great deals on hotels and flights to Corfu; book your customised holiday to Paleokastritsa by combining flights and accommodation using our unique live booking system today!