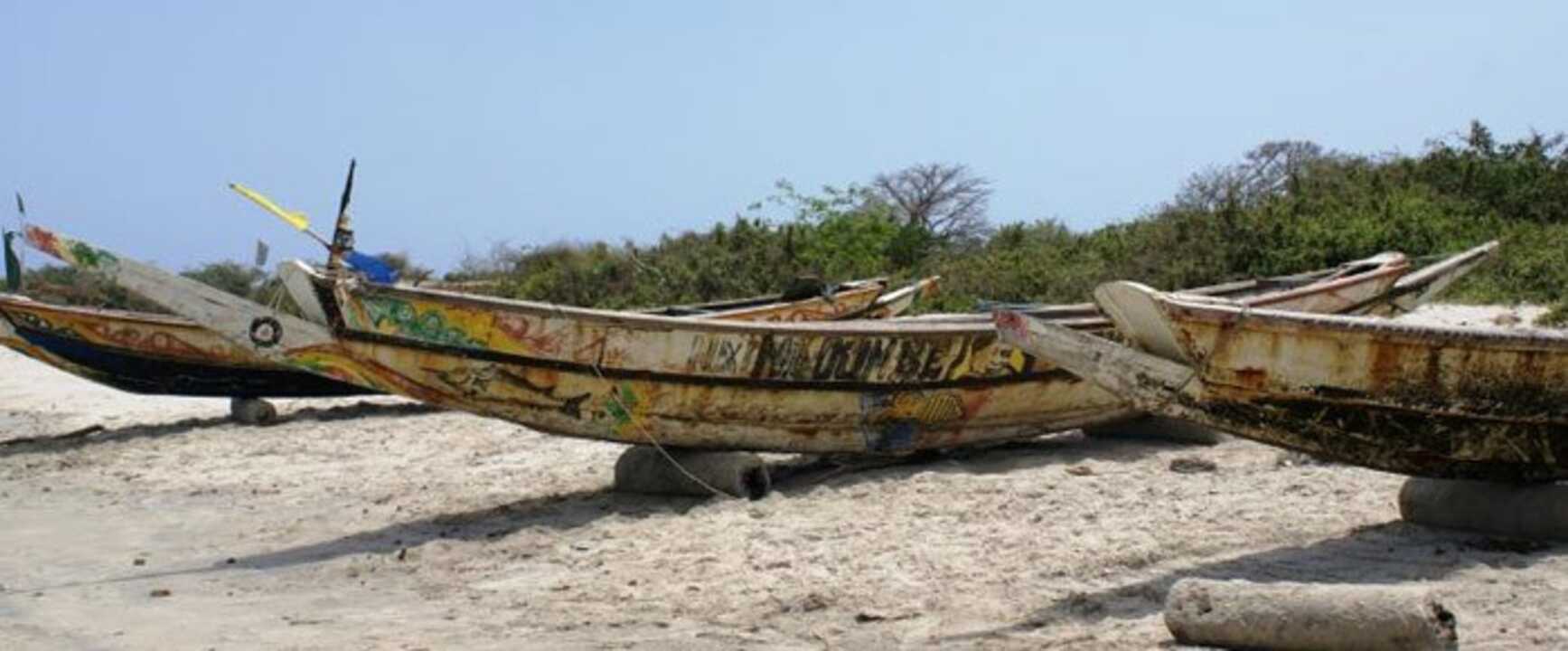 On the Beach are proud to introduce Gambia as a new destination, you can arrive at this dream destination after around 6 hours flying time, that's a manageable time for families - and the timezone is GMT so no need to change your watch or worry about jetlag!
Maybe you've never considered Gambia as a popular beach holiday destination, maybe you're not even sure where it is! And that's no surprise as it's a small sliver of land surrounded by Senegal on the West coast of Africa.
Named after the Gambia River, which flows through the country for 300 miles to the coastal capital of Banjul. This best kept secret is now becoming more and more popular with beach-bound tourists, and it's easy to see why.
Although The Gambia is Africa's smallest nation, it boasts a wide variety of scenery, with 30 miles of sandy beaches, the famous river, tropical forests, marshes and large areas of wooded savannah.
The main beach resorts are Bijilo, Kololi and Bakau/Cape Point. You will find these palm-fringed and shell-strewn beaches to be free of crowds, so get yourself a slice of personal paradise.
There are a lot of food choices available. You can find International, fine dining, Indian, Italian, Asian and Lebanese restaurants, ask the locals and other tourists which one's they think are the best.
For fresher local food try the beach bars, where the fish is caught, bought and cooked to your liking.
Your hotel may provide entertainment in the form of the 'kora' which is Gambia's national instrument, or play lively drumming and African dancing. For a more authentic experience meet the locals and explore the bars, some of which will provide live music.
For a louder night out head to Kololi's 'Senegambia Strip' which is the nearest you are going to get to a nightlife hotspot in Gambia.
View destination on a map
Gambia Weather
Because Gambia is located between the Tropic of Cancer and the Equator, it enjoys virtually uninterrupted sunshine and high temperatures all year round. There are 2 distinct seasons, wet and dry.
From July to October the temperatures rise, the rivers swell and humidity increases due to short, sharp showers, but these occur mainly at night.
The best time to visit is between November and March when it's dry and bearably warm. This is also the best time to view the local wildlife. The coastal areas offer cooler sea breezes whereas inland areas can become scorching hot.
Things To Do on Gambia Holidays
Most days you'll want to just laze and linger on your uncrowded spot of beautiful beach, or just chill out round the pool at your resort.
Cape Point to the East of Bakau is a favourite with families, for it's relaxed and enclosed feel and excellent beach, although be aware of strong currents which can make the water unsafe for swimming.
When you fancy a day off the sun lounger, visit a nature reserve such as Kiang West National Park to the South of the River Gambia, it's a haven for birds, otters and antelopes. Or travel further inland to the River Gambia National Park, (also known as Baboon Island) which holds the Chimpanzee Rehabilitation Trust.
Take a 'barmy' trip to Barra, which lies opposite Banjul on the North Bank of the River Gambia. You will need to take a ferry and your sense of humour as it's not for the faint-hearted. Purchasing a ticket is difficult and confusing and the 45 minute crossing is very crowded with people trying to sell you everything from peanuts to a shoe shine. The timetable can be erratic, however it is an experience that shouldn't be missed, although there isn't much to do once you actually get there. So we recommend catching a taxi and heading straight on to Juffure, where you can visit a museum and hear talks about the history of slavery in Gambia.
For markets, take a trip to the largest town of Serrekunda, It's a noisy and crowded place. Along the main road from Banjul to Basse there are numerous roadside stalls selling hand crafted tables and chairs, shoes, bags, t-shirts, hair extensions plus an increasingly large number of internet cafes. A trip to the market here is always an experience and can be a real culture shock for some Europeans. You can visit the batiks factory and watch the tie die materials being made.
The Gambia is definitely a paradise for birdwatchers, with over 540 species to spot, even non-twitchers will be reaching for the binoculars.
Kololi has a tiny nature reserve called Bijilo Forest Park, you will probably be able to spot vervet monkeys here, they are wild but surprisingly tame.
The Gambians love their wrestling and you can watch traditional bouts in the heaving markets of either Banjul or Serrekunda.
Culture
The Gambia was the first and last country to be colonised by Britain (from 1765 to the recent 1965).
Since then the country has enjoyed long periods of relative political stability, especially since 1997, meaning it is one of the safest places in Africa for tourists. However you still need to be aware of petty crimes against tourists and some other nuisances.
Gambians are extremely welcoming and friendly to tourists but be aware that there are some persistent 'guides' known as 'bumsters' who hang around outside hotels and on the beach and may become an annoyance.
Visitors are advised not to photograph the airport or military bases and it is considered good manners to ask any locals for their permission if you want to photograph them or their villages.
Try to use only your right hand (not your left) when offering or receiving food or other objects.
The main religion is Muslim and should be respected, however Gambians do understand English customs and are broad-minded when it comes to other religions and cultures.
Keep the beachwear to the beach or poolside, casual wear is fine at other times, remember clothes suitable for rain if you visit between July to September, especially at night time.
Book a Gambia Holiday now!
Search now for our very best value flight and hotel deals to Gambia, we pride ourselves on offering the best value beach holidays for our customers. Our online booking system is simple, easy and fast and there are some great deals available right now.