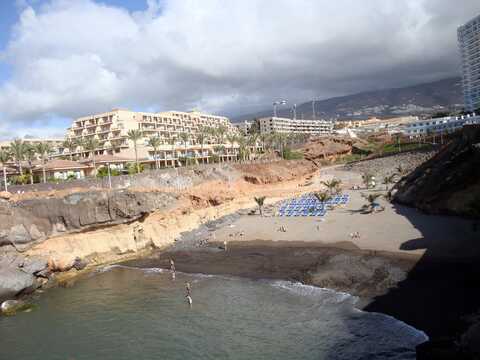 Read more about Playa Paraiso
The newly constructed resort of Playa Paraiso is the antithesis to the Club 18-30 style parties and all-night partying that many people associate with Tenerife. A quiet, smaller resort, with full amenities, overlooking the island's southwestern flank. This resort is perfect for those who want a quiet beach, with plenty of bars and pubs along it's clear blue coast, or for those who enjoy the fun and vivacity of the southern resorts and want a quiet base away from the hubbub.
Playa Paraiso Holidays are the ideal solution, just fifteen minutes from the nightlife of Playa De Las Americas. On The Beach is your first choice for great deals to get you there!
View destination on a map
Playa Paraiso Weather
Ditch the scarf and get the sun cream out! It's permanently hot in Tenerife with winters averaging around 17° Celsius and summer highs of 30° Celsius, conducive to a scorching summer break with the kids, or a relaxing Christmas exchanging gifts around the pool and lazing on the beach!
Landscape
The Paradise Beach itself is really just a small, rocky cove, but ideally located near the long, clean stretches of beachfront at Playa De La Arena, and the island's breathtaking southwestern coastline. Hike along these black sands to get to the little fishing villages that pepper the island, or inland, head up to the Mount Teide National Park, straddling the tallest peak in Spain, for breathtaking panoramas of the island.
Culture
A holiday in Playa Paraiso will give you a chance to see the island's spectacular festivals, such as the Carnival in March at Los Gigantes, or the bonfires of Virgin del Carmen in July at Puerto De La Cruz, to the north. Visit the little markets and bustling bazaars around the southwestern coast to barter for local handicrafts, fish, fruit and jewellery.
Adventure
The choice is yours: hike up the Los Gigantes mountains to the north of your resort, visit the party capital, Las Americas for scores of entertainments including the zoo, wildlife reserves and water parks for the kids, or visit the larger beaches at Playa De La Arena for the usual aquatic frolics: diving, snorkelling and surfing.
Nightlife
Playa Paraiso holidays mean sampling some of the best nightlife in Tenerife, which you can see firsthand at the nearby resorts of Playa De Las Americas and Los Cristianos. But there's an equally fun time to be had closer to home, albeit with a more subdued atmosphere, at the internationally eclectic pubs, bars and restaurants nearby, with everything from tapas to good old fish and chips on the menu.
Book a Playa Paraiso Holiday now!
On The Beach is your first choice for all holidays to Playa Paraiso and accommodation in a range of hotels in this heavenly Atlantic haven - but don't delay your booking and miss out on the best deals!