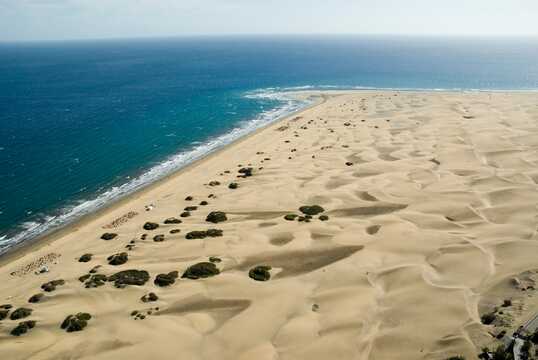 Read more about Sonnenland
Located in a quiet corner of Maspalomas, the suburb of Sonnenland (German for land of the sun) awaits weary holiday makers in need of rest and relaxation under the Canarian sun. Even with its cosy residential feel, the beaches and attractions of Maspalomas are just a short drive away.BeachesJust a stone's throw away from Sonnenland are a number of picture-perfect Canarian beaches, like the secluded Playa Mujeres, chilled out Playa de las Meloneras, or the sprawling Playa de Maspalomas. Food & DrinkNearby, you'll find a number of local cafés offering Canarian favourites like papas arrugadas con salsa mojo (Canarian hassleback potatoes served with spicy sauce), potaje (watercress soup), and carajacas (livers marinated in a spicy sauce). Popular tipples include locally produced wines and beers to enjoy alongside your meals. CultureOpen and friendly, the culture of Gran Canaria welcomes sun-starved holidaymakers from all backgrounds with open arms. Enjoy sun-soaked days sipping cocktails on the beach, playing around the pool, or dancing the night away in the resort centre of Maspalomas. NightlifeNightlife around Sonnenland is quiet and laid-back, perfect for those who enjoy capping their evenings off with a gentle stroll through the local area. Or, if you prefer a night of dinner and dancing, the centres of Maspalomas and Playa de Ingles are just a short car ride away, promising a host of bars, restaurants, and nightclubs to get the party started. Important InformationFlight Time: 4.5 hoursTime Difference: No time differenceCurrency: EuroOfficial Language: SpanishVaccinationsPlease check with your healthcare provider for all up to date vaccination advice before booking your holiday.
View destination on a map
Top Sonnenland Hotels
Sonnenland Weather
With its prime spot just off of the African coast, Sonnenland enjoys beautiful year-round sunshine and warm weather. Whether you're looking to visit during winter, spring, or summer, the temperature in Gran Canaria rarely drops below 20°.
Things To Do on Sonnenland Holidays
Maspalomas Natural ParkOffering a mixture of sand dunes, palm groves, and lagoons, you can enjoy a day exploring the iconic dunes of Maspalomas from the back of your very own desert-faring camel. Aqualand MaspalomasSplash onto the scene at Maspalomas's very own waterpark. Packed with everything from white knuckle waterslides to lazy rivers and poolside eateries, this splashtastic water world is a great day out for families.Yumbo CentreJam-packed with bars, shops, cafés, and more, the Yumbo Centre of Playa de Ingles is just a stone's throw away from Sonnenland and a great evening out for holidaymakers of all ages.Paseo Costa CanariaWinding its way from Maspalomas to San Agustin, the 3.5km long promenade takes you on a laid-back seaside walk, perfect for a sunset (or sunrise) date with the one you love the most.