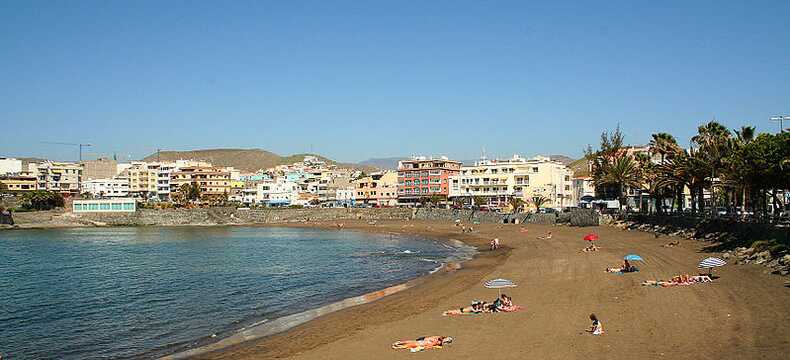 Read more about Arguineguin
Once a quiet fishing village, this Gran Canarian gem has developed into an up-and-coming holiday hot-spot. For relaxing days head to the volcanic sands of Playa de la Arguineguin or dig your toes into the pearly-white sand of Anfi Beach. See the sights by taking a boat trip to spot dolphins or find your perfect gift at the Tuesday market. Arguineguin is a diverse town with lots going on.
Beaches
If you're a beach lover then Arguineguin is the perfect holiday destination for you. From sweeping volcanic sands to picture-perfect, pristine white beaches, this once-quaint fishing town will be sure to have you in awe. Most of the beaches here are a deep golden colour and are indicative of Gran Canaria, perfectly portraying the golden hue of the Canary Islands. However, Arguineguin is also home to a darker, volcanic beach, Las Maranuelas. While the sand may be darker, the beach is no less perfect. An ideal spot for all the family with plenty of loungers, parasols, amenities, restaurants and plenty of space. Playa de la Lajilla is a smaller bay. Nestled behind its own natural wave-breaker, this beach enjoys calm and shallow waters. So if you've got little ones, aren't a very confident swimmer or just fancy a beach that is a little quieter, then Playa de la Lajilla is the beach to try.
Food & Drink
The cuisine in Arguineguin is reflective of a seaside Canarian town. Once a quaint fishing town, this busy finishing port now has a thriving harbour. Expect to see lots of fresh fish and seafood on the menu, all packed with flavours inspired from Spanish and African influences. As Gran Canaria is a Spanish island you'll often see dishes served in smaller portions, allowing a tapas style meal – perfect if you're indecisive or just fancy trying everything on the menu. And don't worry if you're not a seafood fan, Arguineguin still serves the most amazing meat and vegetable dishes. We love the fresh dorada fish, spicy albondigas (meatballs) and papas arrugadas (wrinkley potatoes) with mojo dip.
Culture
Arguineguin is the epitome of sun, sea, sand… and relaxation. The town is very laid back and life moves slow here. The fishing town is also very family oriented. You'll often see young children playing in the street and, more often than not, in restaurants till late. If you're looking to ditch the rat race and leave you're stress behind, this is place to do so. The people are friendly, the sand is warm and the drinks are cold - what a perfect way to spend a holiday!
Nightlife
Think chic cocktail venues, laid-back eateries and live music show bars. Arguineguin is a haven for late night entertainment. Although not as lively as some of its neighbours, this small town is still far from sleepy. Restaurants are open late here and bars usually close in the early hours – perfect for those relaxed evenings in the Canarian sun. So take in an evening show or grab a cocktail and watch the stunning sunset as the sun falls Mount Teide.
Important Information
Flight Time: Approximately 4.5 hours.Time Difference: No time difference!Currency: EuroOfficial Language: Spanish
View destination on a map
Arguineguin Weather
Arguineguin, like the rest of Gran Canaria, enjoys a year-round mild climate. July to October are the hottest months, and therefore the most popular months to visit, with average highs reaching 26°C in August and September. January and February are the coolest months when average highs dip to around 20°C. Rainfall is also more likely from November through to February with February being the wettest month. For the least amount of rain, visit June, July or August.
Things To Do on Arguineguin Holidays
Anfi Beach Just like some of the other beaches on this island, Anfi Beach is a man-made beach with imported white sand. This postcard-worthy beach lies just to the north west of Arguineguin and is definitely worth the visit. In contrast to the dark, volcanic sands and deep-blue waters of Playa de la Arguineguin, Anfi beach's vanilla-white sands give way to turquoise, crystal-clear waters. If you didn't know any better you'd think you were in the Caribbean. The water is shallow, making it ideal for families with children and you can try almost any water sport here. A must-do day in Arguineguin. Whale watching & dolphin spotting Gran Canarian waters are known for being home to hundreds of dolphins and even many species of whale. So the best thing about this activity is there is no best time of year to go. In fact the locals are so certain of spotting dolphins on their excursions, that a lot will offer you a free trip the following day if you miss out. Climb on board a glass bottom boat and take to the ocean – just don't forget your camera! Take a stroll down to the marina Everyone enjoys a good walk in the sunshine, exploring new places. Meander down the promenade and take a look around the marina. There's even a restaurant on the pier to stop for a bite of lunch. What better way to try the local seafood than as soon as it's caught? Head to Cofradia De Pescadores and experience the true taste of the North Atlantic Ocean. Tuesday market Every Tuesday morning the little town of Arguineguin plays host to the islands largest market. A bustling bazaar of traders selling everything from silver jewellery and African vases to small hand-blown glass trinkets made in front of your eyes. If you're looking for that perfect souvenir, this is the perfect place to find it.