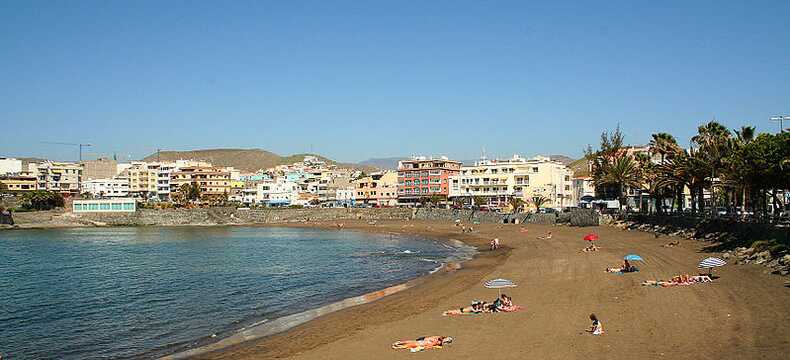 Read more about Arguineguin
When Europeans first landed on the Canary Islands they named one of their very special retreats on Gran Canaria "Quiet Water," or in their language: Arguineguin. Today the town is among the most populated on the south coast of Gran Canaria but it has staunchly defended itself from rampant development and protected its treasured unique Canarian heritage. You will likely find few townsfolk who will speak anything but Spanish, in contrast to the linguistic and cultural melting pot just a few miles down the coast in Playa del Ingles.
Interestingly enough, Arguineguin has become a preferred spot for people from northern Europe, drawn here by the unique relaxing atmosphere. The sublime flavour of Arguineguin persists with its narrow, thronging alleys, tiny bustling shops and vibrant passion for life. This is an ornate and exquisite architecture devised for mule-drawn carts, but even the crush of dented cars and wailing scooters heading to the ferry docks can't detract from the enticing allure of this resplendent African outpost of Iberian culture and style.
The Hotel Dunas La Canaria in adjacent Patalavaca is one of the nicest hotels in the area, with two sea water and two fresh water pools and a wealth of luxuriant amenities. However, if you have only one day to spend in Arguineguín, make sure that it is on a Tuesday when the sun-baked plazas and avenues of the town are filled with a typically Canarian market, offering a stunning variety of fresh produce, handmade arts and crafts, and a thousand indispensables for that very unique and enviable Canarian lifestyle.
All you need to do is to head towards the fishing port, humming with activity from the early hours of the morning, or go spend a few tranquil moments of serenity by the handcrafted wooden bridge at the base of the gurgling waterfall of the new Parque Arguineguín, and you will discover a whole new angle to Canarian society, one that remains steadfast and true to its noble heritage.
On The Beach offer a range of cheap flights to Gran Canaria available throughout the year, making it easy to jet off on a relaxing break away from the stress of work. Book your holiday to Arguineguin today with the specialists; On The Beach!
View destination on a map