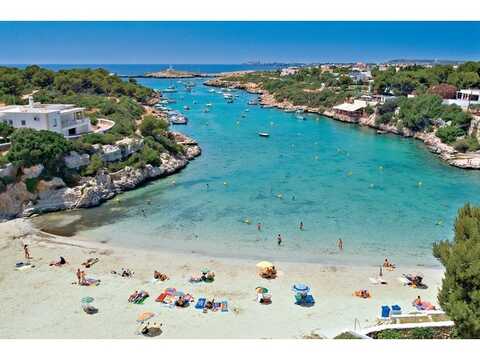 Read more about Cala Santandria
If a relaxing break in one of Menorca's most popular areas sounds like a good idea to you, then a holiday to Cala Santandria will definitely pay dividends. Located on the west coast of Menorca, and only 3 kilometres south from Ciutadella, Menorca's old capital, Cala Santandria offers a relaxing and fun-filled break to visitors of any age. With a fabulous beach, great transport links to other towns and plenty of stores, restaurants and evening entertainment, Cala Santandria is a small but extremely hospitable resort with a noticeably traditional character.
Perfect for families and elderly people, and also for young people given it's location to bustling Ciutadella, a holiday in Cala Santandria will certainly open your eyes to a totally different Menorca holidays experience.
View destination on a map
Cala Santandria Weather
If you're looking to explore somewhere new this summer, you'll be pleased to know that the weather will be faultless on holidays in Cala Santandria! During the Mediterannean summer Cala Santandria is bathed in sunshine, with temperatures reaching about 30° Celsius, with around 10 hours of sun a day. Evenings will cool down to around 24° Celsius, so you'll still enjoy good weather.
Should you wish to visit outside of the peak season, April or October is a great idea; with temperatures at a warm average of 24° Celsius, the sun will still be plentiful, so that tan is still in reach! During these times though you'll also experience more rainfall and winds, which will benefit those who don't enjoy extremely hot weather.
Landscape
As a small town, Cala Santandria offers you all the benefits of a beautiful town untouched by overt development. The focal point of the town is undoubtedly the small but perfectly formed beach, which is lapped at by an inviting crystal blue sea. This, at sunset, will make an ideal location for couples who want to enjoy a romantic view, with a glorious sky and the silhouette of mountains in the distance. From the sea,the town then rises up gently, with the villager's pleasantly whitewashed homes nestled among throngs of trees; this is a most pleasing sight, as many do not expect such a hot location to be so green.
As it is, you'll find plenty of trees and fauna in the centre of town too among the quaint winding streets. Relatively quiet, but noticeably well kept, spending time walking among the elegant buildings will offer a fantastic evening of ambience. For unspoilt beauty, a holiday in Cala Santandria is a perfect choice.
Things To Do on Cala Santandria Holidays
You'll love visiting the beach on holidays to Cala Santandria, which is extremely popular with locals and visitors from nearby Ciutadella. It offers a range of amenities, including sun beds, and for the kids the lure of the pedal-boats will be too much to resist! After a long days relaxation, why not visit the town centre to browse the stores? If you feel like heading outside of town, then a visit to Ciutadella is well worth it- as a larger town, it possesses more stores selling handicrafts and other locally made goods- ideal for those holiday souvenirs!
For a fun day out on holidays in Cala Santandria, try visiting the nearby water park, which has a whole range of rides for kids to enjoy all day. For something for the adults, try taking a bus or taxi to the Club De Golf Son Parc golf club, which is surrounded by pine trees and peacocks!
Culture
As a relatively new town, built in the early 1990's to cope with Menorca's increasing tourist population, Cala Santandria does not possess the same degree of history as some of the older Menorcan towns. For those who enjoy a spot of history though, then Ciutadella is only 3 kilometres away, and offers a fantastic history to explore; founded in the 4th Century, it has had a turbulent history having been governed by the Moors and the Turks. All of these occupations have yielded artefacts to commemorate the invasions, from the Cathedral of Menorca, which was built on the sight of a mosque, to the Medieval wonders of the old town. If it's an educational day out you're after, Ciutadella is the place to go!
In spite of its size, Cala Santandria offers a range of cultural experiences, from restaurants to markets, but if it's a large scale festival that you want to attend, then visiting the ancient city of Ciutadella is certainly advised as the celebrations there are much grander. If you're planning a summer visit, then try attending to the Fiesta De Sant Joan, which takes place on the Sunday before the 24th of June; the first day of the festival features a townsman adorned in lambskin walking through the town to commemorate John The Baptist, who wore similar garments
If you're visiting in Easter, then the annual Matances De Bujots, or 'Death Of The Bujot' is well worth visiting. The festival features straw figures representing political or contemporary figures of ridicule that are then shot at until the effigy bursts into flames!
Nightlife
As a relatively small town, Cala Santandria is noticeably more serene than its better-known neighbours like Ciutadella. So, if it's a wild night out you fancy, then it's well worth going there to sample the bars on offer! For those who enjoy a quiet night though your hotel will offer scheduled entertainment. The centre of town also has a range of attractive bars and restaurants, providing you with all the traditional food and drink you'll need.
Cala Santandria has a small disco, which is open until around 2, playing a range of music. There are also a few lively, and typically hospitable bars with live bands, which will make for a fantastic evening of entertainment. Check out Cala Blanca for a night out with a different flavour.
Book a Cala Santandria Holiday now!
Cala Santandria holidays are the ideal choice for anyone who just wants to relax among beautiful scenery. With great restaurants and bars, and a range of nearby activities for a great day out, this hidden gem will certainly provide you with a holiday you wont forget in a hurry. Book now with On The Beach for a choice of bargain flights and hotels to customise your holiday just the way you like it!