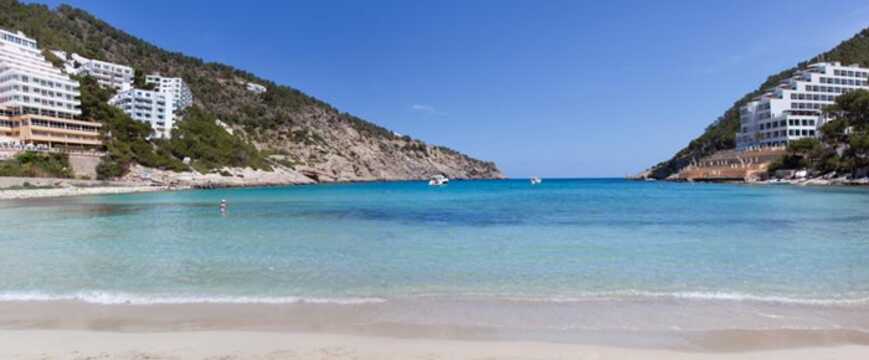 Read more about Cala Llonga
When you plan your Balearics holidays, think about Cala Llonga. Just a short trip from the UK, Cala Llonga is located on the beautiful island of Ibiza. Only a 15 minute drive from Ibiza Town, Cala Llonga offers something for everyone, and is the perfect holiday spot for families.
With safe crystal blue shallow waters, the beaches of Cala Llonga are filled with the laughter of children playing. Shopping, fine dining, and beachfront bars for that quiet drink at sunset have made Cala Llonga the ideal place for Ibiza holidays. Whether you're travelling solo or you're taking holiday with your family, Cala Llonga is the ideal destination.
View destination on a map
Cala Llonga Weather
During the beautiful summers in Cala Llonga, you can expect to get a golden tan, as the sunny shores bake under 30° Celsius temperature at their zenith. Even in the winter the temperature rarely drops below 15° Celsius. Our advice for anyone going on holidays to Cala Llonga, especially in the summer months, is to take plenty of sun cream in anticipation of going home with a healthy glow!
Landscape
Cala Llonga is flanked by beautiful, high cliffs, and its sunny shores are kissed by the crystal clear waters of the Mediterranean Sea. The island of Ibiza was actually named after the majestic pine trees that cover the island. Ibiza's famed white, sandy shores have been home to famous explorers, historians, and musicians throughout the ages.
Things To Do on Cala Llonga Holidays
Cala Llonga holidays offer something for everyone, and Cala Llonga is no exception. Sunny, white shores are dotted with sun chairs filled with golden tourists. The town has all of the amenities expected of a resort town, and finding a fine, English breakfast is no problem when you visit any one of the many lovely restaurants. If it's sports you fancy, there are a wide variety to choose from on the island. From watersports to golf, there's no end to the fun you can have when you go on holiday in Cala Llonga.
Culture
A delightful Spanish town, with a surprisingly English flair, Cala Llonga holidays are a popular spot for travellers from around Europe and further afield. In nearby Ibiza Town, a medieval castle is a great place to take a trip back to the past; and a medieval fair is the highlight of every May.
Nightlife
When the sun goes down on Cala Llonga, the party is just getting started. A popular holiday spot for the jetsetting 18 - 30 crowd, the nightlife on Ibiza is far from boring. Hailed by some as the biggest party in the world, the nightlife here is a world class event with some of the most innovative clubs around. Just a short 15 minutes from Ibiza Town by car, Cala Llonga is close enough that it's no trouble to join in the fun, yet is secluded enough to provide a place to rest when the party is done!
Book a Cala Llonga Holiday now!
There's never been a better time than right now to book your holidays in Cala Llonga! With On The Beach you'll be assured that you are getting the very best late deals on flights and hotels in Ibiza. So, what are you waiting for? Book your holiday now and look forward to jetting away!