Let's be honest, tasty food and well-furnished guestrooms are great, but it's the pool that really sells it to us, isn't it? From lagoons to splash parks, lazy rivers to swim-ups, having somewhere to cool off from the sunshine is a must on holiday. An infinity pool is the perfect way to take your regular swim to the next level. It's where panoramic views meet refreshing waters, and there are no limits (literally). You've probably seen these trendy pools splashed across social media, full to the brim with crystal-clear water, overlooking urban skylines and tranquil seascapes. So, which are the best hotels with infinity pools? We've compiled some of our favourites below, and they're guaranteed to take you to infinity and beyond…
MarBella Nido Suite Hotel & Villas
Ever had a hard time choosing between the pool and the beach for your lazy-day setting? Well, at MarBella Nido Suite Hotel & Villas in Corfu, you don't need to choose! With a stunning infinity pool bordering lush pine forests and offering sweeping views of the Ionian Sea, you'll have the best of both worlds when you take a swim here. There's even a poolside bar where you can enjoy tasty snacks and refreshing drinks in between dips. Now that's bliss.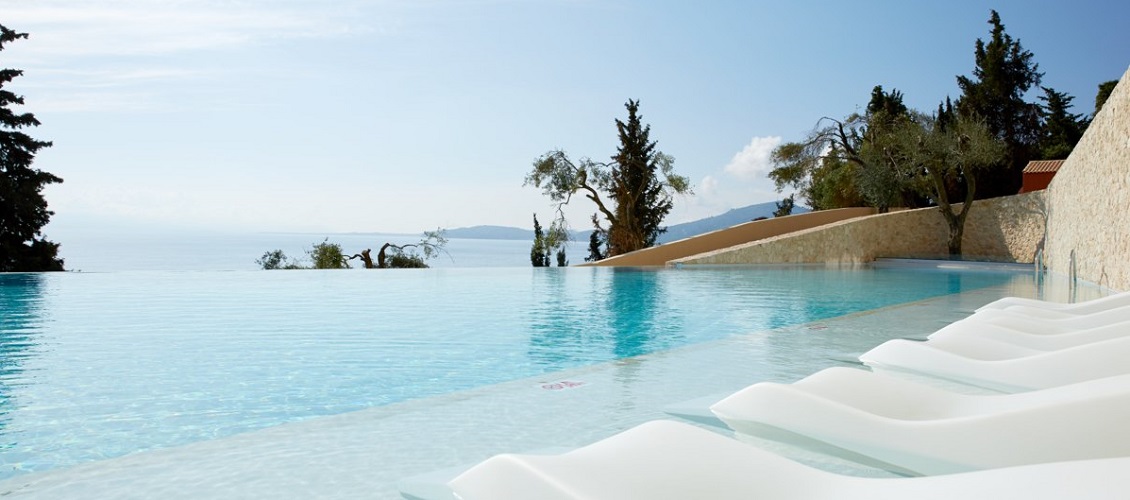 Bless Hotel Ibiza
If you're looking to take your daytime swim to the next level, then Bless Hotel Ibiza might just be the answer. Take a dunk in this gorgeous infinity pool whilst looking out to sea, and you'll feel like you're in Spanish paradise. The stylish sun terrace is dotted with palm trees and offers plenty of sun loungers and Bali beds too, so you can soak up the views even when you're on land.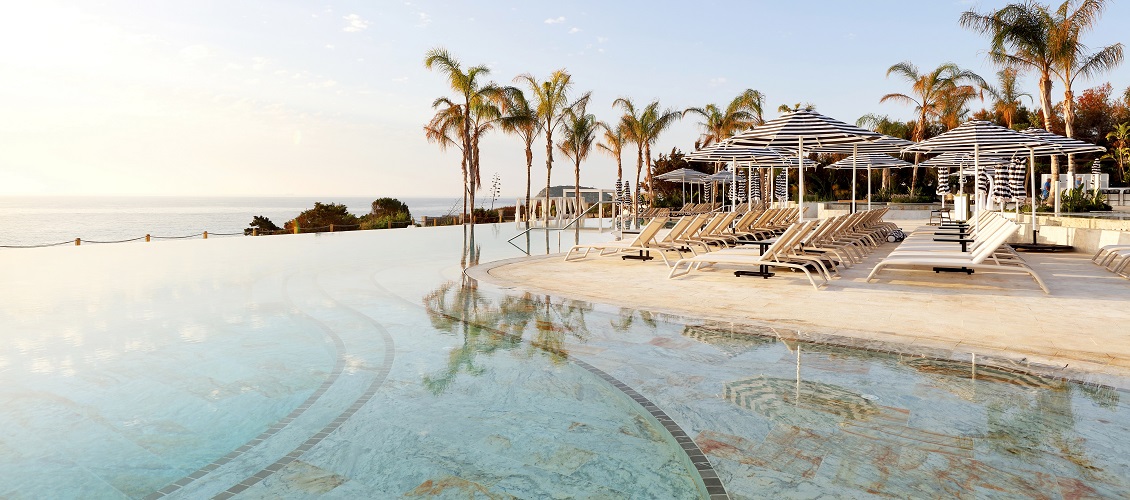 Saccharum Resort & Spa
The infinity pool at Saccharum Resort & Spa in Madeira is located at a height, sandwiched between rugged clifftops and blending seamlessly into the horizon. There are a choice of pools at this resort, but this picturesque swim spot takes the cake. If you're craving some relaxation then a dunk in this pool should do the trick. Just look at that view!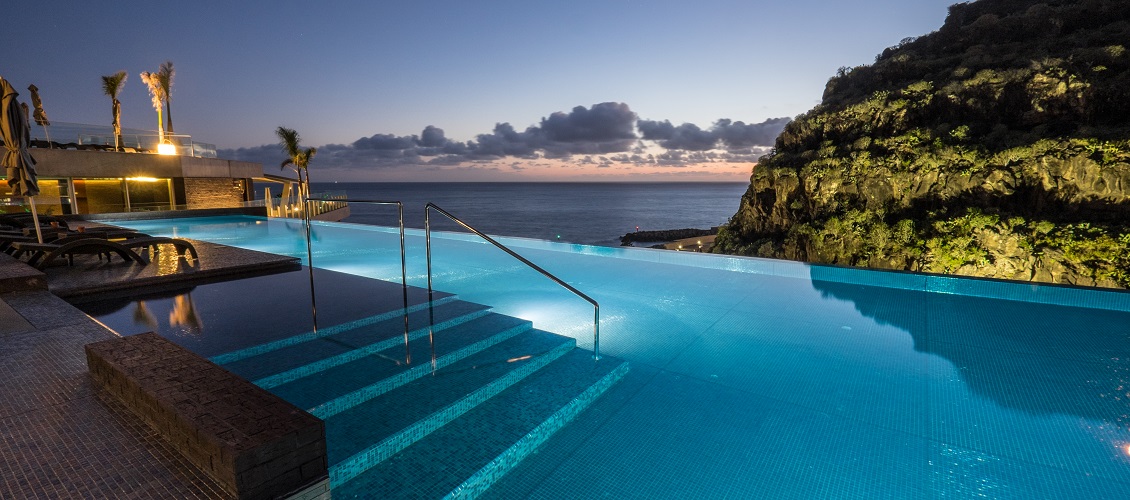 Dolmen Hotel Malta
You might want to bring your camera along for this one, because these stunning views of St Paul's Island from Dolmen Hotel Malta's infinity pool are as blue as they come. This pool is perfectly placed, so whether you're enjoying cocktails and ice cream from your sun lounger or swimming right to the edge of the water, you'll be surrounded by swoonworthy scenes.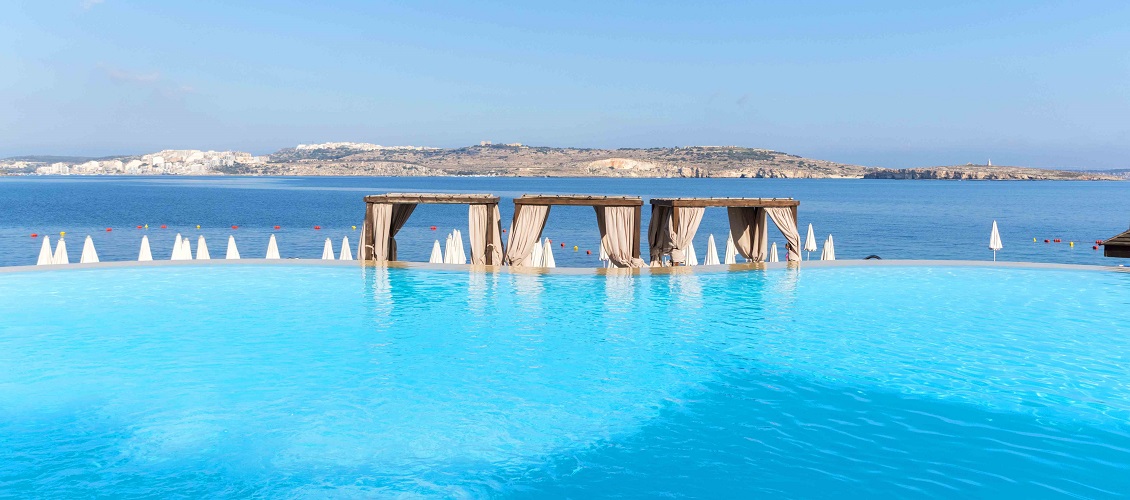 Dukes The Palm, a Royal Hideaway Hotel
Infinity pools are all about taking your ordinary pool experience and making it bigger and better, and nowhere does that quite like Dubai. Dukes The Palm, a Royal Hideaway Hotel is home to a stunning infinity pool complete with palm trees and a foot-bridge. Dive into these waters and you'll be surrounded by Dubai's twinkling skyline – who said you can't relax in the heart of the city?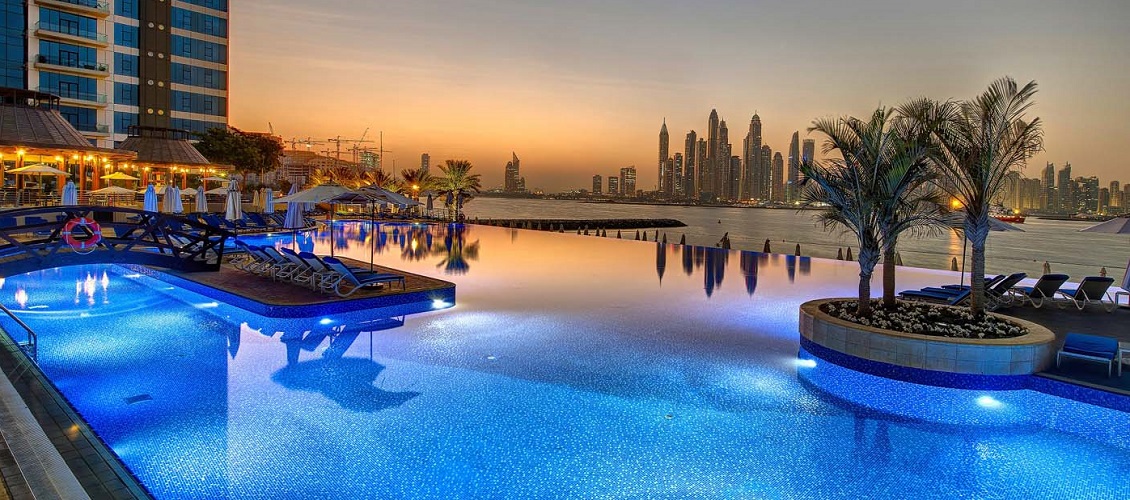 Can't wait to dive in? Check out our 2022 holidays and start planning your next getaway.