Read more about South Africa
The food, the beaches, the culture. Everything about South Africa screams excitement and we're loving it. Whether you're after a day out spotting leopards or want to explore the big cities like Johannesburg, it's a country that doesn't disappoint. The local curries are tasty, the beaches are sandy and you may even see an elephant or two on your travels. Experiencing it all whilst being in the warmth of the sunshine, what more could you want from a holiday?BeachesWith a coastline stretching to more than 2,500km in length, South Africa has its fair share of beaches. Don't be fooled into thinking their all the same though, with the East Coast bordering the warm Indian Ocean and the West being met with the Atlantic. In the east, Durban is home to the golden mile, a popular and beautiful stretch of shore great for sunbathing and surfing. Nestled within False Bay on the west coast, Muizenberg Beach is one to visit, holding a blue-flag award and featuring the famous colourful beach huts. Further along the coast in Simon's Town, Boulders Beach lives up to its name with large boulders between the white sand and is a must-visit as it's home to the adorable African Penguins! Food & DrinkSouth Africa's food scene is as diverse as the culture, fantastic for those who enjoy a little variety in life. Biltong is a popular dry cured meat, usually made from beef or game, which is a perfect tasty snack and a healthier alternative to crisps. Those who love curry are in for a treat with Cape Malay curry, a delicious combination of sweet and savoury ingredients, and Bunny Chow, a street food dish originating from Durban consisting of hollowed out bread stuffed with spicy curry. For a sweet surprise try koeksisters, syrup soaked twists. Let's not forget drinks, as South Africa is known for its outstanding local wine.CultureA tapestry of different lifestyles and languages, South Africa is an outstanding country for absorbing a variety of cultures in one place. From the Apartheid Museum in Johannesburg, to the Zeitz MOCAA (Museum of Contemporary Art Africa) in Cape Town, there's so much to learn about the beautiful country. If you're lucky enough to catch a festival whilst there, it really is an exciting experience. Try the Cape Town International Jazz Festival in late March/early April, or the Grahams Town National Arts Festival in July, which is an 11-day celebration of theatre, street entertainment, opera, music and art.NightlifeLike most holiday destinations, heading into the bigger towns and cities, you'll be greeted with an abundance of bars, clubs and pubs to choose from. Port Elizabeth and Johannesburg have their share of cool clubs and buzzing bars and even in smaller towns such as Dullstroom and Stellenbosch you'll still stumble across some fabulous night time venues. But, as one of three of the country's capital cities, there's no surprise that the show-stopper is Cape Town when it comes to nightlife. With the city having five whole precincts filled with attractive watering holes for every mood, you'll struggle to find a place that isn't your kind of night out.Important InformationFlight Time: 12hrs DirectTime Difference: GMT +2hrsCurrency: South African RandOfficial Language: South Africa has 11 official languages including Zulu, Afrikaans and English.
View destination on a map
South Africa Weather
Although the weather in South Africa varies from region to region, its position in the southern hemisphere means that the country's summer begins in December. As one of the capital cities, Cape Town sees its warmest temperatures between December and March, with averages ranging between 23°C to 20°C. April and November have average temperatures of 18°C and May to October are the milder months ranging from 16°C to 13°C.
Things To Do on South Africa Holidays
Table Mountain Whether you hike, climb or ride in a cable car, reaching the top of Table Mountain is essential when in South Africa. Flat-topped and reaching a height of 1,084m, the mountain is the focal point of Cape Town whilst surrounded by the flora and fauna of the Table Mountain National Park. The 3km long plateau at the peak is the perfect place to enjoy panoramic views of the city and Atlantic Ocean.SafariWhen you think of South Africa, one thing that comes to mind is Safaris, right? Well, this would be because of the many game reserves across the country where you can experience seeing the animals, which are usually on the other side of the TV, first-hand in the wild. Elephants, lions and giraffes await and to see them out in the open is something you'll remember forever.Cage diving with sharks Another species to get up close and personal with in South Africa is the great white shark. Gansbaai, on the south west coast, is known as being great white territory and so is the place to go for a fin-filled trip into the Atlantic Ocean. Secured into a cage, plunge into the water and come face to face with the magnificent creatures, or if you prefer to stay dry, you can view the sharks from the comfort of the deck.Victoria and Alfred Waterfront Whether you fancy a spot of retail therapy, an exquisite dinner or an evening of cocktails, the Victoria and Alfred Waterfront in Cape Town is the place to go. Spanning the same size as 180 rugby fields, the V&A Waterfront holds over 450 shops, 22 landmarks and over 80 restaurants. With this much choice, no wonder it attracts millions of tourists each year!
South Africa Resorts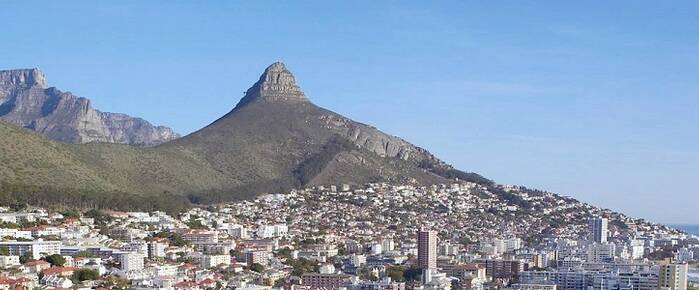 Sandy beaches. Dramatic mountains. Urban attractions. Cape Town has all three, and the combination of natural beauty and cosmopolitan comforts puts th…