---
Watersports and adventure runs through Morocco's veins. Breathtaking beaches, world-class cuisine and fun for all ages. Surfs up, dude!
---
Destination highlights
A haven for surfing and watersports
World-class cuisine
Endless activities for all ages
A cultural hotspot
Jump to...
Beaches | Hotels | Food & drink | Nightlife | Events | Things to do | Weather | Important information | Reviews |
---
What are the best beaches in Morocco?
Beach holidays in Morocco offer more than just sun and sea; they're a staple destination for surfing the waves and trying your hand at watersports. Keep these beaches on your radar when visiting Morocco:
Agadir Beach – the most famous beach in the resort town is a year-round swimming location and a firm favourite for windsurfing
Taghazout – a surfer's paradise and fishing village, these sands offer a chilled-out vibe that backpackers and locals adore
Mirleft – a lesser known beach, Mirleft is perfect for independent travellers with activities on their priority list. The best part? There are several beaches to choose from. Go wild!
Essaouira Beach – this iconic windsurfing destination is the centre for indulgent food and cultural tradition
Legzira Beach – a sunset lover's dream, this quiet beach is untouched with an off-the-beaten-track feel
Asilah Beach – a budget traveller's top choice with plenty of cultural hotspots nearby
What are the top hotels in Morocco?
Cheap holidays to Morocco are easy to find with our selection of hotels, from your all-singing, all-dancing All Inclusive break to that ultra-relaxing couples retreat. Keep an eye out for these top choices:
Aqua Fun Club - the clue's in the name - this one-stop-shop is perfect for a jam-packed break with all the family, complete with the waterpark of dreams.
Allegro Agadir - this hotel's city centre location is easily accessible, and it offers endless entertainment for guests to enjoy.
Iberostar Founty Beach - with its iconic location on Agadir beach, this blissful hotel offers all the amenities you need.
Es Saadi Marrakech Resort - luxury living is key at this hotel - it's the perfect place to wind down after a day of exploring.
Royal Atlas - a five-star holiday at its finest - experience luxury living with a range of heavenly amenities on offer.
Sirayane Boutique Hotel & Spa - experience a taste of serenity after a day of exploring the enchanting city of Marrakesh with this hotel's spa-like vibe.
---
More of a saver than a spender? Here's how to do
Marrakech on a budget
.
---
What's the food like in Morocco?
Moroccan food is heaven for your tongue and is known as one of the world's best and most flavourful cuisines. You'll want to try everything on the menu, but these dishes should be your first picks:
Tagine - this famous slow-cooked Moroccan stew gets its name from the clay dish it's cooked in, and can vary in ingredients
Couscous - the national dish of Morocco, best served with meat or vegetable stew
Harira - a flavoursome lentil soup, mostly served as a starter
Sardines - caught fresh and served locally, sardines are a beloved fish and typically served fried and stuffed with a fragrant herb and spice mix
Bastilla - an authentic pigeon pie with a combination of sweet and salty flavours, sometimes made with chicken
Looking for places to eat in Morocco? These brilliant restaurants are worth a visit:
La Grande Table Marocaine, Marrakesh - the number one stop for refined Moroccan food in Marrakesh, offering a delicious traditional menu
Nur, Fez - for a taste of fine dining, this dinner-only restaurant offers a menu of 10 dishes crafted with local delicacies from the Medina market
Plus61, Marrakesh - this restaurant changes its menu throughout the season, serving up flavourful dishes using locally-sourced ingredients
La Grange, Casablanca - the family-friendly restaurant of dreams, with top-notch food and amenities for the kids to enjoy

---
If that got your taste buds tingling, check out our
foodie's guide to Marrakech
.
---
Where's the best nightlife in Morocco?
Nightlife in Morocco is colourful, diverse, and offers something for everyone, from traditional Arabic music to a lively clubbing scene. Check out some of the top nightlife spots below from across the country:
Theatro, Marrakesh - Africa's first ever music hall, now a go-to nightclub with exclusive performances and non-stop fun
Comptoir Darna, Marrakesh - this exotic venue offers an unforgettable night of belly dancing, superb cocktails, and traditional Moroccan cuisine
Duplex Casablanca - a favourite with the locals and one of the best Shisha lounges in all of Casablanca
La Bodega, Casablanca - this trendy tapas bar has everything you need for a memorable night, with an eclectic mix of live music on most nights
So Lounge, Agadir - wildly popular with locals and visitors, this exclusive club features live music and renowned DJs

What events can I go to in Morocco?
Morocco is just the ticket for varied events and festivals with a calendar of exciting and cultural events to enjoy on your trip. Here are some of the best to keep in mind:
Moussem festival (February) - this celebration lasts a few days and includes music events, mystic dances, religious processions, and shows with horses across the country.
Casablanca Electronic Festival - electronic music hits the scene in Casablanca with artists from Morocco and Europe sharing their talents.
Tafraoute (March) - the festival of the almond tree in bloom - a beautiful time to celebrate with traditional markets, concerts, and outdoor shows.
Contemporary African Art Fair, Marrakesh (March) - a fair which showcases the best contemporary art from across Africa - the perfect sustainable and dynamic event to meet like-minded artists.
Jardin'art Festival, Marrakesh (April) - the free-to-attend festival offers workshops, floral displays, craft stalls, and traditional shows.
Gnawa Festival of World Music (May) - taking place in Essaouira, come and watch a variety of musicians from all over the world take the stage to celebrate the best of the diverse music scene.
Sefrou Cherry Festival (June) - vibrant parades of floats, traditional dancing, and a beauty contest named Queen of the Cherries are all part of this famous festival.
National Festival of Popular Arts of Marrakech (July) - celebrate the arts with a traditional line-up of phenomenal music and dancing.
Oasis Festival (September) - a festival featuring some of the best underground electronic music talent. A great opportunity to discover new sounds.
Date Festival (October) - takes place in Erfoud Town and coincides with the harvest of dates. The annual festival is a time of traditional dance, music, and sweet stalls.
Things to do in Morocco
Take a desert tour
As the largest desert in the world, Erg Chebbi is well worth a visit. If you take a tour, you can go camel trekking, dune bashing, and sleep in one of the local camps to see it at night.
Surf's up!
Beaches in Morocco are known for being windy, making them ideal for surfing and other watersports. Surf schools are located mainly in the south of the country, along the Atlantic coastline, so grab a board and catch a wave!
Hike the Atlas Mountains
The scenery around Morocco is jaw-droppingly beautiful. The Atlas Mountains have that off-the-beaten-track kind of feel, with views you'll never forget.
Experience the lagoon town of Oualidia
Two hours from Casablanca, Oualidia has that quieter appeal to it, with a gorgeous crescent-shaped lagoon and incredible fresh fish restaurants to try.
Go shopping at the markets
Souks are the traditional marketplaces in Morocco, packed with leather goods, ceramics, stunning textiles and spices, making them the perfect place to grab some great souvenirs.
Take a cooking class
The best place to learn how to make delicious Moroccan cuisine is the country itself. You can learn how to cook all the traditional dishes and share them back home with your friends and family. Now that will up your dinner party game!

What's the weather like in Morocco?
Blessed with year-round heat, you're in for plenty of sunshine with a holiday to Morocco. Boasting mild winters and scorching hot summers (don't forget the suncream!), the African heat is sure to make an appearance, whatever time of year you choose to visit.
| | | | |
| --- | --- | --- | --- |
| Month | Average temp. | Sea temp. | Hours of sunshine per day |
| Jan | 13 °c | 9 °c | 7 h |
| Feb | 14 °c | 8 °c | 8 h |
| Mar | 17 °c | 8 °c | 8 h |
| Apr | 18 °c | 9 °c | 8 h |
| May | 21 °c | 11 °c | 9 h |
| Jun | 24 °c | 13 °c | 11 h |
| Jul | 29 °c | 15 °c | 11 h |
| Aug | 29 °c | 16 °c | 11 h |
| Sep | 27 °c | 16 °c | 9 h |
| Oct | 21 °c | 14 °c | 8 h |
| Nov | 17 °c | 13 °c | 7 h |
| Dec | 14 °c | 11 °c | 7 h |
Important Information about travelling to Morocco
How long does it take to fly to Morocco?
Flights from the UK to Morocco take around three and a half hours.
What's the time difference between the UK and Morocco?
The local time in Morocco is one hour ahead of the UK.
What currency do they use in Morocco?
The official currency used in Morocco is the Moroccan Dirham.
What language do they speak in Morocco?
The official language of Morocco is Moroccan Arabic (known as Darija). Other predominant languages used are Arabic, in its Classical and Modern Standard forms, as well as French.
Will Covid-19 affect my holiday to Morocco?
We are currently closely following the Covid-19 situation and how it affects travel. You can find out the most up to date information about travel to the Morocco on the FCDO website.
Do I need any vaccinations to visit Morocco?
Please check with your healthcare provider for all up to date vaccination advice before booking your holiday.
Do I need a visa to travel to Morocco?
British passport holders don't need a visa to visit Morocco for the purpose of tourism (up to three months). Holders of other passports are advised to check with their national embassy for any visa requirements.
---
Customer reviews
At On the Beach, we've sent many satisfied customers to Morocco for a bit of sunshine. But don't just take our word for it, read some of their 5-star reviews below.
Minka Timijs:
I've been using On the Beach since 2018 - never been disappointed. Great app, great team, great prices which lead to wonderful, hassle free holidays. Thank you On the Beach team.
Sharron Shewan:
So quick and easy, no hassle. Always kept up to date with any relevant information.
Susan Haney:
Really easy site to navigate. Managed to find the holiday I wanted and booked it within minutes! Great prices and plenty of information on hotels, location and transport options.
View destination on a map
Morocco Weather
Morocco's wonderful weather makes it a year-round premier holiday destination. The climate is Mediterranean, so whatever time of year you visit you can expect wonderful temperatures. Sun-seekers should definitely consider heading out in the peak times of June to August when temperatures reach an average of 28 to 30 degrees Celsius.
Pack plenty of sunscreen for your Morocco holidays, as temperatures can get even higher if you're visiting the mountainous areas of the country. If this sounds a little hot for you though, then visiting Morocco any time outside of the peak months will still provide you with a tan, but temperatures will stay at a more comfortable average of 22 to 25 degrees Celsius.
Things To Do on Morocco Holidays
Holidays in Morocco provide you with a wealth of wonderful things to see and do. Once (and if) you've had your fill of lounging on beautiful beaches all day you might want to take a trip to the Museum of Moroccan Arts in Place de le Kasbah or the Archaelogical Museum in Ben Hussaien to sample the wonderful arts and architectural gems of the country.
If you fancy something challenging, why not try trekking? Not only does trekking in Morocco provide a fantastic opportunity to enjoy the scenery, but you'll also be able to visit the mountain Berber tribes and be privy to their simplistic lifestyle, which remains unaffected by other civilations for generations upon generations. After that, why not give hot air ballooning a try! Head to the Western High Atlas plains near Marrakech to take your Morocco holiday to fantastic new heights!
Morocco Resorts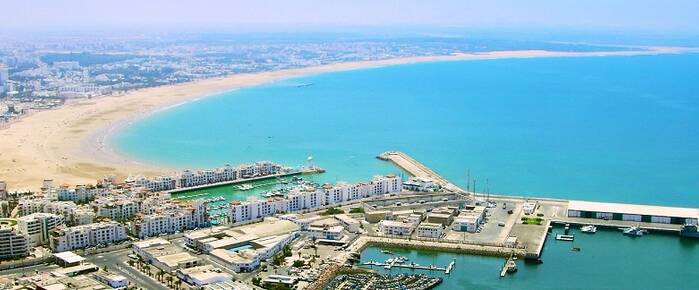 Embrace all things culture in Morocco's beach capital, with endless beaches, colourful harbours and traditional souks tucked away in winding streets.D…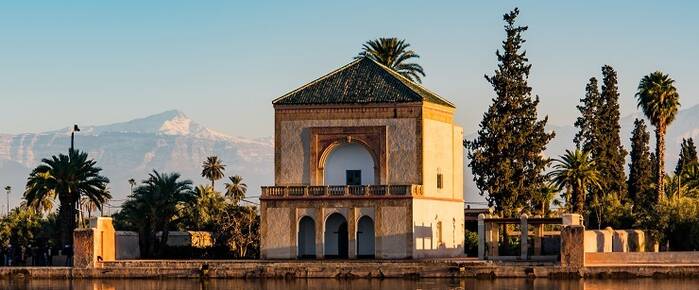 Destination HighlightsAn amazing, culture-rich cityPerfect for families, couples and friendsPlenty of luxury hotelsSo much to see and doJump to...Wate…