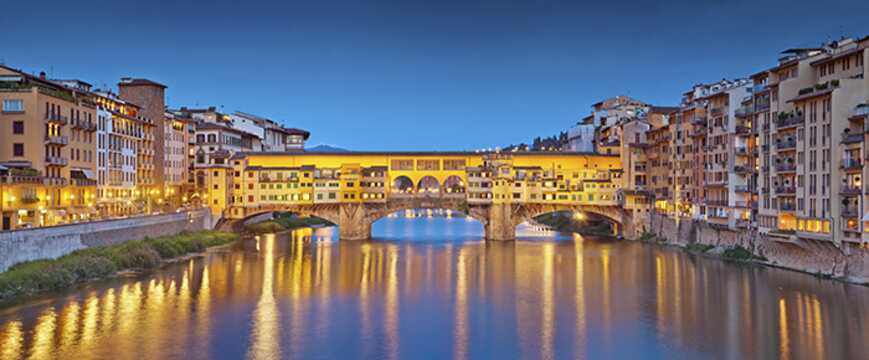 A city of enchanting romance, Renaissance masterpieces and irresistible Tuscan cuisine. Escape to a world of Italian wonder with a Florence city break. Discover winding narrow streets that lead to fascinating churches that tower high up above and explore elegantly decorated bridges that hover over the peaceful Arno River below. Walking the streets of Florence is like stepping into a magical, real-life fairy tale… and we're pretty sure you'll never want this story to end.
Location
The charming city of Florence falls no short of fascinating must-see sights. From the world-famous Palazzo Vecchio to the iconic Brunelleschi's Dome and the Uffizi Gallery, a sacred collection of exclusive renaissance art - unlike any other on the planet. Dive into a pool of culture and explore the lavish boutique shops, in the home of high-end fashion icon himself, Guccio Gucci.
Food & Drink
Florence's culinary scene is no less diverse and delightful as the rest of the city's magical attributes, taking its own twist on traditional Tuscan cuisine. The city's favourites include plenty of crusty, rustic breads served with locally-produced olive oils and deliciously soft pasta paired with flavoursome sauces. Of course, a trip here wouldn't be complete without trying Florence's famous dish, Bistecca alla Fiorentina , a fire-grilled T-bone steak seasoned with nuts for a succulent, smoky flavour. This city is also a wonderland for wine fans, with rolling surrounding hills, rich with wineries. Expect no less than the best, as your glasses are filled with some of the world's finest Italian wines fresh from the source! Wine lovers will find themselves in a world of paradise from crispy and citrusy white varieties to rich and warm reds, which perfectly pair with the nation's tasty pasta dishes.
Culture
If you're seeking a culture trip, you've come to the right place. Coined the cultural Tuscan capital, there are a myriad of art museums, jaw-dropping cathedrals and fascinating historical churches. If you're into arts and musicals April - July is a great time to visit. The Maggio Musicale Fiorentino takes Florence's centre stage for a programme packed with prestigious events! Witness spectacular opera performances, classical music concerts and awe-inspiring ballets. It's certainly one not to miss whilst on your city escape!
Nightlife
With the fresh Tuscan wine in full flow, there's no shortage of places to raise a glass in this ever-giving city. There's something to cater to all kinds of vibes from laid-back bars with great beers, artistic crowds and live music to stylish city centre nightclubs where thriving DJs take centre stage and the tunes play on all night long. If you're a sucker for an Irish bar and a good pint of Guinness, then you're also in luck! When wandering Florence's city streets, you'll also find a frenzy of Irish pubs, with a lively atmosphere, plenty of nightly events and sports games on show.
Important Information
Flight Time: 2h Time Difference: +1hrCurrency: EuroOfficial Language: Italian
Vaccinations
Please check with your healthcare provider for all up to date vaccination advice before booking your holiday.
View destination on a map
Florence Weather
CLIMATE
If you like it hot, visiting from June to September is best, where temperatures average between 27-31°C. The sun still shines throughout the months of April, May and October with temperatures around 18-23°C. From November through until March, it gets slightly cooler here with temperatures ranging between 11-16°C.
Things To Do on Florence Holidays
An evening of opera
In true Italian style, there's no better way to spend an evening in Florence than with a trip to the Opera. Prepare for a night to remember with moving performances from famous singers that are sure to take your breath away. Santa Monica Church is a great venue choice, with plenty of different dates and events to explore including both romantic and classical Italian opera.
Shop until you drop
For a unique shopping experience you won't find elsewhere, make sure a visit to the Ponte Vecchio is on your to-do list. One of Florence's most iconic attractions, this unique bridge also doubles as a floating shopping centre. The medieval bridge was once home to butchers and vintage craftsmen but now you can find a collection of small souvenir shops, jewellery stores and art dealers that call this place home. It's also a pretty awesome place to catch the sunset, so be sure to bring your camera.
Take a history trip
Journey back to the Roman era with a visit to the Piazza Della Repubblica, this busy square was once filled with bustling markets and formed the heart of the city. The square also featured in many of the famous renaissance paintings displayed in the galleries here – so be sure to keep an eye out for it! These days the square comes to life after sunset, offering a stage to many street performers and shows. Be sure to visit the historical cafes here like Café Gilli and Café Paskowski, where many of Florence's most famous writers and artists previously used to gather.
Take a guided tour
This tourist hotspot is brimming with exciting sites and attractions to see. To get the most from your Florence city break opt for a guided tour, there are plenty to choose from to suit all kinds of tastes. So whether you fancy walking the city streets and learning about their fascinating history, hopping on a bike for an active adventure or you'd like a deeper exploration of the museums with a knowledgeable guide, we're sure there's a guided tour for you.