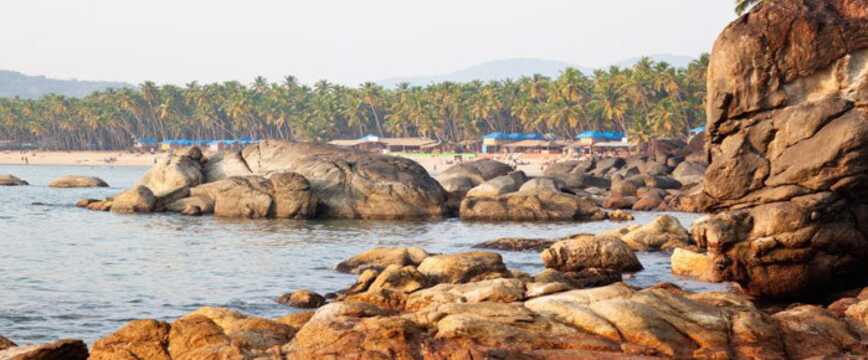 One of the quietest beaches you'll find on your holidays to Goa, Varca is situated on ten kilometres of pristine Indian coastline dotted with palm trees and silted with pure-white sands. Straddled with fishing villages and first class Varca hotels, this beachcomber's haven is the ultimate in sun, sea and solitude!
A mere twelve-hour flight away from you, holidays to Varca are what dreams are made of, and On The Beach can make it happen!
View destination on a map
Top Varca Hotels
Varca Weather
But first you're going to need your sun cream and shorts. The temperature in the peak season between September and May is in the range of 20° Celsius in December to 35° Celsius in May. It hardly ever rains, either, so you're going to have to get used to clear blue skies and beautiful sunsets! A holiday in Goa will see you return home refreshed and with a healthy radiant and sun-kissed glow!
Landscape
Varca is one beach among many beaches propping up the coast, and shares the longest stretch of coastline in Goa with it's busier neighbours. One of Varca's chief pleasures is bicycle hires for rides along the azure coast, where miles of lush green countryside vie with the infinite seascape for your attention.
Shifting sand dunes and coal-black lava rocks complete the beachfront's distinctively beautiful look, and for a good view of the sunset try the hills at Benaulim. To the north of Varca lies the pristine sands of Utorda and Arossim, with Bogmalo Beach situated further up the coast.
Things To Do on Varca Holidays
You might never leave the beach in Varca; it's quiet but not desolately so, and there's all the usual watersports and dolphin-spotting to be enjoyed. If you want to spread your wings there's plenty of transport, and a few kilometres to the north you'll find the growing beach resort of Benaulim, where you can go for cruises on the Sal River, spotting the crocodiles and exotic birds on the way.
Go inland to the picturesque fishing communities, where you can visit the chapels and temples, and even sample some of the freshly caught seafood.
Culture
You're never far from Goan culture in Varca. From the local villages to the city of Margao, the mix of religions and Eurasian influence is much in evidence. To see some real eye-openers, head to Margao's ancient canopied market, it's open every day and sells antiques from the Hindi times for amazing prices.
At Benaulim you should visit the St John the Baptist Church with itës Portuguese nave. If you're lucky there might be one of the many religious festivals being celebrated, with typical Goan frivolity!
Nightlife
Like most resorts in Goa, there's no shortage of beach shacks here to watch the sunsets, as well as tons of bars and restaurants. You can have some delicious chacuti washed down with coconut feni in any of these. For a less sampled Goan delicacy, try the ice-cream parlours off the beach.
If you fancy really getting out and about, there are myriad all-night bars and restaurants in Margao and nearby Colva, with eclectic custom from affluent Bombayans to travelling hippies.
Book a Varca Holiday now!
On The Beach makes it easy to create your own customised Varca holidays, allowing you to combine flights to Goa and accommodation with ease. With so amazing deals available right now, you're trip of a lifetime is only minutes away!