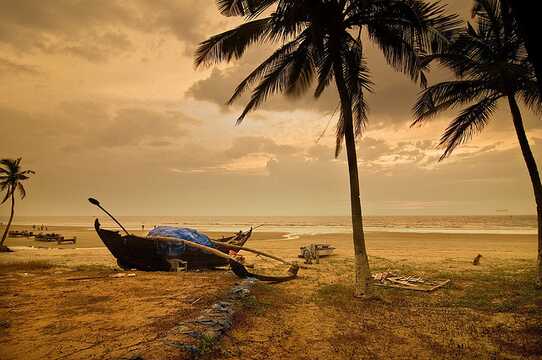 Chances are you've never heard of Utorda Beach - and neither have many others. That's the appeal of this secluded spot - of all the beaches in Goa holidays, this is the place!
Coconut palms tower over the silver sands, gentle breezes from the Arabian Sea temper the heat, and the lack of hubbub here defies explanation. Holidays to Utorda are just twelve hours flight away from you, and there's only a half-hour drive from the airport, too!
View destination on a map
Utorda Weather
Forget about thermals and pack your sunscreen - Goa is hot no matter when you go, with yuletide temperatures in the lower 20° Celsius and summer highs of 35° Celsius! The monsoon happens in Goa from June to September, but other than that there's hardly any rain to worry about!
Landscape
When you dream of being on the beach, this is the place your dreaming about. The lack of crowds means you can fully enjoy the gorgeous sunsets and the endless splashing of the waves. Itchy feet? Then you go on some of the best walks in Goa, through winding roads to the inland villages and emerald countryside; nearly as beautiful as the beach itself. The Zeebop Shack is also renowned for the seascape views it affords, so chill with a beer here.
To the north lies the sparkling sands of Arossim Beach and Bagmalo Beach.
Things To Do on Utorda Holidays
Quiet it may be, but Utorda is well-connected, near both Dabolim Airport and the bustling metropolis of Margao. If you manage to prize yourself from the beach you can go for some of the best coastline walks that Goa affords. A trip inland takes you through hamlets of villas built in the inimitable Goan way, with Iberian and Konkani styles vying for influence.
Culture
The whole of South Goa is at your disposal here - venture out to Margao for it's ancient covered market where you can buy antiques from the Portuguese colonial era or even farther back. Don't be afraid to haggle! Alternatively, head to Aquem for more chapels, temples and mosques than you've ever seen - St Sebastian's Church here has been around since 1562. Take the waters in the spring at Aquem, held to have healing powers. Old Goa, with it's mix of modernity and ancient rural life, also demands a look.
Nightlife
The restaurants and bars here are unparalleled both in affordability and for the quality of the local seafood. Martin's Corner is the place you want to try for quintessentially Goan dishes such as chacuti and fish curry, prepared to age-old recipes.
If you fancy a drink, there's no shortage of bars, clubs and beach huts here, or you can take advantage of Utorda's proximity to Margao for a ramble through the pubs and eateries in the city.
Book a Utorda Holiday now!
Utorda holidays needn't be a dream with On The Beach: our online booking system is easy to use and you can also book your accommodation in Utorda. There are amazing deals available today so don't delay!