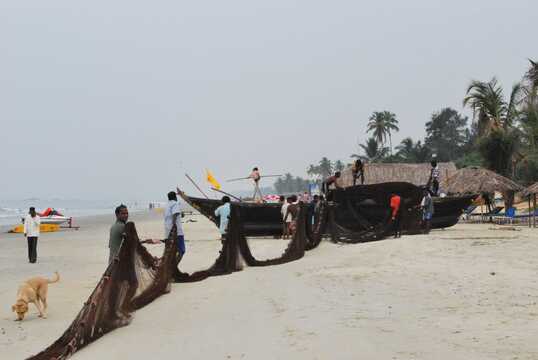 Read more about Sernabatim
The silver-sanded paradise of Sernabatim is one of the quieter beaches in Goa, sandwiched delightfully between the popular seafronts at Colva and Benaulim. You want your holiday in Goa to have some serious rest and relaxation, and this is perfect place for it! - soft sand, lush greenery and towering palms, and all this just a twelve-hour flight away!
View destination on a map
Sernabatim Weather
During your stay here, you might actually forget about rain, because apart from the monsoon season from June to September, sun and clear skies are the norm in Goa! The temperature here is always stratospheric: 20° Celsius even on a winter's night, and 35° Celsius in May before the winds start to break. Bring your sunscreen, but no scarves please. Get ready for some deep tanning!
Landscape
Beaches, beaches, beaches! Sernabatim itself is perfect for swimming thanks to it's clear blue waters and the higher sand dunes which push the waves farther out, adding to the calming ambience. There's also some lush greenery around the palms and coconut trees which all adds to the amazing sunsets here. Or you can walk up the coastline to the main beach at Colva for higher views, albeit with a busier atmosphere.
Things To Do on Sernabatim Holidays
Hit the beach! There's enough dolphin spotting, watersports and local amenities here to keep you occupied forever. The main attraction is the unspoiled beauty of the beach itself, which is protected by the Goa Environmental Protection Act. But if you feel like rambling, you can jump a bus or car to nearby Malgao, Goa's second biggest city, with plenty of shops and museums to while away the day in.
Try the Anna Fonte natural springs for some revitalising, or visit the old colonial gardens, one of the many relics of the city's Portuguese past.
Culture
If you feel like soaking up some local culture, try nearby Margao, which is jam-packed with market days and religious festivals of all denominations. Be sure to visit the Old Market next to the church square for some marine delicacies and exotic baubles, and the myriad temples and mosques provide insight into the diversity of faiths here. The Holy Spirit Church dates from the 1600s and is worth a look alone for the magnificent baroque architecture and the surrounding Catholic mansions.
Nightlife
There are plenty of beach shacks and hotels in Sernabatim, and the scores of pubs and eateries provide panoramic views of the long coastline at sunset. The bigger beaches at Benaulim and Colva also have an exciting, vibrant nightlife replete with clubs and music huts, and as you're halfway between both, you won't know which way to turn! Try Pedro's on Benaulim for a Full English with a spicy Goan twist.
Book a Sernabatim Holiday now!
Sernabatim holidays are the lot - peace and calm a short ramble away from big beaches and the Big City. On The Beach has great deals on both flights and accommodation in Goa bookable via our easy to use system. Make this place of dreams a reality for you!