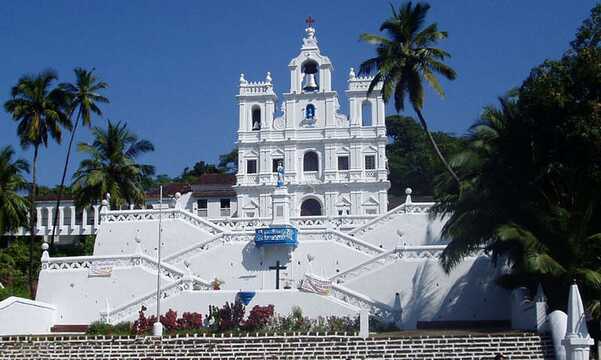 Goa is a magical and exotic foreign clime that somehow manages to mix the oriental with the Mediterranean, and there's nowhere better to see this than it's exciting capital! The coast of Panjim, or Panaji, doesn't merely host one of Goa's liveliest beaches at Miramar, but is also just couple of miles from the capital city with it's many Eurasian wonders. And this is all just a twelve hours flight from you, so let On The Beach get you here - book your Panjim holidays now!
View destination on a map
Top Panjim Hotels
Panjim Weather
Goa is famously never cold or wet - well, apart from it's monsoon season, that is. For the rest of the year, sunny skies and temperatures from 20° Celsius to 35° Celsius are the norm, necessitating sun cream, and lots of it!
If you are coming to Goa to relax, expect to go back home perfectly chilled out and with a radiant healthy tan. What more could you want?
Landscape
From the golden sands of Miramar Beach, it's only two miles to Panjim, and the city is surrounded by some of the most jaw-dropping seascapes and liveliest beaches that Goa affords. There are also hills and ancient bastions such as Fort Aguada, up-coast, to explore, and no shortage of shacks to take in golden sunsets of the kind you only get in Goa.
Things To Do on Panjim Holidays
From the baroque Portuguese chapel at the town centre to the Mandovi river on the outskirts, this place is crammed with the finest shops, architecture, religious houses, and museums in Goa. Virtually every Goan museum is here, from the Archaeological Museum with it's millennia of murals and sculpture, to the Archives Museum and the grandiose Braganza Institute.
Visit the Wildlife Sanctuaries, such as The Bird Sanctuary and Bondla Forest with it's wild boar, and snap the ubiquitous medieval ruins that testify to the amount of history that Panjim has seen. One thing's for sure, your camera will be get plenty of use.
Culture
Before becoming capital in 1843, Panjim was a small town changing hands from empire to empire. Perhaps because of this it has developed rapidly without becoming overpopulated or unwieldy, and there's plenty of room to breathe. There's no room to move however, without bumping into age-old temples, so give the Krishna Temple and Se Cathedral a look.
Local festivities include the February Carnival and the succeeding Hindu Spring Festival of Shigmo, and it's worth going at this time of year just to see the frolics these entail!
Nightlife
If you're a night-owl, there's arguably nowhere better to stay in Goa than Panjim as there are more all-night bars, clubs and restaurants here than anywhere else in the region. Take a walk down Goa's busiest street, the 18th June Road, for more exotic seafood and fresh Feni than you'll ever see again, or just chill outside the bars at the end of the day.
You're connected to everywhere in Goa here, so you can take a bus, car or rickshaw to the big beaches at Calangute and Baga, with their all-night shacks and hippy bars galore.
Book a Panjim Holiday now!
On The Beach is first choice not only for flights to Goa, but also your accommodation with a wide range of quality hotels in Panjim! Our online booking system is simple, easy and fast - so don't delay - book today for the best deals online!