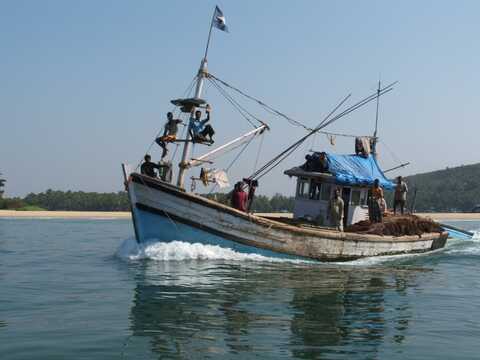 Sandwiched between one of Goa's most beautiful rivers and it's longest stretch of coastline lies the exquisite beach at Mobor. Straddled by towering palms and flanking the sapphire Sea of Arabia, this beach paradise gives you everything you could want from a holiday in Goa: sun, sea, sand, and solitude.
As far-flung as it all sounds, holidays to Mobor Beach are really only a twelve-hour flight away. Now that should cheer you up!
View destination on a map
Mobor Weather
Expect to get a suntan here, whenever you go! Night-time winter temperatures are scarcely cool at 20° Celcius, and by early June this has soared to 35° Celsius. The resort is closed off from June to September because of the annual monsoon, but this gets all of Goa's annual rainfall out of the way in one fell swoop, so light clothes and sunscreen should be on your shopping list.
Landscape
Mobor is defined by it's beach, with it's soft yellow sands and amazing sunsets, it's no wonder that it's one of the most popular seafronts in Goa. If you manage to force yourself from the beach however, take a trip up the small slopes of the surrounding Betul Cross Hills for amazing twilights, or see the estuary of the Sal River, where it melts into the sea, particularly gorgeous at sunset. Mobor Beach is a short walk from neighbouring Cavelossim.
Things To Do on Mobor Holidays
Secluded as it is trapped between the coast of the Arabian Sea and the beautiful River Sal, snaking inland with tropical flora and fauna, the highlight of you trip to Goa will be the cruise up-stream from Betty's Place to spot all manner of amazing wildlife, including bats with giant wings. This is a popular sail, so pre-book if you're going for less than a week. Alternatively, venture out to the sea in a small sail to say hello to those ever-friendly dolphins, or just stay on the beach for watersports and perhaps a massage!
Culture
Goa is famed for it's mix of Christianity and Hindi beliefs, and Mobor is no exception - take a trip to the village square, replete with the paraphernalia of marine life and the beautiful church where the locals gather at sunset for a chat. You can visit the many old shops selling antiques from India's past here too, or meander inland to Betul for a taste of ancient rural life and temples and churches aplenty.
Nightlife
Hotels in Mobor range from deluxe establishments with beach parties to family-run affairs. But relax, you're in Goa - and that means you're spoiled for choice for quality, affordable eating out, bars and clubs. If you can't find a beautiful place to chill and enjoy a drink under the sunset, you're officially wearing blinkers. Try Sam's Shack just off the beachfront for some fine Goan cuisine.
Book a Mobor Holiday now!
At On The Beach it's easy to create a customised holiday with our unique system that allows you to combine flights and accommodation with ease. Even as you read this there are many amazing deals on holidays to Goa, so book now to avoid disappointment!