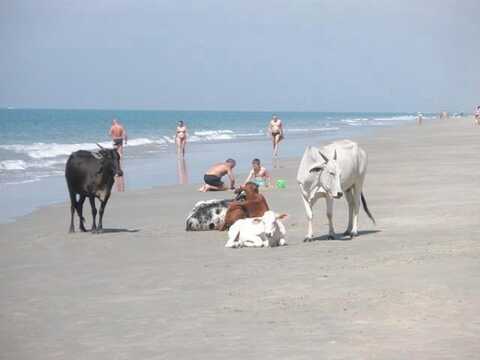 Read more about Cavelossim
You're on your holidays to Goa, and you want to chill, right? Well, where better than the placid sands of Cavelossim: this sleepy resort is one of the quieter, more upmarket beaches in Goa, but it is also one of the cleanest and most picturesque.
Holidays in Cavelossim are Number 1 for sun, sand and serenity, and the white sands and golden sunsets of this seaside nirvana are only ten to twelve hour's flight away from you!
View destination on a map
Cavelossim Weather
Cavelossim's weather is just like the rest of Goa - amazing. The temperature is constant from roughly 25° Celcius to 35° Celcius from September to May, taking a mild dip down to 20° Celcius in the December nights and there's practically no rain. So get ready to slap on some sunscreen and bronze!
The annual monsoon occurs in the summer months, but for the rest of the year it's secluded splendour is waiting for you under the radiant Indian sun.
Landscape
Cavelossim is justly famed for it's amazing beach on one of the largest stretches of coastline in Goa, but it's also on a huge 10 kilometre stretch of white-silted coastline, so sunset walks and shell-collecting are popular pastimes here. From here you can walk down to Mobor, with it's myriad restaurants, or up past the jet-black lava rocks to the nearby resort at Colva. The beach at Cavelossim itself is pristine and though not crowded, it's a long way from dead too.
Things To Do on Cavelossim Holidays
Further inland from the beach, there are lanes winding out onto amazing stetches of paddy field all the way up to the Sal River. From here you can ferry up over the water to Assolna. There's enough beach-life to ensure you never leave though, from boat-rides out to meet and swim with the dolphins, to more watersports and massages than ever thought existed.
Culture
Cavelossim has a long history and you won't need to go far to discover it - a short trip inland takes you to the old village square with it's old church and local markets. While at Cavelossim, you should also visit the old national parks inland where you can check out the local wildlife, including leopards and elephants! Or discover the delights of Palolem, to the South, going further inland to discover age-old Hindi Temples and churches alike.
Nightlife
There's a huge mix of beach shacks, restaurants and taverns out here from which to watch the sun go down while taking in some local tunes, and all for very reasonable rates. There's also a huge mix of hotels in Cavelossim, most hosting parties with an eclectic mix of guests, so why not join in?
For a bite of first-class Goan tucker, try Edwin's Goan Palace by the beach. It won't disappoint - but then nothing here really does!
Book a Cavelossim Holiday now!
So what are you waiting for, book now! On The Beach makes it easy to create your own customised holiday allowing you to combine flights and accommodation with ease, and there are amazing deals on holidays in Goa available right now!