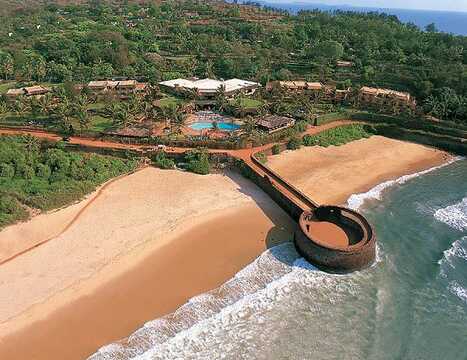 Goa holidays are all about sun, sea and sand - so how about a stay in tranquil Candolim Beach? Holidays in Candolim mean beautiful sunsets across a long, dune-laden beach that is one of the quietest and most relaxed spots in Goa, but also close to the most popular beach, Calangute.
With On The Beach, you can book your holidays to Candolim in no time at all! And you'll be here in no time too - a direct flight from the UK gets you to Goa in under half a day!
View destination on a map
Candolim Weather
You'll never need winter-warmers in Goa - even at New Year the temperatures here are well above 20° Celsius, soaring to 35° Celsius in mid-May. Sunscreen, anyone?
The best time to go on holidays to Candolim is from September until May - Goa is more or less out of bounds during it's monsoon season in the summer, but apart from that there's practically never any rain either!
Landscape
People come to Candolim for solace and calm, not to mention breathtaking views, so pull up a sunbed and chill! If you feel like a hike, take advantage of Goa's longest stretch of white-sanded coastline and visit nearby Fort Aguada on the Mandovi River. This Portuguese coastal fort may have been built in 1612, but it's exceptionally well-maintained and affords spectacular views of the north and south coastline, particularly at sunset.
Should you fancy a change in scenery, the silver sands of Baga Beach are just a few minutes north up the coast.
Things To Do on Candolim Holidays
Candolim's neighbouring beach, Calangute, offers a more bustling atmosphere where you can buy some quality jewels and silverware in the exquisite Tibetan shops on the way. The seven-mile stretch of coastline is perfect for walks at sunset, and the Sinquerim Plateau is also worth a climb for the stunning vistas of the coastline it affords.
There's enough entertainment, water-sports, yoga and fishing here to keep anyone happy. If you don't feel like moving, relax! After all, this is the home of the hippy movement.
Culture
While you're at the Fort, check out the Candolim Lighthouse - the oldest one anywhere in Asia, built in 1864. The restored Chapel of St Lawrence, the patron saint of mariners, is a must-see, and for some astounding stained-glass artwork, visit the sixteenth-century Our Lady of Hope Church nearby.
In December, don't miss the Feast of Nossa Senhora, for celebrations, parades and well-wishing, and the local Tintto, or bazaar, where football and feasts are the order of the day, is on all year round!
Nightlife
There are plenty of restaurants just off the beach, serving up everything from local seafood delicacies to French and Chinese grub, plus steaks galore in the Stone House! The watering holes here are inexpensive but upmarket, with pristine stereo systems so you can watch the sun go down to your favourite tunes. And all-night beach shacks, clubs and hippy bars where you can chill to some reggae are only a few minutes away at Calangute.
Book a Candolim Holiday now!
On The Beach is first choice not only for Goa flights and hotels in Candolim! Our online booking system is as quick and easy as being on holiday too, so simple that you can create your own customised holiday to Goa in minutes!