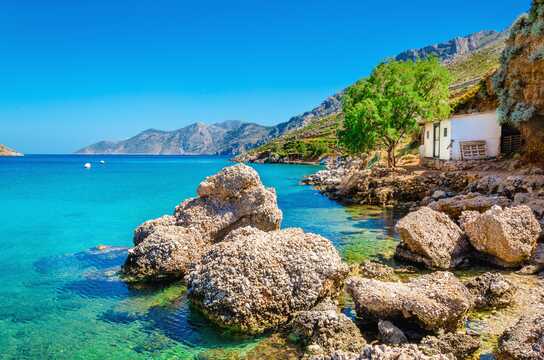 Read more about Georgioupolis
Georgioupolis is a beautiful village on Crete's north coast, between Rethymnon and Chania, set in stunning surroundings of mountains, eucalyptus trees, a pretty river, an estuary harbour, and golden beaches. Once a tiny fishing village, Georgioupolis is now a popular and sometimes bustling holiday destination, but still retains its traditional rustic atmosphere.
On the Beach has amazing deals on flights and accommodation in Georgioupolis, so book now for perfect Crete holidays with all the sun, sea and sand you want!
View destination on a map
Georgioupolis Weather
Georgioupolis enjoys an exceptional Mediterranean climate, with long, hot summers. This is the most popular time for people to take their Crete holidays, when the sun is sizzling and perfect for spending time on the beach. The spring months are appealing, slightly fresher with bursts of wild flowers blooming across the countryside, and autumn is more peaceful as the resorts wind down. During the winter Georgioupolis is cooler, sometimes wet, and inland the White Mountains are often capped with snow.
Landscape
The landscape around Georgioupolis is perfect for both nature lovers and sun-seekers. The estuary of the River Almyros, on which the village stands, is a nesting ground for sea turtles, and you can catch a boat trip upriver to see terrapin colonies. Ancient eucalyptus trees surround the village and the river to where it meets the sea.
The beach curves away to the south, a stunning 9km stretch of golden sands, with loads of facilities for families and fans of water sports on Crete holidays. The beach near the village is protected by a breakwater and is fairly gentle, but at the far end of this long stretch the sea can get quite choppy with strong currents, so be careful if venturing this far. To the north of the river's mouth is a much more sheltered, quieter beach if you fancy chilling out away from the crowds.
Lake Kournas is a great place to visit in the mountainous countryside, 4km south of Georgioupolis, and is Crete's only freshwater lake. This is a great place to explore Crete's unique flora and fauna, and a hike into the surrounding hills will reveal beautiful natural scenery.
Things To Do on Georgioupolis Holidays
Georgioupolis has much to offer apart from the beaches and mountains. The local fishing fleet anchored in the harbour offers a glimpse into this traditional Greek industry, and from here you can catch boat rides to various destinations. You can also take a tour on the Talos Road Train that runs to Lake Kournas and other sights. A eucalyptus-lined square is the focus of the village's shops and cafes; close by you can find a water park, children's play area and mini golf course.
Located between Rethymnon and Chania, Georgioupolis is a great base for exploring these towns, including their museums and historic harbours. As you will see, there's something for all tastes and ages with a holiday in charming Georgioupolis.
Culture
Georgioupolis has a rich and past, like the rest of Crete, and stands on the site of ancient Amphimalla, the port of the classical city of Lappa. The island has experienced successive invasions and occupations, and vivid evidence of this history can be seen in the historic architecture of nearby Rethymnon and Chania, both fairly close to Georgioupolis.
The village itself is named after Prince George of Greece, who was high commissioner of Crete during the last years of Ottoman occupation. Today Crete is enjoying a period of peace and prosperity, and Georgioupolis has become a much lauded spot for Crete holidays for people from throughout the UK and beyond.
Georgioupolis village marks the saint's day of St John Rigologos on the 29th of August each year, and every Tuesday night during the summer The Georgioupolis Beach Hotel holds Cretan music shows. Rethymnon and Chania both host cultural events in the summer months; check the local newspapers or tourist information to find out details of these.
Nightlife
The nightlife of Georgioupolis is very peaceful and centred around the village square. There's a choice of restaurants and tavernas offering good food, and cafes and bars serving cocktails and playing music. The atmosphere is pleasantly low-key, so if you prefer clubbing and dancing all night you should head out for an evening in either Rethymnon or Chania.
For a romantic meal you could head to the village of Exopolis, which sits in the hills above Georgioupolis, and enjoy traditional fare with breathtaking views out to sea while you watch the sun dip into the azure Mediterranean Sea.
Book a Georgioupolis Holiday now!
Georgioupolis is a beautiful village and resort, standing on a river amongst ancient eucalyptus trees and spectacular mountains, with stunning golden beaches. On the Beach has great Crete holidays to suit all your needs, so don't delay, book now for a perfect holiday in gorgeous Georgioupolis today!