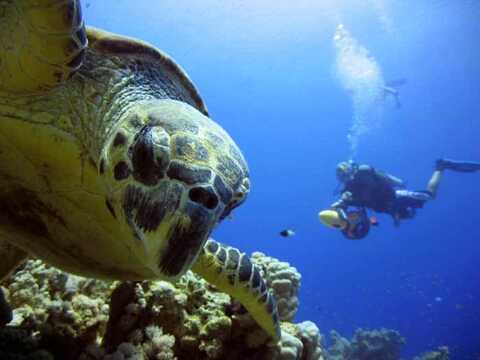 A Habada holiday will find you ensconced in the midst of the Red Sea Riviera's northern tip where the surrounding city of Sharm El Sheikh juts out onto the warm waters of this clear basin. Within this town you'll find everything you could want from your Egypt holiday including great diving opportunities, ancient artefacts, museums, desert safaris and a great nightlife!
Book your Habada holidays with On The Beach, and you'll be six hour's flight from this palm-strewn paradise!
Ramadan
Please be aware that the Islamic holy month of Ramadan will take place between 12/04/2021 - 11/05/2021. During this time, many cafes and restaurants will close during the day, restrictions on alcohol sales may be in place, and hotel dining for non-Muslim guests may take place in private rooms. Playing music, dancing, and eating in public areas may also be restricted during this time.
Visa and Entry Information
Passport Requirements: All passports must have 6 months validity from the return date of travel, two clear pages inside, and a valid return ticket.
View destination on a map
Habada Weather
You can go on holidays to Habada no matter what month it is. Temperatures here peak in the mid 40° Celsius in high summer before dipping gradually down to the early 20° Celsius at New Year. No matter when you come, the pool and sea water will always be warm, so pack your Factor 30!
Landscape
In Habada, you'll have uninterrupted views of the Red Sea sprawling out to the south, it's clear waters except for the ripples of whale sharks and dolphins, and the foam in the wake of yachts and speedboats in the distance. You'll also be close to the perfect sands of Naama Bay, the premier spot for divers. The towering palms and tawny sands of Nabq are also close by, being quieter and with less clubs.
Things To Do on Habada Holidays
Habada is situated in the middle of the peninsula of Sharm El Sheikh's palm-strewn promontory, offering divers and snorkellers ample opportunity to explore the great reefs offshore. You can travel on safari up to Mount Sinai itself, famed as the legendary source of the Ten Commandments, with one of the world's oldest Christian churches at it's foot - St Cahterine's, home to the oldest theological library outside the Vatican. Take the kids on a trip to the Fun Land Theme Park, the Diving Museum and even a desert ice rink!
Culture
Habada holidays would not be complete without taking in the local sights, of which there are many! Sharm el Sheikh plays host to an international camel racing festival in April and May, with traders and excited betters screaming encouragement to the humped racers, which actually move a lot quicker than you'd think!
The National Fishing Festival is open to everyone in July, so angle away - you don't know what you'll catch here! Fish is one of the many things on sale at the daily bazaars in the old town, along with all sorts of exotic baubles to take home as souvenirs. Remember, you're in Egypt so don't be afraid to barter!
Nightlife
The main symbol for clubbers here is the distinctive double decker bus that serves as entrance for the Bus Stop nightclub, pounding out DJ's latest mixes into the wee hours. There's something for everyone in Sharm El Sheikh, from cosy pubs and pool bars to live music venues. International cuisine is the order of the day here, but do take the time out when strolling past the beach to sample some authentic Egyptian dishes of okra and spiced vegetables.
Book a Habada Holiday now!
Holidays to Habada can't be beaten for diving, safaris and relaxation. Likewise, On The Beach can't be beaten for offering the best deals on your flights and accommodation! Don't wait - there's amazing deals on Habada holidays here right now!