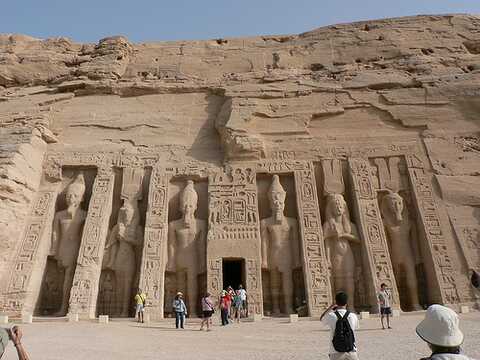 Egypt holidays should mean both relaxation and the chance to discover the wonders of this antique land, and there's arguably nowhere better to achieve both than the city of Aswan, Ancient Egypt's southernmost frontier.
Here, on the banks of the Nile as it reaches it's first gaping waterfalls, you'll soon find out why this eternal city is attracting thousands of tourists per month. Aswan holidays are yours to be had with On The Beach: just a few clicks and you'll be in this historic, sand-straddled oasis!
Ramadan
Please be aware that the Islamic holy month of Ramadan will take place between 12/04/2021 and 11/05/2021. During this time, many cafes and restaurants will close during the day, restrictions on alcohol sales may be in place, and hotel dining for non-Muslim guests may take place in private rooms. Playing music, dancing, and eating in public areas may also be restricted during this time.
View destination on a map
Aswan Weather
Aswan is renowned as one the Earth's driest climes; it's sands can go years without a single raindrop falling on them, so basically, leave your raincoat! As you're in the south of inland Egypt, expect stratospheric temperatures: summers are above 40° Celsius, with winter days averaging around 25° Celsius; testifying to Aswan's peerless status as a year-round resort.
Landscape
Aswan holidays will have you gazing on a fertile oasis upon which repose great monuments and temples buffered by two giant dams. These must be surmounted for astonishing vistas of the rapids below, while the river that they tame, the Nile, is the place to be at sunset to watch the sun sink rapidly into the cloudless horizon. This is widely regarded as the most beautiful stretch of the world's longest river, and the best way to enjoy it is relaxing onboard a ferruca, day or night, to take in the palm-strewn desert around you.
Things To Do on Aswan Holidays
The Nubia Museum here is definitely worth a look for mummies, statues and countless other antiquities from the Coptic era into prehistory. Take a trip to the famed botanical gardens at Kitchener's Island or the larger Elephantine for picnics among tropical fauna. Your holidays to Aswan wouldn't be complete without a day trip to Luxor, 80 miles away, can see you strolling by pyramids and ancient ruins, or through the famed Valley of the Kings!
Culture
There are tons of markets and stalls here around the esplanade and surrounding streets, where you can buy both occidental and oriental baubles, from radios to jewels, satins to electrical goods. There's also plenty of local and high-class eateries here selling everything from mint tea and spicy fish and okra to bacon and eggs, and of course, Nubian cuisine.
For some more boisterous street life, the Miracle of the Sun Festival at Abu Simbel Temple is the must-see event in Aswan. This unmissable event is held twice a year in February and October to commemorate Ramesses II with music and dance.
Nightlife
The more aesthetically inclined can travel to the great Temple of Philae for the Sound and Light Show, which magically transports you to the time of the Two Kingdoms, or to a rollicking Nubian Dance Show, which are held nightly. Aswan has plenty of bars and clubs along the main street, and hotels offer all the best in late-night entertainment, especially of the raucous Nubian variety! There's plenty to keep everyone entertained on holidays in Aswan.
Book a Aswan Holiday now!
On The Beach is first choice for all your holidays to Aswan and your stay at a range of Aswan hotels. Don't wait to book, we have amazing deals on Aswan holidays available right now!