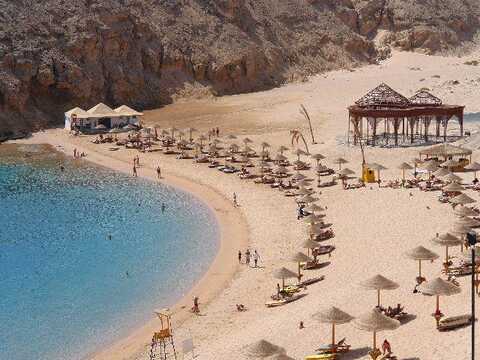 Read more about Makadi Bay
Holidays to Makadi Bay will find you taking in one of the Red Sea Riviera's most beautiful, secluded resorts just 22 miles from the teeming city of Hurghada. A diver's paradise, the warm waters here are home to some fabulous reefs and aquatic fauna, and there's no shortage of diving lessons and clubs for the uninitiated.
Whether you're planning a family trip for Christmas or a great time with your mates, Makadi Bay is the place to go! You and the rest of your family won't be stuck for excitement with such a diverse range of things to see and do in Makadi Bay.
Ramadan
Please be aware that the Islamic holy month of Ramadan will take place between 12/04/2021 and 11/05/2021. During this time, many cafes and restaurants will close during the day, restrictions on alcohol sales may be in place, and hotel dining for non-Muslim guests may take place in private rooms. Playing music, dancing, and eating in public areas may also be restricted during this time.
View destination on a map
Makadi Bay Weather
Even at Christmas you'll be lolling around getting tanned by the pool or on the gorgeous bay itself. December temperatures for holidays to Makadi Bay average around 20° Celsius, with summers in the 40° Celsius range. The crystal-clear waters here are renowned among divers the world over for their warmth, even in winter, so that means watersports aplenty. With year round sunshine you can come on holidays to Makadi Bay at any time that suits you!
Landscape
There are miles of uninterrupted coastline to explore on holidays to Makadi Bay, all of it beautiful. The sands are practically white, with the sea and cloudless sky coming together in seamless azure, and at night, the illuminations of the hotels gives the bay an amazing, ethereal quality. Chances are you'll want to while away the nights by the palms of the bay or at your hotel, but there's always desert safaris into the Red Sea mountains for some spectacular panoramas of the coast.
Things To Do on Makadi Bay Holidays
Makadi Bay is right next to Hurghada, one of the centres of the Red Sea, meaning you can explore the Roman ruins, Maritime Museum and sail over to Giftun Island and see the open wildlife reserve and National Park. There are also some great old Coptic churches nearby with ancient libraries and murals from the last millennium tended to by monks, and the beautiful twin-towered Mosque in the town. Your holidays to Makadi Bay don't just have to be about sun, sea and sand.
Culture
The daily souk, or market, sells everything here, from local food to exotic baubles and jewellery. This is one of the Red Sea's finest souks, with shops and even a pharmacy, so everything you need is right on your doorstep. If you come on Makadi Bay holidays in February, be sure to catch Hurghada's International Festival, a myriad of fanfares and sport competitions. There's always something happening in Hurghada, from January's Grand Feast to the Coptic New Year, so your boredom threshold won't be breached!
Nightlife
You'll soon see why Makadi Bay holidays are so famed because there's everything you could want; bars, music, dance, games rooms and so much more. If you fancy a night on the town you'll get just that a short drive away in Hurghada. This city has everything, from nightclubs to rave away until sun-up to quaint English bars for a pint and a game of pool. El Dahar, the Old Town, is the place to go for some authentic Egyptian cuisine: okra, stewed veg and moussaka. The sights and sounds of beautiful El Gouna to the north are certainly not to me missed!
Book a Makadi Bay Holiday now!
Makadi Bay holidays offer you everything you could want from your Egypt holidays - great beaches, exciting nightlife and yearlong fun in the sun. On the Beach offers the best deals on getting and staying there! Your only a few clicks away from this Egyptian paradise - and a heavenly deal!