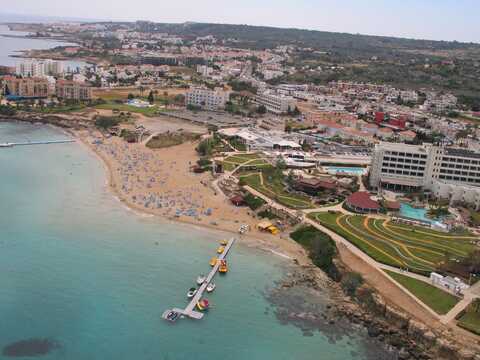 Protaras holidays offer a quiet life but with its fun-loving neighbour Ayia Napa, you get the best of both worlds. This is a great choice for family holidays to Cyprus as there is plenty to do but also suits couples looking for relaxation and fun.
Perfectly situated, Protaras means you have great access to Ayia Napa, Paralimni and Larnaca, so whatever you want to do, you are bound to find it nearby. This purposely built resort has plenty to offer from bars, shops and beaches. Make sure you dont miss out on your holidays to Protaras!
In Protaras itself there are plenty of small shops and markets but for those determined shoppers, why not head to nearby Paralimini. Have a go at some watersports by heading to the most popular beaches, Fig Tree Bay and Pernera beach. For scuba divers, Cape Greco headland would be ideal whereas for those wanting to try snorkelling, Fig Tree Bay is perfect. Whatever beach you visit, there will be plenty to do from pedaloes and windsurfing to jet skis or swimming. For a glimpse into the history of Cyprus, head to the capital of Nicosia and check out some of the amazing buildings.
There are a number of festivals throughout the year so whatever time you decide to visit, you are bound to experience what they have to offer. In July, nearby Larnaca has its summer festival and the festival for Aphrodite. Why not visit on a public holiday as well as there are always celebrations happening throughout the villages.
In Protaras there are plenty of lively bars, so karaoke lovers are bound to be pleased! There are also a number of discos on offer but if you want real excitement, Ayia Napa is the place to be! Known as one of the party capitals of the world, there are loads of bars, restaurants and nightclubs where you can party till dawn.
Those not into the whole party atmosphere should stay in Protaras and try a number of restaurants which offer local and international food. The choices are endless.
View destination on a map
Protaras Weather
The weather in Cyprus is brilliant throughout the year but those wanting a golden tan should come on their Protaras holidays in the summer. Do expect it to be a lot busier though, so those wanting more of a quiet and relaxing break away should take their holidays to Protaras out of season in spring or autumn.
Landscape
The rugged headland of Cape Greco are stunning and being framed by beaches only adds to its landscape. The fine beaches are favoured by all and are particularly suitable for children as they shelve gently into the sea.
Book a Protaras Holiday now!
Protaras holidays offer the peace and quiet people require but with its neighbour Ayia Napa, holidays in Protaras offer plenty of excitement! Perfect for families and young couples, this resort has everything on offer. To get the perfect deal on flights and accommodation make sure you book with On the Beach today!