---
Year-round heat, beautiful landscapes and a choice of islands filled with stunning beaches. The Canaries are the perfect beach destination for all holidaymakers.
---
Destination highlights
Year-round great weather

Endless beaches

Great for nature-lovers

Choice of islands
What are the best beaches in the Canaries?
Ready to swap your screen saver for the real deal? The Canaries are a buffet of sandy feasts and nature treats, with a side order of island vibes. With year-round toasty temperatures and over 300 annual days of sunshine, you can literally visit whenever you like. And if you're itching for a last-minute dash to paradise, we've got deals hotter than your crush's summer pics. So, let's dive into the beachy who's who:
Maspalomas (Gran Canaria): Picture 17km of pure sandy bliss. No rush for the best spots here (and no one plonking their towel down right next to you - winner)

Amadores (Gran Canaria): This is the family-friendly bay where the waters are as calm as a zen master and the sands are as soft as your favourite pillow. It's a man-made marvel where even the wind takes a break.

Playa el Bollullo (Tenerife): Black sands, secluded vibes, and a touch of volcanic drama – this beach is like the moody artist of the coast, perfect for lovebirds escaping the world.

Las Vistas (Tenerife): With 850m of sandy bliss and a sea as serene as a lullaby, this beach is a playground for the young and the young at heart. And ice cream? You bet there's ice cream.

Corralejo (Fuerteventura): Calling all thrill-seekers! This beach has waves that are ready to party with your surfboard, and sands that are itching to tickle your toes.

Playa el Hierro (Fuerteventura): Ever seen a beach that looks like a popcorn machine exploded? This is it. Not your average sandy shore, but an epic tale of nature's quirks.

Playa Flamingo (Lanzarote): With sands as fine as stardust and waters protected by manmade magic, families unite – this is your chill zone.

Playa del Reducto (Lanzarote): Blue Flag certified, sand as soft as a whisper, and a vibe that sings 'holiday anthem' – it's the beach that everyone is writing home about.
---
What are the top hotels in the Canaries?
These sun-drenched islands are full of tip-top hotels for that classic vacay feeling, and cheap holidays to the Canaries aren't hard to come by either. Have a nosy at these hotels if you can't decide where to jet off to...
Popular Canaries hotels
Costa Adeje, Tenerife, Spain
A cool design in the style of a Greek palace

Fantastic entertainment

On-Site Spa for Ultimate R&R
Puerto Del Carmen, Lanzarote, Spain
Kids' waterpark AND splash park

A Quick Nip to Nearby Beaches

Close to the Action
Costa Adeje, Tenerife, Spain
Gigantic pool area

Fantastic views in Playa de Las Americas

Plenty of activities for all ages
Puerto Rico, Gran Canaria, Spain
Panoramic views of the ocean

Tennis and multi-sports courts

Full animation programme on offer
Playa De Las Americas, Tenerife, Spain
Spacious swimming pool

On-site bar and restaurant

In the heart of the action
Playa Blanca, Lanzarote, Spain
3 swimming pools

Live music and shows

Free Daily Tickets to the Dino Waterpark
Matagorda, Lanzarote, Spain
By a volcanic beach

Spa facilities

3 Buffet Restaurants
Playa De Las Americas, Tenerife, Spain
Swimming pools located by the sea

Arts, crafts and cookery workshops

Mini-club and treasure hunts for the little ones
Costa Adeje, Tenerife, Spain
Central location

600m from the beach

Large free-form swimming pool
Playa De Las Americas, Tenerife, Spain
4 swimming pools

On-site spa facilities

A la carte Pizzeria
Costa Adeje, Tenerife, Spain
175 restaurants and 25 attractions nearby

Adult-only hotel

Sea View rooms offer great sunset views
Costa Teguise, Lanzarote, Spain
150m from the beach

Modern & stylish hotel

Relaxing spa
Costa Teguise, Lanzarote, Spain
Spectacular shows and live music

Tropical gardens with an indoor waterfall

Great location for golfers
Los Cristianos, Tenerife, Spain
Mini golf!

Games zone and kids' club

Self-contained apartments
Golf Del Sur, Tenerife, Spain
Fairground themed restaurant

Only 10 minutes from the airport

Splash park with slides
Costa Teguise, Lanzarote, Spain
Wellness centre

Large swimming pool area

2 children's pools
Playa De Las Americas, Tenerife, Spain
Tropical gardens with fountains and terraces

Summer parties around the pool

2 freshwater swimming pools
Costa Adeje, Tenerife, Spain
5 swimming pools

Activities for all ages

Adult-only areas
Costa Adeje, Tenerife, Spain
Top-class all-inclusive cuisine

Clean and spacious with great service

3 swimming pools to choose from!
Caleta De Fuste, Fuerteventura, Spain
Large swimming pool

Part of a larger resort

Traditional-style bungalow accommodation
Stunning Canaries resorts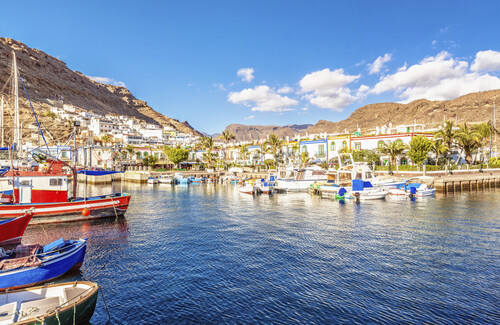 Gran Canaria
Beautiful nature, stunning beaches and sun-soaked streets. Gran Canaria has everything and more that you need for an unforgettable beach holiday.
Lanzarote
Lanzarote is the real deal - perfect for families, couples, friends, just about anyone! Just imagine sitting on one of their glorious beaches, sun on your...of course it has a paper umbrella in it.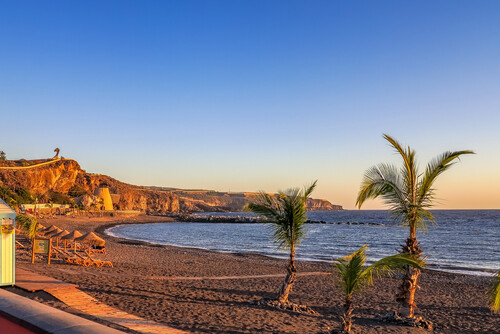 Puerto Del Carmen
When it comes to the best Lanzarote holidays, there's one resort that has it all: the best nightlife in Lanzarote, easy access to some of the finest blue-flag...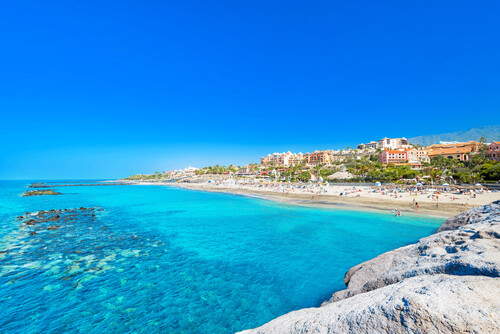 Playa De Las Américas
Sunbathe along the Blue Flag coastline by day, party on the sands by night - in Playa de las Americas, it's always beach time.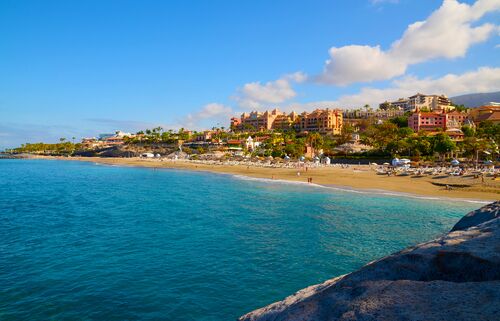 Costa Adeje
Costa Adeje has three beautiful beaches to choose from. Playa Fanabe is the largest of the three, at nearly 1km in length, which is great for paddling...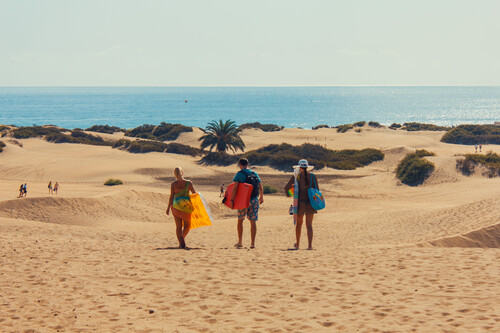 Maspalomas
Nestled on Gran Canaria's south cost, the sunny resort of Maspalomas is ready and waiting to welcome sun-starved holidaymakers of all ages to its shores....

Costa Teguise
Thinking of a sunshine break in Lanzarote? Well, you're hardly alone! This Canary Island paradise attracts roughly three million of us a year to it's scenic...

Corralejo
Corralejo lies on Fuerteventura's northernmost tip, with dune-backed beaches overlooking the Atlantic Ocean. The town seamlessly blends the charm of its...

Playa Del Ingles
Sun-kissed and full of fun, this iconic resort has long been a favourite for those who love it lively. Flying the rainbow flag with pride, Playa del Ingles...

Los Cristianos
A four-hour flight whisks you to the golden beaches at the beautiful oceanic resort town of Los Cristianos, on the southwestern coast of Tenerife.

Matagorda
Holidays to Lanzarote are among the most popular among travellers from the UK. Why? Perhaps it's the amazing climate, the gorgeous blue-flag beaches, the...

Las Palmas
Located on the island's lesser visited northern coast, Las Palmas is Gran Canaria's original resort and the largest city in the Canary Islands. The city...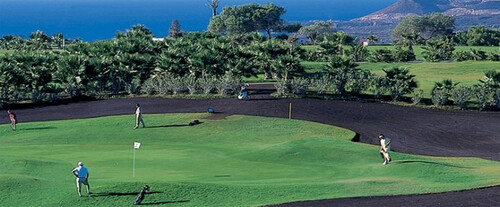 Golf Del Sur
A holiday in Golf Del Sur will find you a stone's throw away from the island's famed nightlife and great party atmosphere, but many tourists now elect...

Antigua
Antigua, being one of the oldest villages on the island provides an attractive, peaceful destination for those seeking relaxation. It's location is great...
Popular Gran Canaria destinations
Weather in Canaries
Canary Islands weather? You're in for a treat! The kind of treat that's perfect all year round. Let's break it down, shall we?
Summer in the Canary Islands is like the best beach day ever, every day. With temperatures hanging out at a comfy 24°C to 28°C, it's pure sunbathing bliss. But it's never too hot, thanks to a refreshing breeze that keeps things just right. No metaphors needed; it's simply perfect beach weather.
Now, don't overlook spring and autumn. With temperatures playing in the 20°C to 24°C range, these seasons are the go-to pals for exploring the islands. Whether you're hiking, sailing, or just taking in the views, the weather in the Canary Islands during these months is your friendly guide, showing you a great time.
Winter? The Canary Islands give winter a warm hug, keeping things around 18°C to 22°C. Forget those chilly mainland winters; here, you can still enjoy a seaside stroll or a sun-kissed terrace lunch.
View destination on a map
Reviews
At On the Beach, we've sent many satisfied customers on Canaries Holidays for a bit of sunshine. But don't just take our word for it, read some of their 5-star reviews below.
Always use On the Beach for holidays...
Always use On the Beach for holidays abroad. Just an easy and simple way to book a holiday, and always had a great time.


Excellent
Always use on the beach and always have a fantastic pain free holiday, easy to use service and friendly helpful staff when needed, 😀


Absolutely brilliant service
Absolutely brilliant service and excellent customer support 👏


FAQs
How many Canary Islands are there?

The five main Canary islands include Tenerife, Gran Canaria, Lanzarote, Fuerteventura and La Palma.
How long does it take to fly to the Canaries?

It takes about four and a half hours to fly to the Canaries from the UK.
What's the time difference between the UK and the Canaries?

There is no time difference between the Canaries and the UK.
What currency do they use in the Canaries?

The official currency of the Canaries is the Euro.
What language do they speak in the Canaries?

The official language spoken in the Canaries is Spanish.