So, like the rest of the world, we recently saw the trailer for the new Barbie movie starring Margot and Ryan (what a combo), and we have QUESTIONS. 1) Is everything really that pink, or is it CGI? 2) How did Margot step out of those shoes without so much as a wobble, and 3) WHERE can we find our very own Barbie Land, because we would 100% book a holiday there. Wait, actually – we do have the answer to that last one. It's called Southern Palms Beach Club – it's pink, it's on the beach and we're giving away a FREE stay there if you're a couple named Barbie and Ken. And if you're not called Barbie and Ken then…well, you can't win it, but you can bag yourself one of our sweet long-haul holidays with a deposit of just £30, which is actually cheaper than most Barbie dolls these days. And we know which we'd prefer tbh.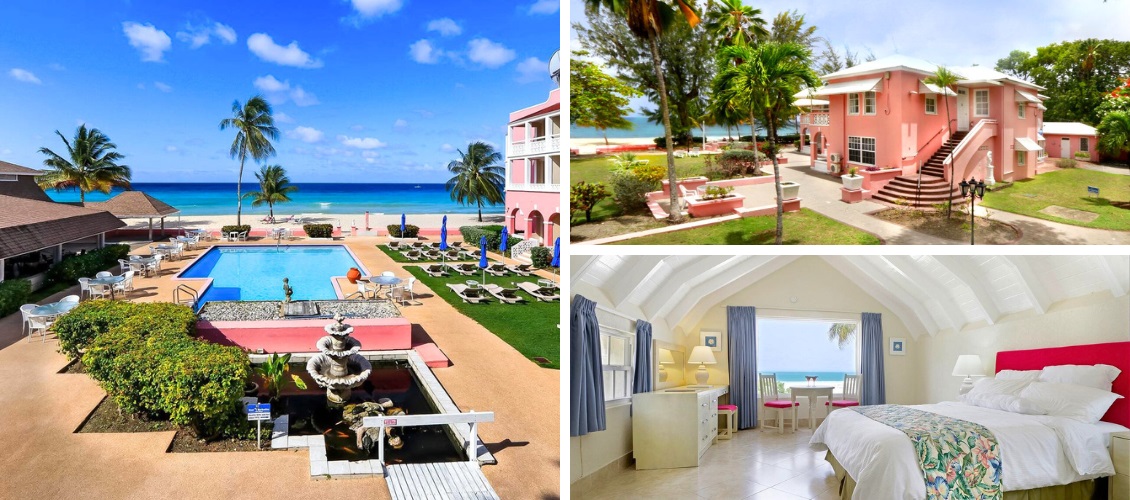 How to win
If you're a real-life Barbie and Ken, then first of all – we'd LOVE to take your word for it, but we're gonna need to see your passports, because really?! – and secondly, if you like the sound of life in plastic (or at least life in swimwear) then today's your lucky day. You could win a 2023 holiday to Barbados* (or Barbie-dos, as we're calling it) ON US, as long as you book before 31st July, because…y'know, that's when the film comes out, and we really don't want to miss it. You'd be spending 7 nights at the pink wonderland that is Southern Palms Beach Club – it's got two pools, a beachfront cocktail bar (our fave kind), and tennis courts – so you can pack your pink sweat bands and your visor and channel your inner Tennis Barbie. If you're eligible, just give our Sales team a ring on 0871 474 3000 and quote 'Barbie-dos' to be in with the chance of winning.
*See full terms below.
1. This promotion ("
Promotion
") is offered by On the Beach Limited, whose registered office is 5 Adair Street, Manchester, M1 2NQ ('
On the Beach
'). By participating in the Promotion, Participants (as defined below) shall be deemed to have read and accepted these terms and conditions ("
Terms and Conditions
").
2. Participants will be eligible to receive, subject to availability, a free seven-night stay at the Southern Palms Beach Club, St Lawrence Gap, Barbados during 2023 on a half board basis*, with standard class flights, transfers, baggage and taxes included, subject to these Terms and Conditions ('
Reward
').
3. To be eligible to participate in the Promotion you must be:
a couple resident in the UK, both aged 18 or over, who have been in a personal relationship (e.g. you are married or have been "going out together") continuously since at least 1 July 2023; and
with the first names "Barbie" and "Ken" (as stated in valid passports which were both issued prior to 17 July 2023). ('Participants').
4. The Promotion will be open from 17 July 2023 until 31 July 2023 ("
Closing Date
").
5. In order to apply, Participants must telephone the On The Beach sales team on 0871 474 3000 prior to the Closing Date and quote "Barbie-dos". Telephone opening hours can be found
here
.
6. Participants will be required to provide copies of their passports and show these on a video call with a member of the On The Beach sales team. Participants will also need to satisfy the sales team that they are in a personal relationship. Winners will be notified immediately following verification of the eligibility criteria by a member of the sales team.
7. The Rewards are available to the first two successful Participants (i.e two separate couples with the names "Barbie" and "Ken"), and are available on a first come first served basis.
8. On the Beach's standard booking conditions will apply to the holiday itself, please refer to
www.onthebeach.co.uk/terms_of_business.
9. The personal data you provide will be processed in accordance with OTB's privacy policy:
www.onthebeach.co.uk/privacy.
OTB will use the personal information provided by you for the purposes of administering the Promotion.
10. The Reward is non-transferable and non-exchangeable.
11. No refunds will be given in the event a winning Participant cancels the holiday or is unable to travel.
12. On the Beach reserves the right to withdraw or amend the Promotion or these Terms and Conditions at any time without incurring any liability whatsoever and to disqualify claims for Rewards which it considers do not comply with these Terms and Conditions at any time at its own discretion. Any decision of On the Beach in respect of the Promotion is final and binding, and no correspondence or discussion will be entered into.
13. On the Beach are in no way affiliated with Mattel, Inc. and Mattel, Inc. is not endorsing, recommending or approving this promotion.
14. These Terms and Conditions and any disputes arising out of or in connection with them shall be governed by and construed in accordance with the laws of England and will be subject to the non-exclusive jurisdiction of the English courts.
*Details of the Southern Palms Beach Club and what is included when staying on a half board basis can be found here.
Craving some sunshine this year? We feel ya. Check out our 2023 holidays for some of the best.