An archipelago of three islands, Malta is best known for its gorgeous beaches, Insta-worthy towns and – most importantly – those long, hot summers. From famous snorkelling spots to popular sandy stretches, it's pretty easy to see why Malta is a firm favourite with beach lovers across the world. But, did you know that there's so much more to this magical country than just perfect beaches?
Whether you're whisking your partner away for a romantic weekend, treating the family to a summer vacay or heading out with your mates for an unforgettable break, Malta has something for you. Take a look at why we think Malta should be your first stop in 2023…
Kids? Grandparents? Cousins?
From the oldest family members to the youngest, whatever your squad looks like, Malta has plenty to do for everyone. Take your beach day to the next level with a trip to the famous Blue Lagoon. The crystal-clear waters and rugged rock formations make it the perfect place to grab your snorkel and explore the Maltese sea. Prefer to stick to dry land? How about exploring Popeye's Village? Originally built as a film set in the 80s, you can now wander the set and join in with a load of fun activities along the way.
Not only is Malta drop-dead gorgeous but it can also be a pretty educational trip too. Take your history lesson outdoors as you wander the streets of historic Valetta. Declared a World Heritage Site, you'll see stunning architecture, learn about the Great Seige of 1565 and even catch a cannon salute at the Saluting Battery. From history to science and nature, the Malta aquarium is a great day out for the whole family with hundreds of colourful species and plenty to learn.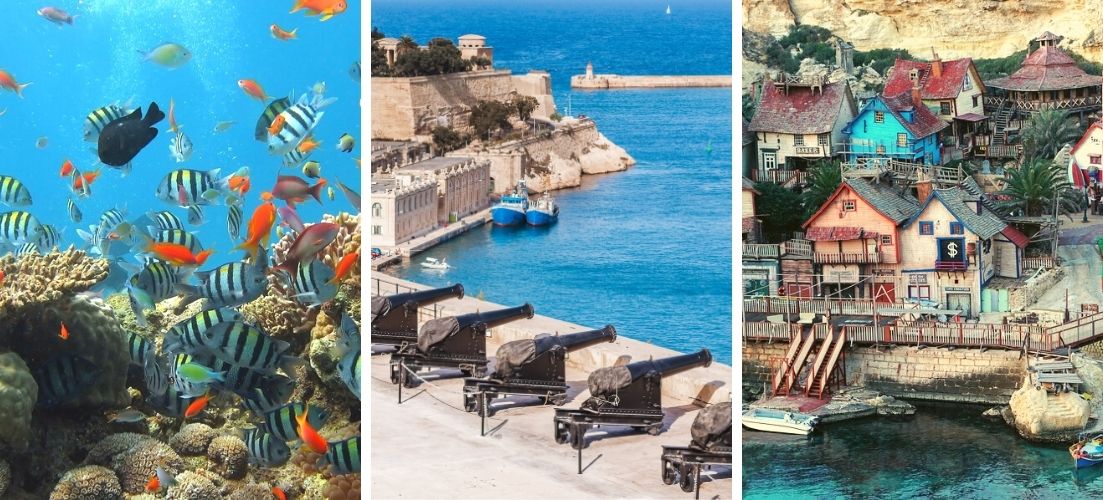 Whisking your partner away?
Cobbled streets, secluded bays and top-notch restaurants. Sounds pretty great, right? With a Malta holiday, you really do get it all. If romance is your thing then prepare to fall in love with Malta. Take a stroll around the gorgeous Mdina Old City – a beautiful walled city that was once the capital. Also known as 'The Silent City' you can explore the narrow streets, stunning architecture and peaceful charm as you wander the day away. Once you're finished exploring terra firma, take to the sea and discover The Blue Grotto. A network of caves that are only accessible by boat makes the perfect backdrop for a romantic day trip. Top tip – visit on a clear day and the sun will literally illuminate the bright blue waters around you. It truly is magical.
Are you a foodie couple? You're in luck in Malta. From fine dining restaurants to backstreet bakeries, you're sure to find some unforgettable eats here! Take a look at the Malta Gastronomy Trail for some inspo on where to get your next bite. Fancy trying it for yourself? Head to Diar Il-Bniet – a gorgeous estate complete with an olive grove and full garden of crops where you can enjoy a cooking class using the fresh local produce.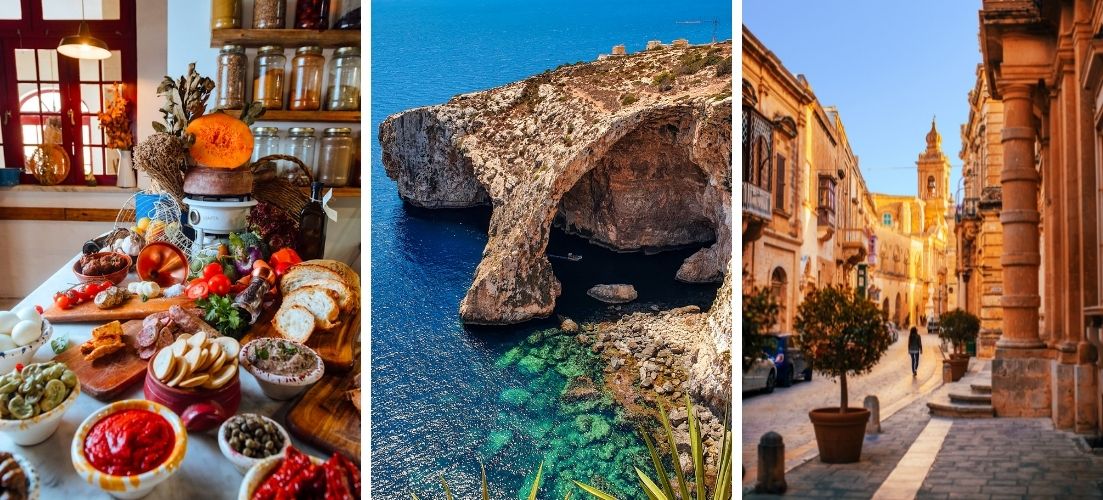 Looking for the best mates escape?
Forget the standard Magaluf holiday and don't even think about the Ibiza price tag, a Malta holiday is where it's at. From lazy beach days to banging nights out; great restaurants to chic waterfront bars, Malta is the perfect place to keep the whole squad happy. If you're looking to dance the night away on a night out you'll never forget then head to Paceville. Neon lights, clubs open 'till dawn and those fruity cocktails that you only get on holiday are all standard here.
If you're an avid festival-goer then why not combine your festival trip with a holiday in the sun? Malta is home to a number of great festivals (over 20 in fact) such as Lost & Found, Isle of MTV and Rock the South. So whatever your group is into to, there's a festival for it in Malta.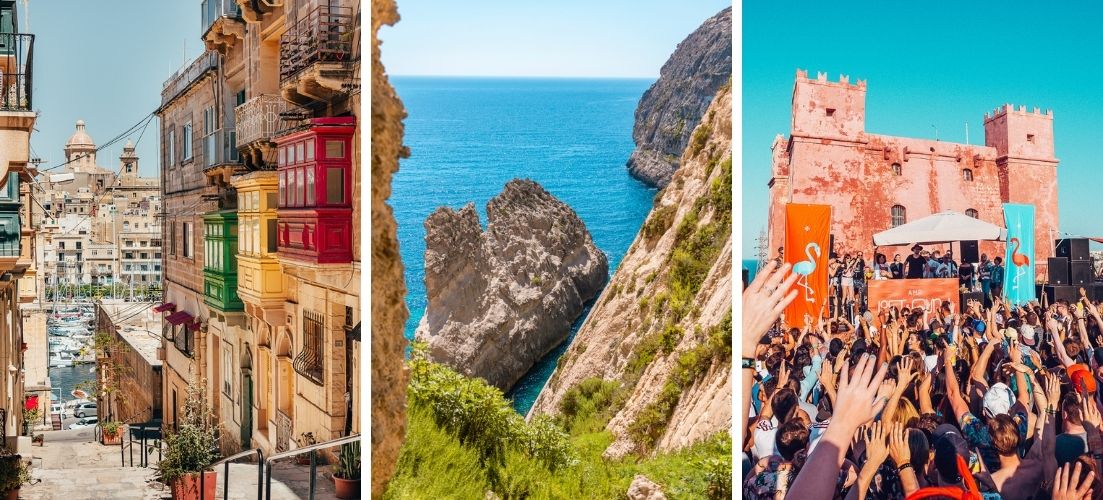 As if that wasn't enough to convince you to make Malta your 2023 holiday, you can read more about Malta and why it could be perfect for you.