One of the best things about going on holiday? It's got to be the food. From the traditional local dishes that simply aren't the same at home, to the incredible all-inclusive options you can enjoy day after day. Food is one of the simpler joys in life, but it's so much better on your jollies.

I recently had the pleasure of staying at the incredible Stella Island Luxury Resort and Spa in Crete, and although I could go on and on about how every single detail was perfect, I'm going to give you the inside scoop on (you guessed it) the food!
You've all heard of Stella Island, right? If not, then listen closely…'cause you're really going to want to hear about it. Stella Island is a five-star, adult-only hotel located in Analipsis, Crete. But this isn't just any hotel. The design, the staff, the vibes – immaculate. From the moment you pull up to the entrance, not only do you feel like a VIP…you are a VIP. It's hard to put into words just how much 'wow' factor this place has, so here's a snap to give you an idea…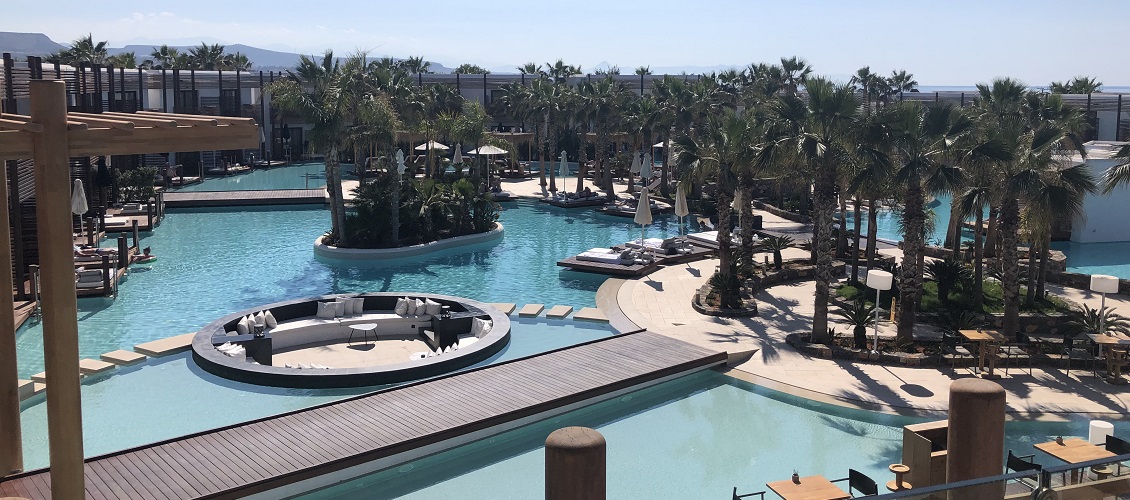 Looks amazing, right? We're offering £50 off holidays* departing between 10 and 60 days as a little gift from us to you! So…what's stopping you?
Ok now down to the all-important part – the food. Stella Island is a luxury hotel, home to six restaurants: an international buffet, Vegera Cretan restaurant, Umami Asian restaurant (perfect for sunset views with dinner), La Parilla steak restaurant, Paraiso Mexican restaurant and entertainment venue, and last but not least, Oceania fish restaurant with a retractable roof for those warm summer nights. Each restaurant is on another level. The food, the service, the atmosphere, the style – every detail is so well thought out, so that each guest can truly enjoy an excellent dining experience time and time again. And if you're peckish between meals? Makuti and Cabana are two poolside bars that serve snacks and light meals throughout the day so you can satisfy that mid-sunbathing hunger without having to go inside!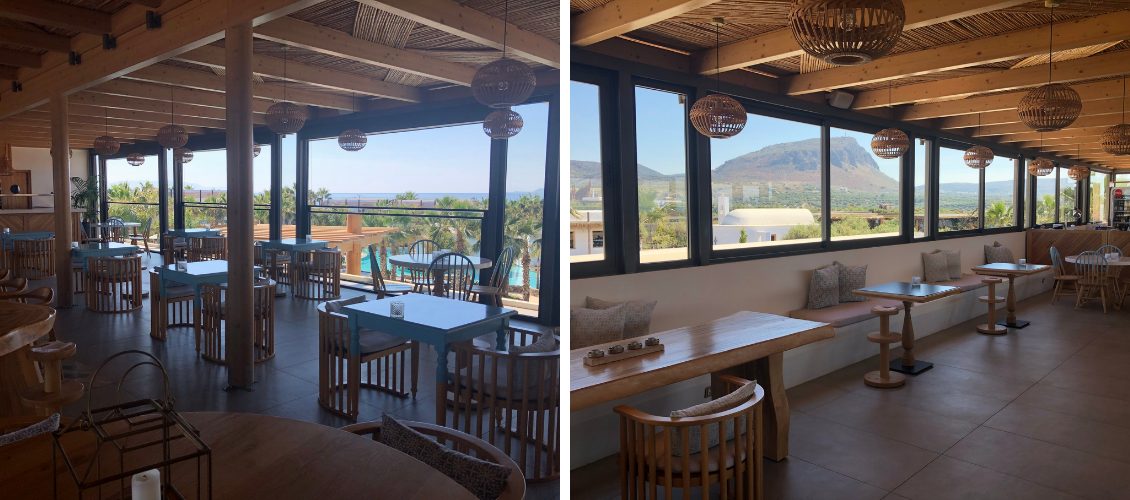 So…the food. Let's start with breakfast. Fruit, cheese, meat, bread, yoghurt, cereal and a range of milk alternatives are available at the buffet. And that's before you get to the hot stuff! Whether you're looking for a sweet continental start to the day or eggs cooked in your favourite way – they've got it. Woke up thirsty? There are bottles of infused water, a range of juices and little bottles of freshly squeezed orange on offer – as well as a coffee service directly to your table!
So, what did I have? Well, if there's watermelon on the menu, then I'm all over it. But, being the indecisive eater I am – I had to get a little bit of everything. Starting off with watermelon, grapefruit, a croissant and some cold meat, cheese and olives. It was a perfect plate for a picky eater. Once that was demolished, I had a bit of food envy as I spotted cheese and beans on toast, so went for the comfort food favourite (with a side of MORE watermelon) to finish off – and it was delicious!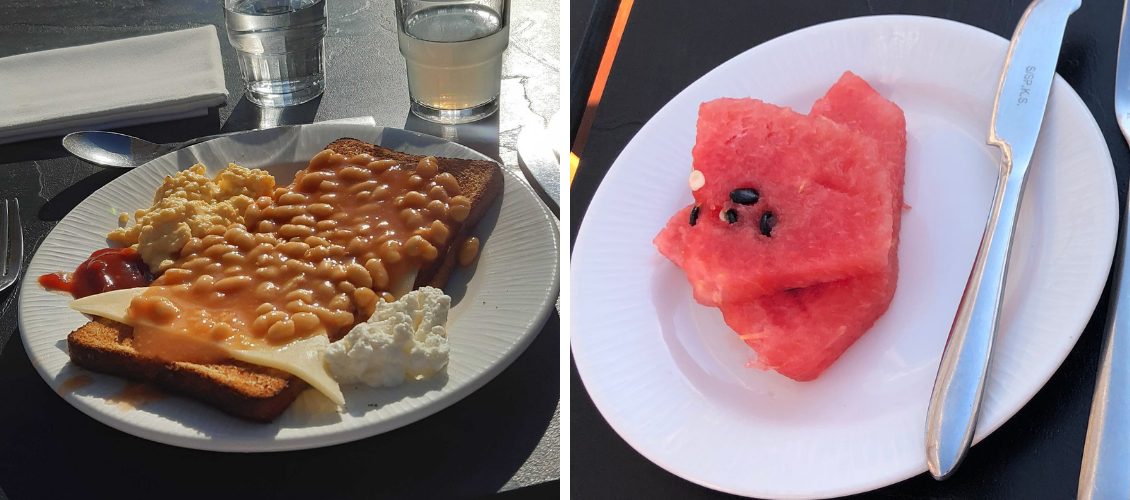 When it got to lunchtime, we head over for the all-day brunch dining at Makuti, where you can get everything from eggs benedict to gyros from 11am to 5pm! The club sandwich jumped right out of the menu at me, twisting the classic to include a fried egg too, held together by toasted flatbread. With a side of chips (and a cheeky gin bramble) it was tasty, filling and just what I was after.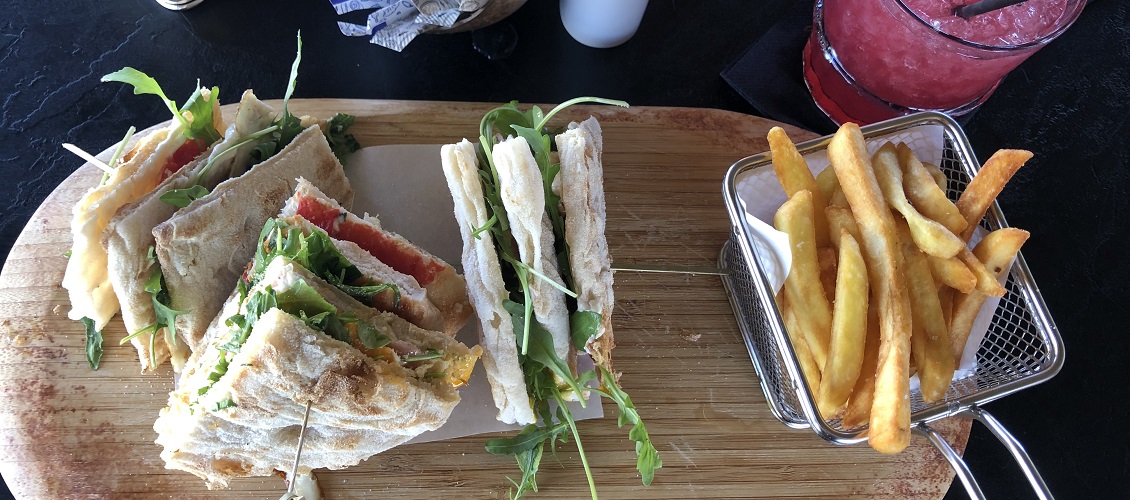 Need some good holiday grub? Don't worry, there's still time to book your 2022 holiday!
I don't know about you, but there's something about sunshine and waterslides that makes me hungry… just me? Ok. Well, we'd had a busy afternoon slipping and sliding at Stella Water Park, and all that fun had made us a bit peckish. So on the wander back to our rooms, we stopped at La Cabana to sit in the sun by the poolside and enjoy some snacks. Because sharing is caring and all that, we decided to order a few things between us and dig in. So, we went for a mix of traditional Greek and Asian (and chips of course, you can't NOT have chips on holiday). The Greek Salad was fresh and delicious, the gyros were unbelievably tasty and the shrimp summer roll simply hit the spot. Safe to say that we might have overdone it with the chips, but we learnt for next time.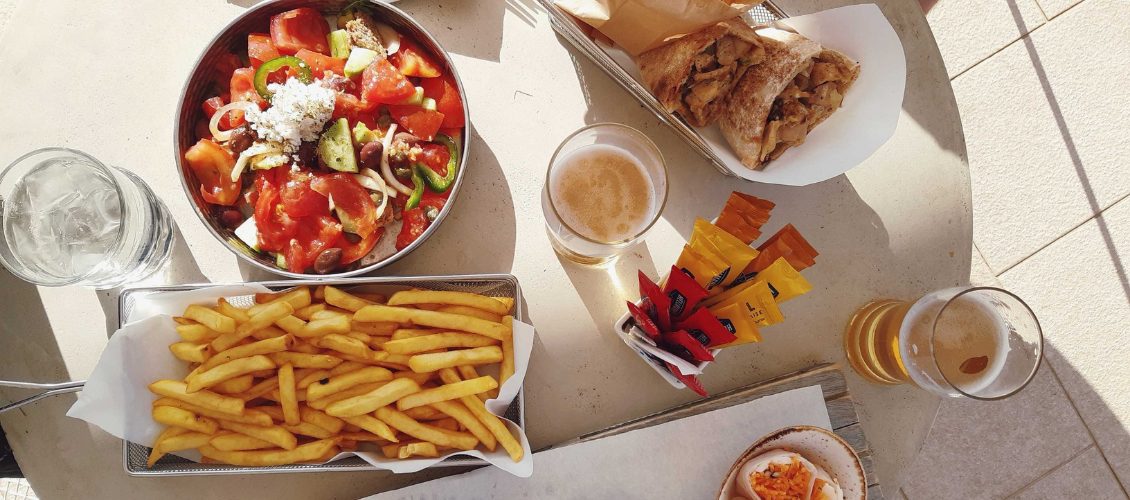 Now, one of the reasons we thought a snack might be a good idea was because we knew we weren't going to eat until later, having booked a table at Oceania restaurant for 9pm. What we didn't know was that we were going to be trying out 7 (yes, 7!) different courses at the seafood restaurant, so to say we were full by the end of the day is an understatement, but it was so worth it!

Scallops, red snapper, caviar – you name it, we tried it. Everything from the smoked eel mousse, beetroot and passion fruit macaron to the white chocolate, yoghurt and lime pearl was absolutely amazing. If I could fly back just for the food… I would.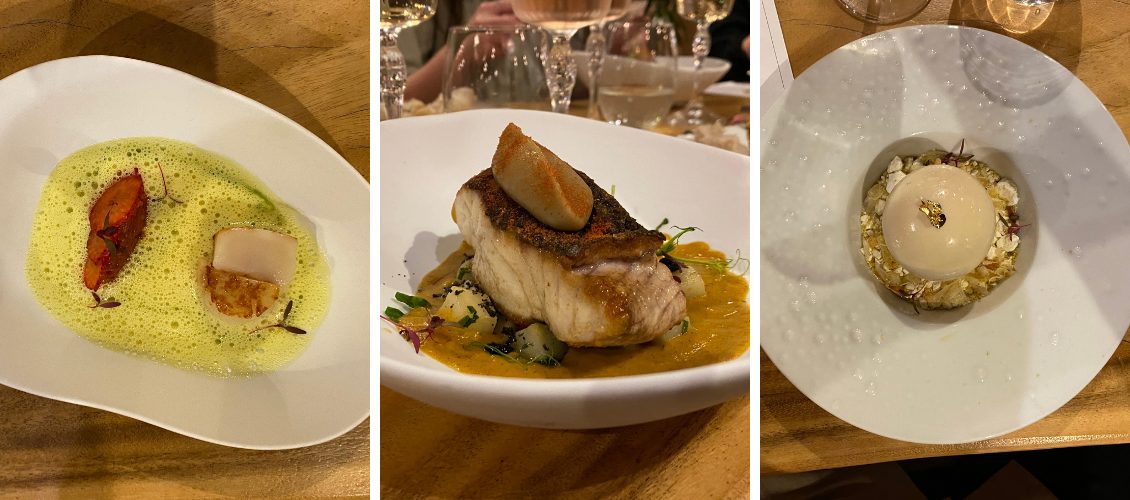 Want to try out the menus for yourself? We don't blame you. Take a look at our range of Stella Hotels for your next getaway!
*£50 reduction per booking, valid on holidays departing between 10 and 60 days from the point of booking. This offer is subject to availability and can be amended or withdrawn at any time. Applies to new bookings only. Discount is automatically applied to qualifying holidays and the prices displayed include the promotional discount referred to.