Curious about how holidays might be different this summer? Well, I have to admit so was I. But, with the ongoing COVID-19 crisis continually unfolding across the globe, it seemed like now more than ever that we all deserved a holiday. So we decided to take the plunge and book a last-minute escape to the sun-soaked Crete coast, and this magical Grecian paradise certainly didn't disappoint!

From the taxi ride to the airport to the harbour-side cocktail bars – things did look a little different from what we're all used to. That being said, nothing stopped us from enjoying one of the most exciting weeks we've had all year. So, here's a little insight into what you can expect if you yourself are jetting off on a last-minute holiday to escape the madness for a little while!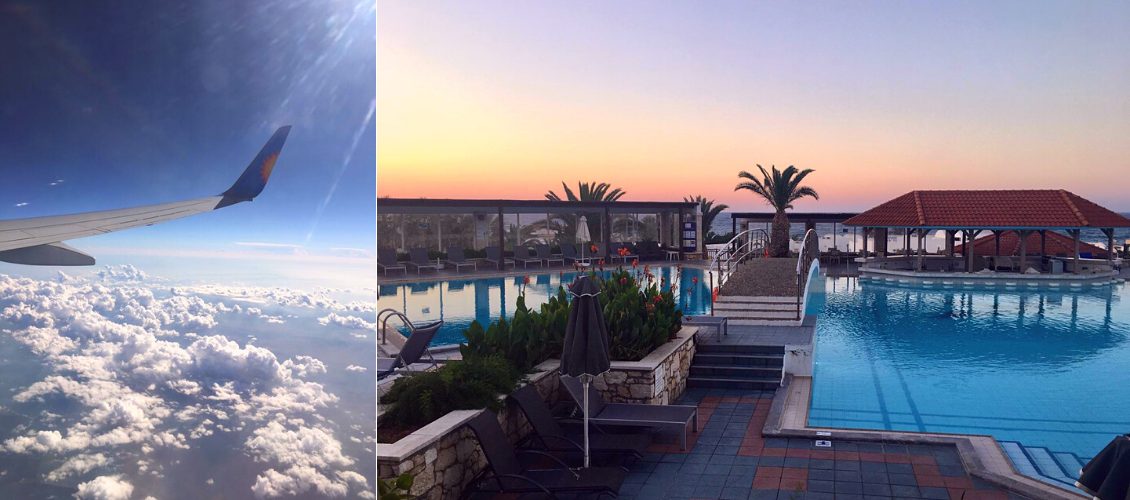 Airport adventures
From the get-go our taxi ride was a little different this year, we hopped in wearing our face coverings not knowing what to expect from the journey ahead. But that didn't stop us getting in the holiday spirit. Arriving at the airport, check-in was smooth and simple with the help of the lovely airport staff who swiftly helped us check-in our bags and guided us onwards, with bright floor markings and signs also kindly leading the way. Everyone in the airport is required to wear a mask at all times, so make sure you don't forget yours. Although they are available to buy in the vending machines too if you're in need of a spare.
Making our way through security was quicker than ever and queues were nice and spacious with everyone giving each other plenty of room to breathe. Next stop… the bar of course! We were seated quickly, where you were then allowed to remove your face covering, order on the app and enjoy your first drink of the holiday (a pint of Estrella for me in case you were wondering).
We grabbed our bags and headed for the gate, and with our face coverings back on we boarded the plane. Keeping our face coverings on wasn't too bad and there were no queues allowed in the aisle for the loo, which to be honest was a little bit of a bonus. Before we knew it we were hit with that holiday heat as we stepped off the plane for a week of Grecian sunshine. Ahhh you just can't quite beat it can you?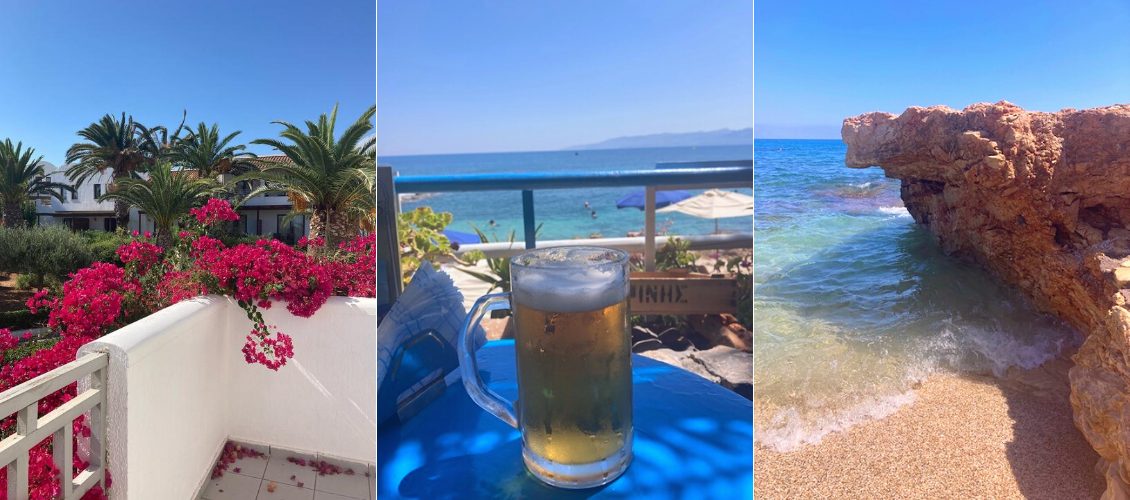 Arriving in the sunshine
We jumped on a bus to the airport (which was a lot more roomy than normal) and showed our Passenger Locator Form, which all UK travellers are required to fill out at least 24 hours before departure. If you're travelling to Greece you can find the form here. After finding our luggage and transfer, which again was thankfully a lot more deserted than normal, we were on the road to Hersonissos.
Hotel of dreams
With beautifully bright pink Bougainvillea flowers drooping peacefully over every whitewashed corner, crickets singing from the winding olive trees scattered across the grounds and pretty two-storey bungalows surrounding the gardens – it's safe to say we were pleasantly surprised when we arrived at the Anabelle Beach Hotel. We'd checked in online before this, which many hotels are now offering on their website. So we simply picked up our key cards, dumped our bags and headed to dinner.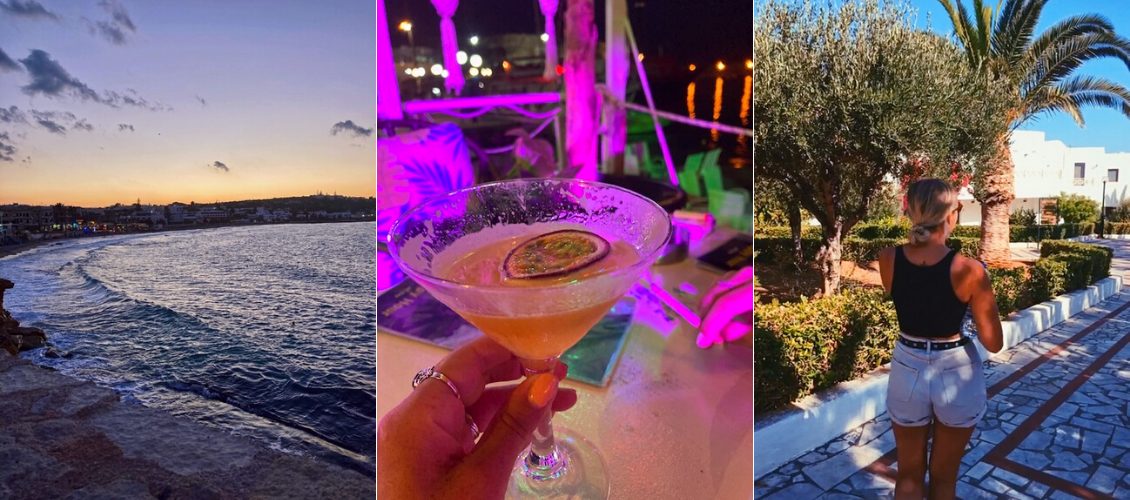 Wined and dined
Unsure of what to expect from the buffet restaurant, we wandered in to find an arrow-marked one-way system and were shown a table outside which offered a glimpse at the soothing sunset colours that illuminated the evening skies. We headed up to find the wine (obviously),where a lovely waiter poured us a generous jug of the good stuff.
The food was a little different, with the kitchen staff (who were all wearing face coverings) placing the food on our plates as we passed along the Greek-themed selection in front of us. But all was well, as they piled a generous portion of feta onto our plates – at pretty much every other meal if I'm honest!
With the beach bar calling our names we strolled along for a round of Tequila Sunrises from the friendly barman Stavros. Again the bar staff were all wearing face coverings or protective visors, but this didn't stop them from dancing along and sharing a shot of Raki or two with us.
Exploring the sunny skies of Herssonisos' coastlines
The rest of our time was spent exploring the tiny shingle coves that hide secretly along the coast of Herssonisos (Sarantaris Beach being a personal favourite of mine), drinking pineapple rums at the pool bar and heading out in the evening to explore the harbour front some more.
The boats bob along the moon-lit waters and a colourful array of bars and restaurants line the shore every evening in the scenic town centre. Unfortunately, the bars in Greece are required to close at midnight at the moment due to the ongoing situation. But this just meant that we had to get there extra early, normally around 8 pm to make the most of Happy Hour and 241 strawberry daiquiris by the sea.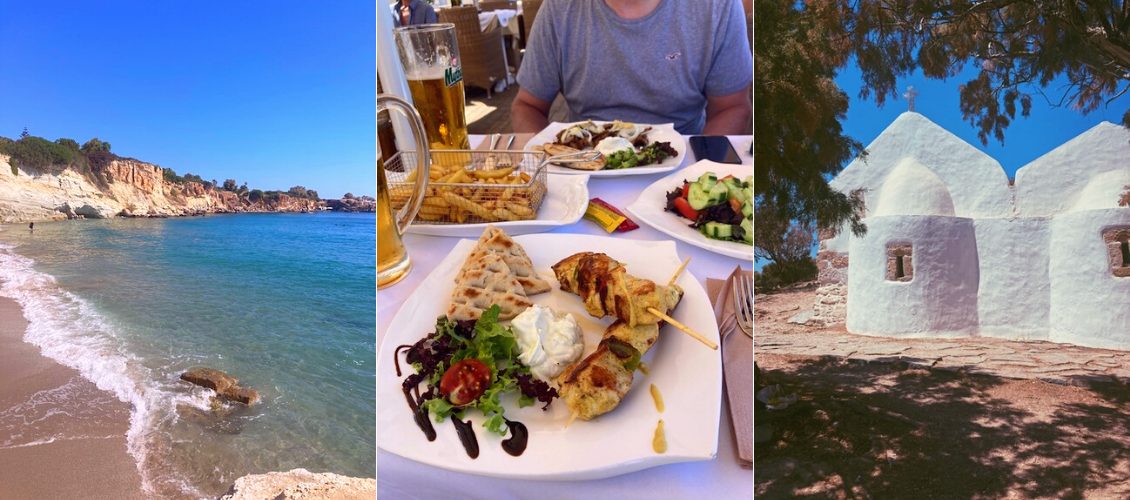 How was my trip overall?
This spontaneous last-minute trip turned out to be a truly incredible getaway and my first time in Crete was better than I could have ever imagined. Although things are slightly different at the moment, we didn't let it stop us from having a good time and if anything, this made us appreciate every moment even more – because it seems to just be that little bit extra special this year.
Book your own Greek adventure with us today. Its official – the beach is within reach once again!