Following our recent visit to Crete, we've written up our foodie highlights. Whether you're looking to grab the very best grub whilst you're on holiday, or if you want the best traditional recipes to recreate once you're back home, we are at your service…
Kritamon restaurant
Taverna Paliria restaurant
Peskesi restaurant
Traditional lamb recipe
Chickpea cakes recipe
Traditional sesame sweets recipe
Eat at Kritamon restaurant in Archanes
| | |
| --- | --- |
| What: | The very best homemade, local Cretan food |
| Where: | Located in the quaint village of Archanes |
| Price: | Meze dishes are anywhere between €3-7; items from the grill can be up to €28. Wine ranges from €4.50-70 depending on how extravagant you're feeling! |
The Restaurant
The exterior of Kritamon is charming; had it been a warmer evening, we would have opted to sit outside and dine al fresco beside the potted flowers and beneath the shade of the trees. Inside was simple yet charming; Kritamon isn't flashy, but has a clearly authentic heart and fantastic food.
Food and Drink highlights
As always in Greek cuisine, there was plenty of food on offer. The first wave of food came in the form of fresh salads, breads, babaganoush and – if we weren't careful – enough food to keep us satisfied for the evening. Next came sumptuous grilled mushrooms, Cretan-style meatballs with tomato and basil, rich fish and other un-missable plates.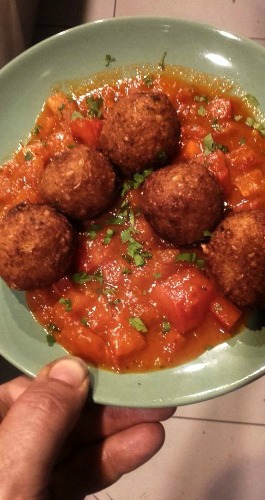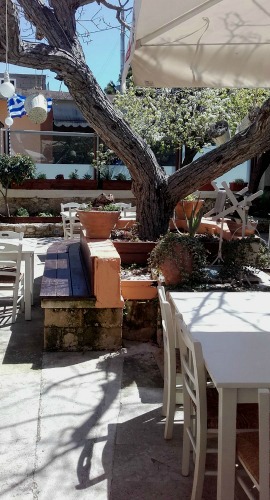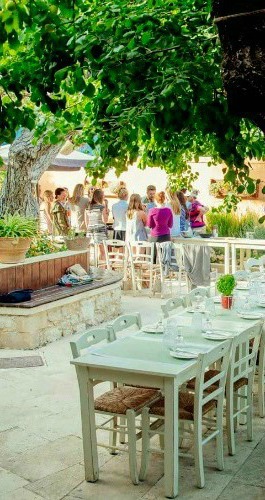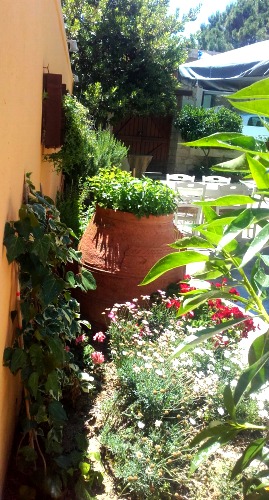 Eat at Taverna Paliria restaurant in Plaka
| | |
| --- | --- |
| What: | The freshest seafood |
| Where: | Plaka, overlooking the islet of Spinalonga |
| Price: | Moderately expensive – the more expensive plates are worth it though! |
The Restaurant
A rustic wooden cover shades a bunch of outdoor tables from the heat of the daytime sun at Taverna Paliria, in the quiet little fishing village of Plaka. It would be easy for the unknowing few to underestimate this little eatery; it doesn't pretend to be a luxury establishment, even if the food on offer is of truly stellar quality.
Food and Drink highlights
Of all of the meals we had, this was the one where we just could not stop eating… no dish was left untried. We were brought several dishes at a time, including rustic bread basket with thin, toasted slices sprinkled with paprika, melt-in-the-mouth octopus, sea bass slices on fresh seaweed, mussels in sauce… the list goes on. Alongside our food, the friendly staff brought metal jugs of sweet, white wine which we poured into tiny tumbler glasses – the perfect size for lunchtime drinking.
Eat at Peskesi restaurant in Heraklion
| | |
| --- | --- |
| What: | Critically acclaimed authentic Cretan cuisine |
| Where: | In the heart of Heraklion city |
| Price: | As expensive as you make it… |
The Restaurant
Now this is a real highlight for foodies. Voted one of the top 10 restaurants in Europe, you'd be silly not to go if visiting the area. It prides itself on its top class offering of authentic cuisine in a traditional "Cretan house". Full to the brim of jovial guests most nights, Peskesi's hearty food and rich red wine is no secret among locals and tourists alike.
Food and Drink highlights
Think big. We gorged on succulent meats alongside unbelievably flavoursome slow-cooked local vegetables. Hanging pieces of lamb, pulled beef beneath a quilt of melted cheese, crushed, salted baked potatoes with a dollop of creamy cheese… this food was fit for kings. The wine was equally as spectacular. A huge slab of the richest, sweetest and most gluttonous baklava we ever tried was placed conveniently within an arm's reach… yummy.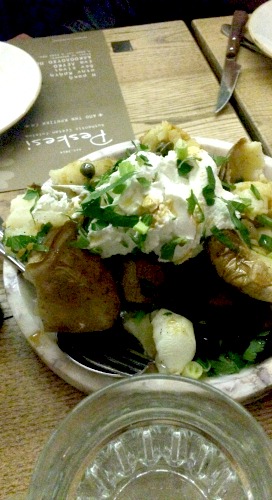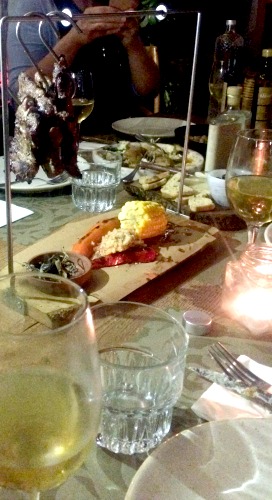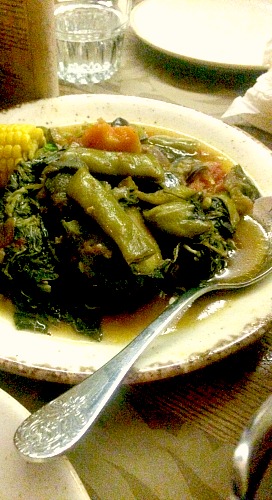 Special thanks to the Greek National Tourism Office for arranging wonderful meals at the above restaurants.
Bring Greece to your kitchen
When we were about to go into the airport at Crete, Avra Tours generously gifted us with a cute little cookbook. We've decided to share some of our favourite recipes with you…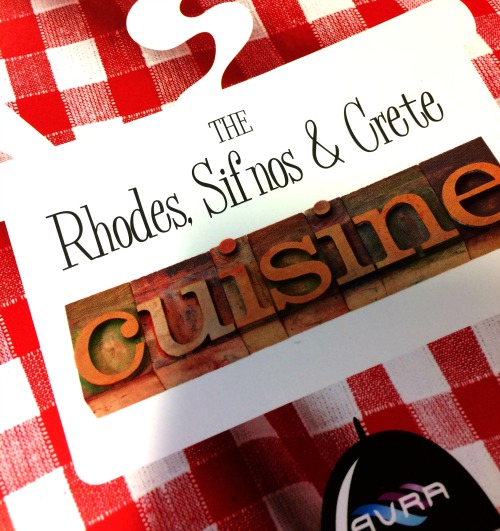 Traditional lamb
Ingredients:
2kg lamb (shoulder or leg), chopped into large pieces
Dry white wine
Large bunch of dill
Grape vine twigs
Salt
Black pepper
Place the lamb in a large earthenware pot.
Cover completely with white wine, cover the pot and leave to marinate for an hour.
Discard the wine, dry the meat and wash the pot
Line the base of the pot with grape vine twigs before adding the lamb, salt, pepper, dill and remaining white wine.
Cover tightly with foil and bake very slowly for 5 hours.
Chickpea cakes
Ingredients:
2 cups of chickpeas
1 large grated onion
1 ripe tomato, peeled, deseeded and chopped
1 tbs finely chopped mint
3 tbs flour
Salt and pepper
Flour and olive oil for frying
Soak the chickpeas in cold water for 24 hours, if not already soaked. Strain and mash them. Mix with the onion, the tomato, mint and flour.
Shape the mixture into thin, round cakes, cover in flour and fry in very hot olive oil from both sides.

Traditional sesame sweet
Ingredients:
700g honey
1kg sesame seeds
½ tsp ground cinnamon
½ tsp nutmeg
Zest of 1 orange
Clean the sesame seeds and lightly toast on a hot frying pan.
Heat the honey in a pan so it thickens.
Stir in the other ingredients and mix thoroughly.
Clean a glass tray and brush it with a thin layer of olive oil.
Pour the honey mix into the tray so it is about an inch tall.
Flatten the mix into the tray using a wooden spoon brushed with more oil.
Leave to chill.
Once chilled, cut the mixture into diamond or square pieces.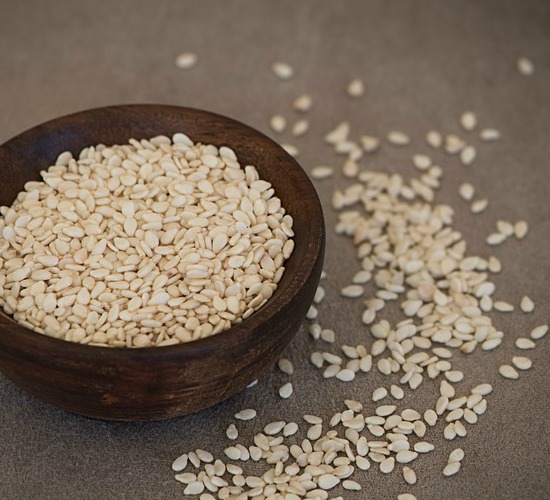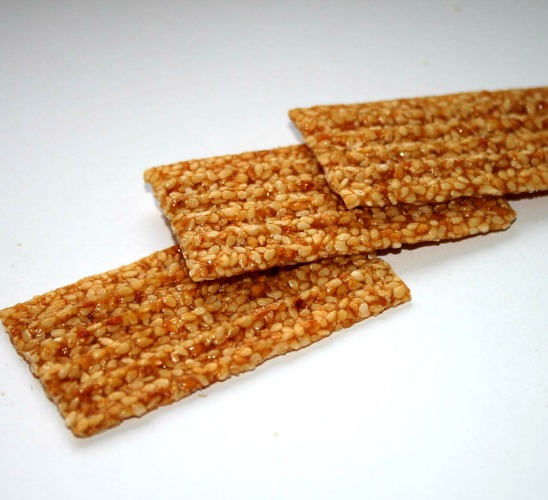 Do you have any restaurant recommendations or amazing recipes originating from the Crete area? Let us know!
Or alternatively, book a holiday to Crete to experience this amazing food first had for yourself.