We were lucky enough to stay at Stella Island Luxury Resort & Spa in Crete (for research purposes, obviously), and can confirm – it's even dreamier than the Insta pics. The lagoon-style pool complex with its palm-covered islands is what the hotel's best recognised for, but we quickly realised that there's more to this five-star resort than meets the eye. From a minibar stocked with everything you can think of (yes, including Fanta Lemon) and curtains you can close from bed with the push of a button, to entertainment every night and a non-alcoholic welcome drink that's so good you'll want the recipe – this hotel is all about the little details. Here's what you can expect from a stay at this luxurious adults-only resort, based on our stellar experience. See what we did there?
The best welcome drink ever
As soon as we arrived, we were ushered into (the comfiest) lobby chairs overlooking the pool, and presented with a delicious-looking drink in a crystal glass. Yep, we could get used to this. Turns out it was a traditional Cretan mocktail called sarantadentri – a refreshing iced tea blend made with 40(!!!) different herbs, and sometimes a dash of cinnamon. In fact, it was so good that we ordered it several times from the bar by simply asking for 'the welcome drink'. Judging from the bartender's knowing look, we weren't the first guests left wanting more of this refreshing tipple either… By the end of the trip, we felt like sarantadentri connoisseurs. They even serve an alcoholic variation, if you're feeling really crazy…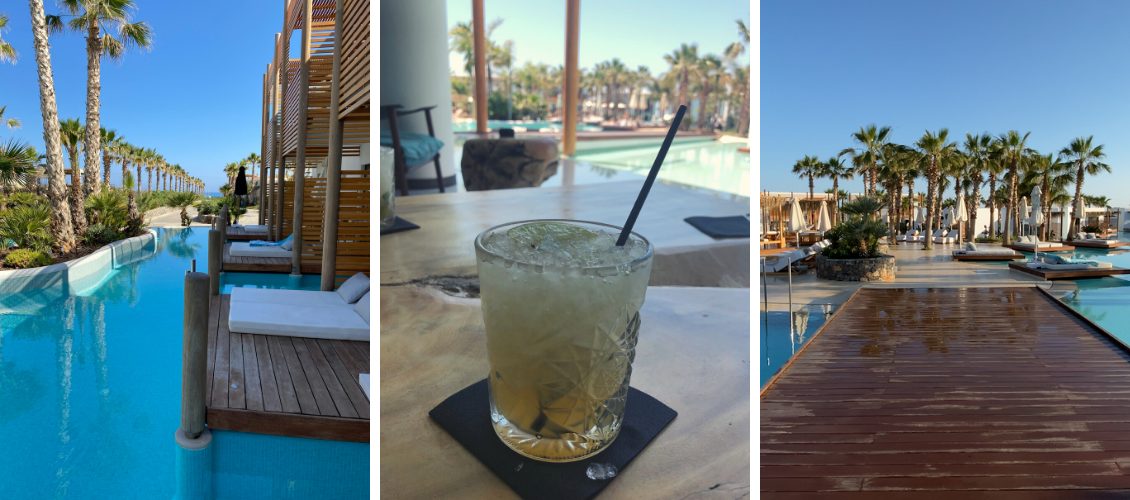 A golf buggy escort
Walking? Forget about it. Well, for the most part anyway. One thing the Insta pics can't convey is just how HUGE this complex is, with pools, restaurants, bars and accommodation blocks dotted all around. It's big enough to get lost in. Trust us, we did. Several times. In fact, one of the hotel's biggest selling points is that you never actually need to leave the complex. You'll have everything you need to hand, but it's so spread out that when you head to the restaurant for dinner, you'll feel like you've actually been out. That's why you'll see golf buggies zipping around the resort to take you from A to B. Just hop in and enjoy the ride! The refreshing breeze you get on the way is just an added bonus.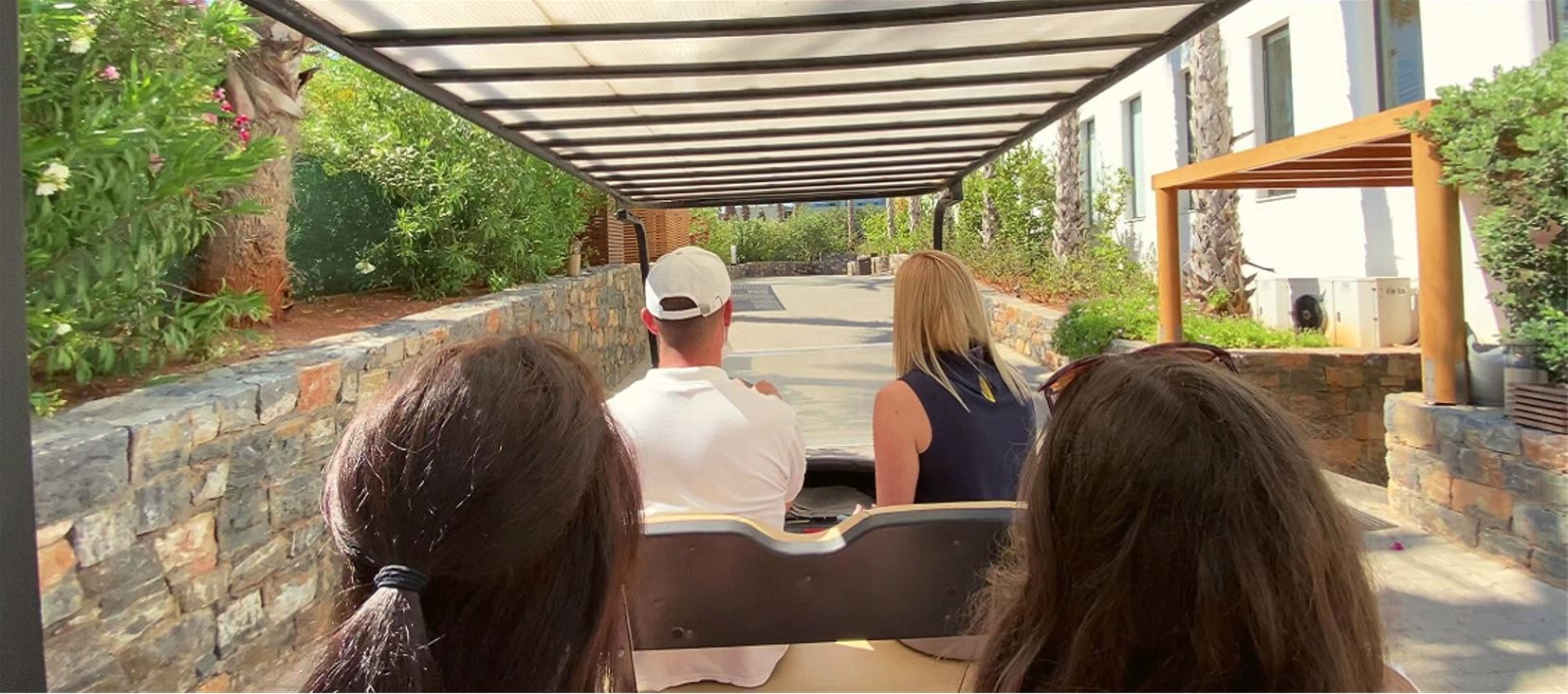 Rooms to die for
No, we're not exaggerating. You know that holiday fear you get when the plane journey's done with, you've arrived at the hotel, and now all that's left to do is see your room? Please, please be nice. Well, you can forget about that here. As well as small touches like a bottle of prosecco and a pocket-sized travel journal, our rooms also had a large feature bed (SO comfy), an open-plan bathroom with a Jacuzzi bath, and a huge terrace with a private pool actually big enough to swim in – not just dangle your legs in. Not to mention cushioned sun loungers and a plush outdoor sofa with a canopy. We could get used to this five-star lifestyle! Even the rooms without private pools come with a whopping balcony overlooking the sea or pool complex, and if you want something really fancy, then the Overwater Bungalows are NEXT LEVEL. These top-tier rooms open onto a private deck which steps straight into the lagoon pool, with a hammock so Instagrammable that even guests staying in different room types often ask if there's one free just so they can snap a photo! Hey, if it's good enough for Instagram, it's good enough for us.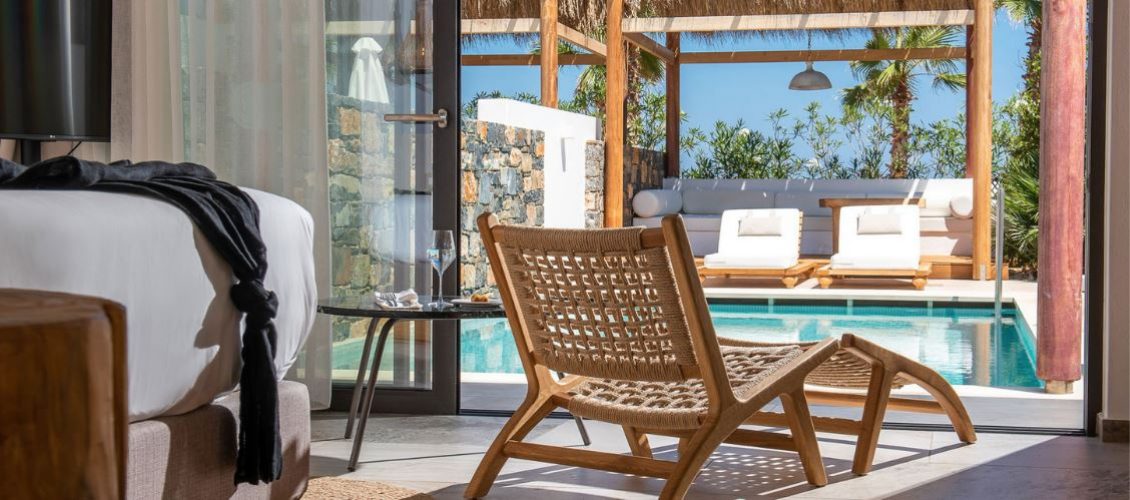 Holiday comforts (because you're never too posh for a toast machine…)
Listen, we love a luxury holiday as much as the next person, but that doesn't mean we weren't still absolutely buzzing to find the classic toast machine at breakfast. We ate in the quieter of the two breakfast restaurants, and the bread only needed two rotations through the machine instead of the usual 10. Winner. We also spotted chips at the breakfast buffet – each to their own, right?! Plus, the minibars in guestrooms come fully-stocked, and – bottled water and beer aside – there was only one thing we were really looking for. Yep, you guessed it. Fanta Lemon. Obviously. Well, it's in there. And if that's not enough, the poolside brunch restaurant even serves bottled Guinness. What can we say? You can take the Brit away from home, but…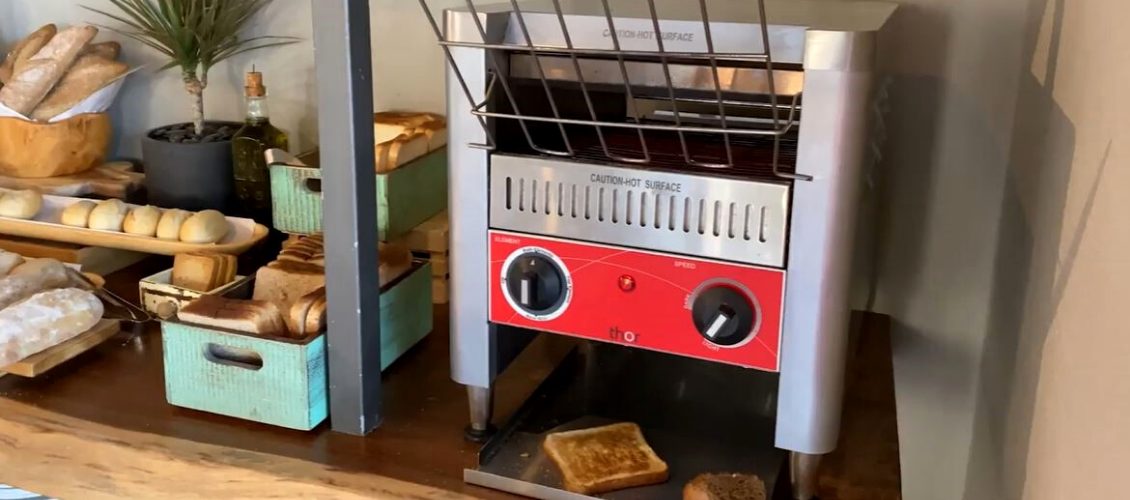 So. Much. Food.
This hotel doesn't use the phrase 'all inclusive' lightly. You want it, you got it. Besides a minibar bursting at the seams, room service until late at night and access to all the bars, you'll also have free rein of the hotel's restaurants. Whether you're craving a traditional Greek buffet, a seafood platter, a Mexican feast, authentic Asian or a good old steak, it's all included. You can even enjoy brunch from 11-5 at Makuti poolside bar if you fancy a lie-in (and given how comfy those huge beds are, you probably will)! Keep it classic with eggs benedict, or, if you want our recommendation, the 'open' style gyros is to die for. When in Greece, right?
---
Want to read more about what we ate in a day at Stella Island? Well, we can't blame you.
---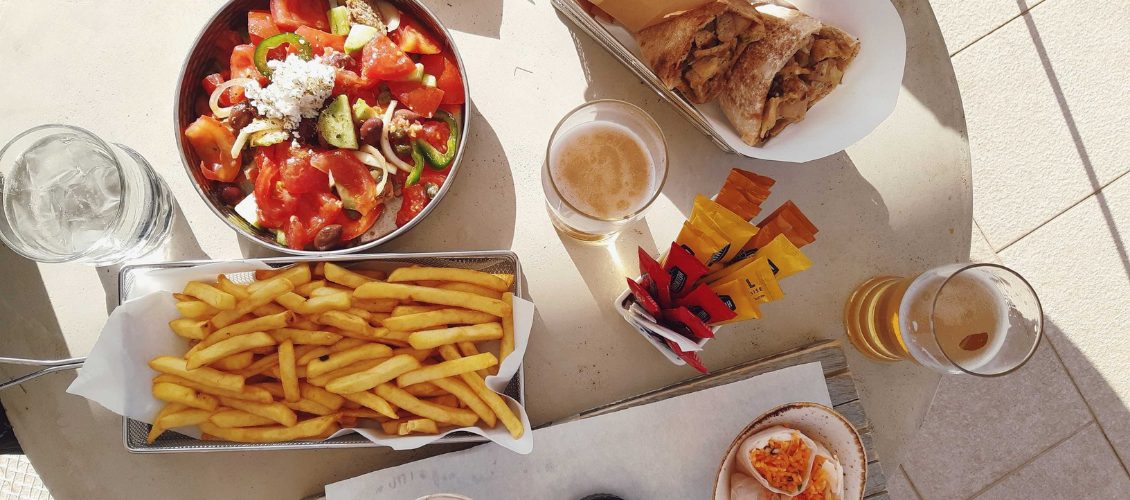 The biggest waterpark you've ever seen
Stella Waterland puts all other aquaparks to shame. No, really. Nestled in the heart of the three Stella hotels, this action-packed waterpark is where all the fun happens. With slides for everyone, from tots to teens and, of course, adults, as well as swimming pools and a 16-metre tall tower, you won't want to miss this. We tried a few of the slides for size (again, for research purposes…), and we'd be lying if we said this wasn't as much a day out for the grown-ups as it is for the kids. It's one of the only aquaparks in Greece with a transparent tube slide, so you can take in your surroundings as you zip through the water, and there's even a slide that separates off into two tubes, so you can choose your preferred route on the way down! Plus, there's a poolside bar for those all-important post-swim refreshments. That's us sold.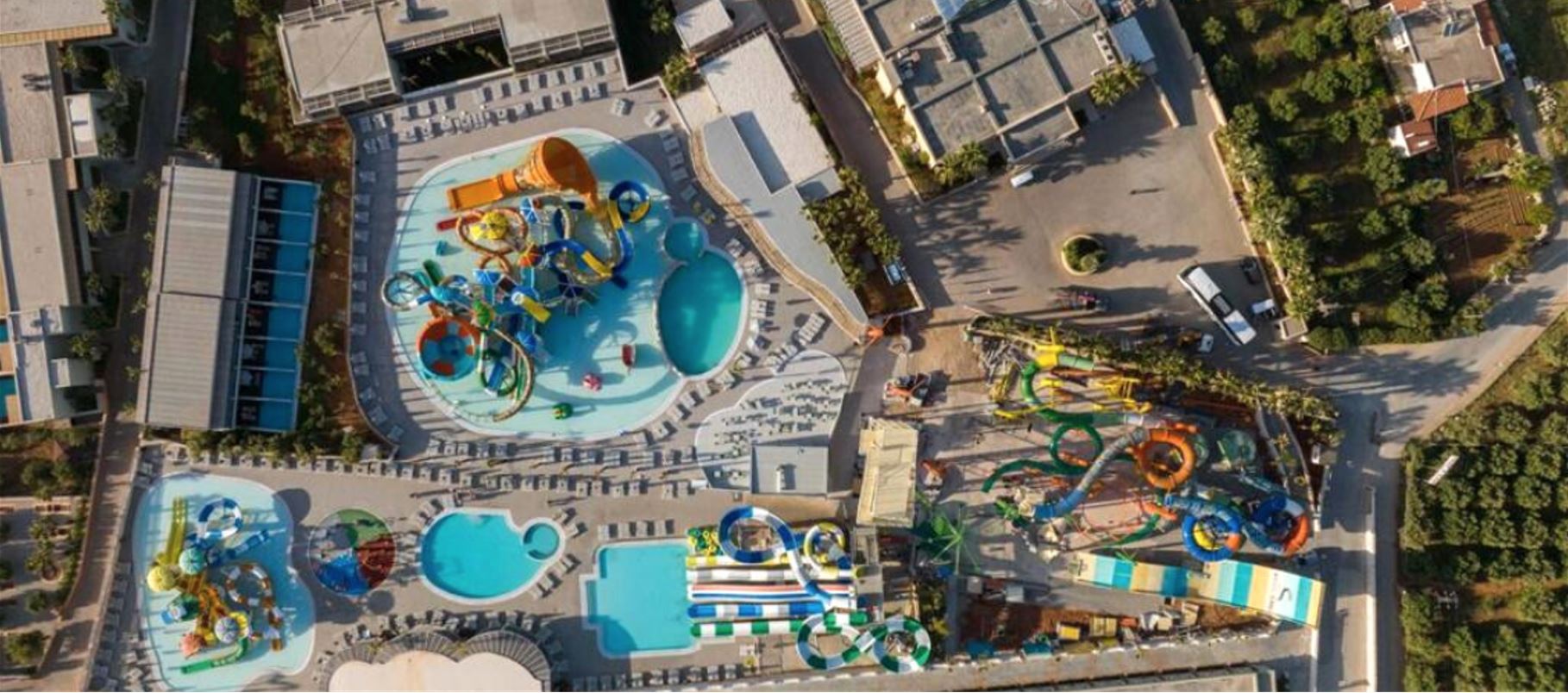 Lastly, here's a sneak peek of just how dreamy Stella Island is. Warning: it will make you want to book a holiday…
Eager to jet off? Check out our 2022 holidays to get your slice of sunshine – now with £50 off select bookings!*
*£50 reduction per booking, valid on holidays departing between 10 and 60 days from the point of booking. This offer is subject to availability and can be amended or withdrawn at any time. Applies to new bookings only. Discount is automatically applied to qualifying holidays and the prices displayed include the promotional discount referred to.