We did our research and found that there was a 203% increase in travellers who took hold luggage instead of hand luggage on their holidays this summer. But what if we told you that you can travel light without scrimping on essentials? Or luxuries, for that matter. And let's be honest, we could all do without paying those pesky baggage fees right now. We've teamed up with Sophie Liard or The Folding Lady as she's best known on TikTok, to show how you can get the most out of Ryanair's free hand luggage allowance – and you can save up to £70 per head. Prepare to have your mind blown…
What's the secret?
The secret to this nifty packing hack is actually an in-flight staple – the trusty neck pillow! That's right, this handy little comfort is your gateway to packing a couple of extra t-shirts, all of your socks or – as Sophie demonstrates below – a bikini for every day! Neck pillows are considered a personal item, so you can take one alongside your carry-on bag at no extra cost. Simply deflate it or remove the cushioning from inside, and stuff a few of your essentials in there. Sorted! Don't have a neck pillow? We've got you covered! Simply drop us an email at pack.hack@onthebeach.co.uk with your MYB booking number and we'll post one out to you!*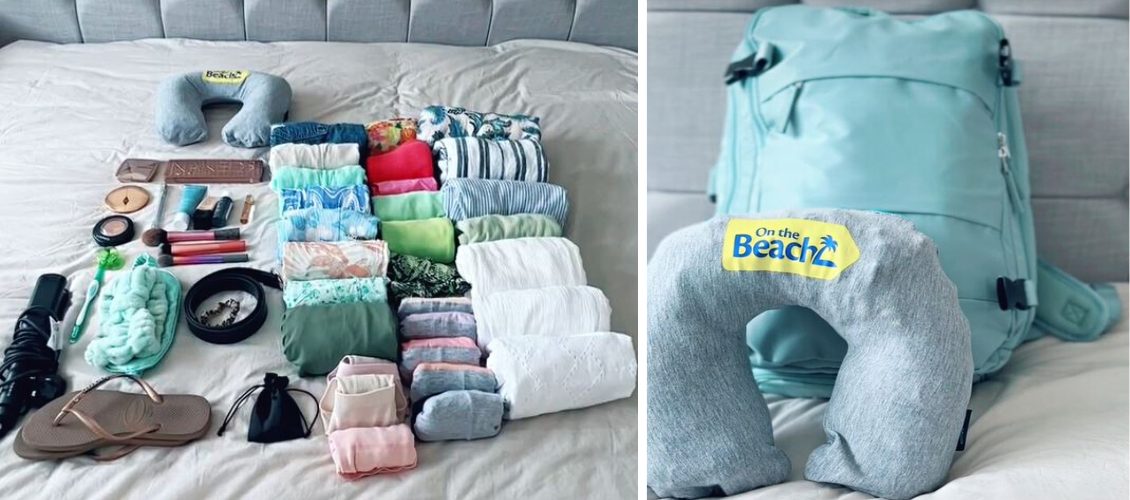 Sophie's top tips…
1. Less is more
Outfit-planning is key in the world of packing hacks, and Sophie is an advocate for packing mix-and-match pieces to save space, and using accessories to spice up a look instead of packing a whole new outfit. We like your style, Sophie.
2. Make peace with the crease
When you're packing as much as possible, it's inevitable that some of your pieces might get a bit creased – especially if you're taking linen clothing. Luckily, most hotels will have an iron or steamer to hand, so if you're in a real pickle then you can always smooth out any important pieces once you arrive.
3. All hail packing cubes
Packing cubes are zip-up cube-shaped bags where you can stuff your clothes, socks and anything else, so you can make use of every nook and cranny in your carry-on bag. Plus, they're a great way to keep things organised, because you can stick all of your formal pieces in one cube, and your daywear in another. Life saver!
4. Fold or roll
The fold vs roll debate has been tried and tested at The Folding Lady HQ, with the results showing that a good mix of both tends to be a winner. While folding is ideal for lighter items such as t-shirts, blazers and underwear, heavier pieces of clothing like jumpers and tights (although we doubt you'll need these where you're going!) will benefit from a good roll.
5. Don't let laundry get you in a spin
As if holiday blues aren't already enough, coming home with a suitcase full of dirty washing to do is just the tip of the iceberg. Sophie's top tip is to consider doing a bit of laundry while you're away – we know, it sounds crazy, but hear us out. If it means you can smooth everything into your bag for a comfortable flight and come home and put your feet up, then we're on board.
Check out The Folding Lady on TikTok…
@thefoldinglady I've been challenged by @onthebeachholidays to 'pack-hack' the system and fit a specially curated week's holiday wardrobe into Ryanair's free hand-luggage allowance. I'm using a cheeky neck pillow trick to pack in enough bikinis to switch up your wardrobe every day of the week – and save you up to £70! #ad ♬ original sound – TheFoldingLady
Well, that's the packing sorted. Now you just have to decide where to go… Check out our 2023 holidays for inspo.