Memory lane is lovely this time of year, won't you join us for a stroll? Whether you look back fondly on family time or regularly reminisce about the places you've been, the memories we make when we're young are a big part of who we become. With this in mind, we asked you – the British public – about your happiest childhood memories, and the results are now in! Drumroll, please…
Your top 10 happiest childhood memories
Long hot summer holidays
Favourite teachers
Building sandcastles
Getting a first pet
Performing in school plays
Joining in with holiday entertainment
Making a holiday friend
Moving house
Wearing armbands in the big pool on holiday
Spending all day in the swimming pool on holiday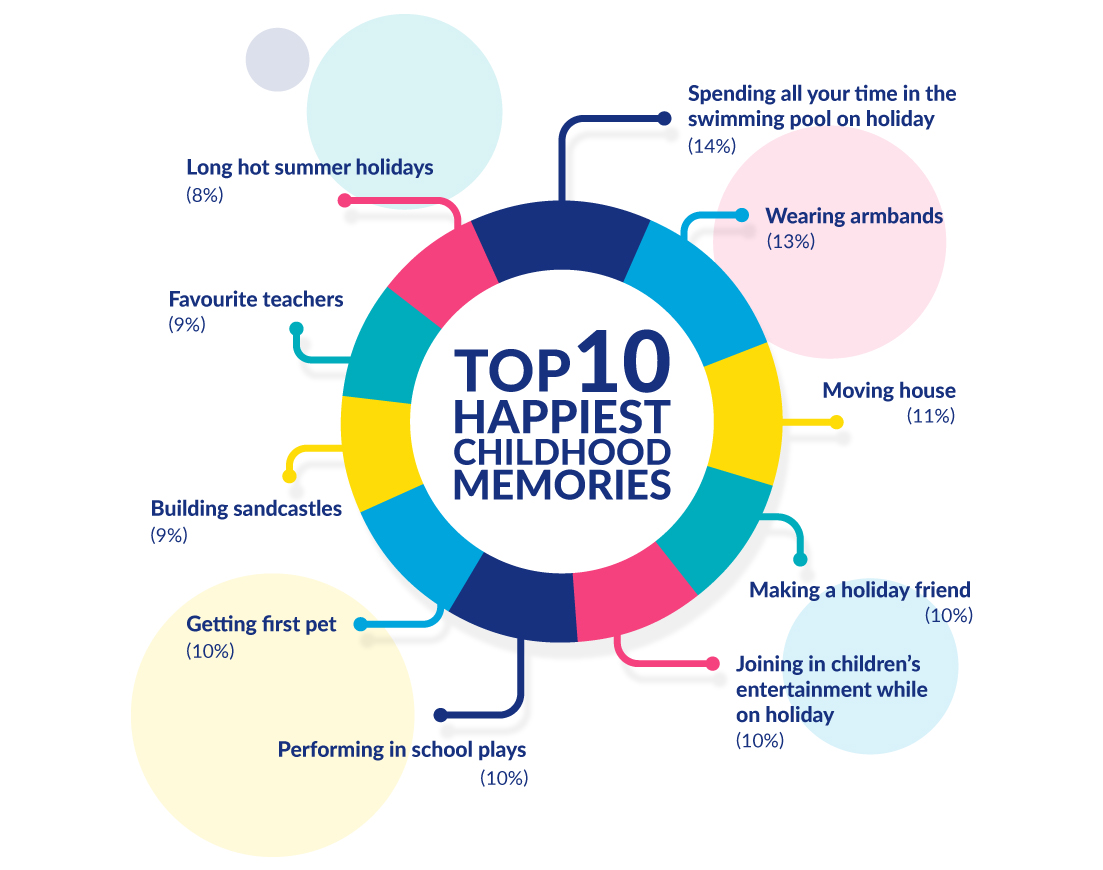 As the biggest fans of everything beachy, we're not surprised that the list of your top 10 happiest childhood memories includes six holiday-related entries. Is it the sunshine that surrounds these memories with a rosy glow? Do we get more family time than usual when we travel together? Whatever the reason, it seems that going on holiday is a great way to make new memories with your little ones, or even to relive happy days gone by for yourself. Read on for the lowdown on where to go to make more unforgettable memories.
Spending all day in the swimming pool on holiday…in Fuerteventura
It looks like we all agree that there's nothing quite like a pool day. Fuerteventura's year-round good weather and high-quality hotel facilities mean it's the perfect place to swim, float, play games or cool off in the swimming pool. We may look like we've grown out of non-stop splashing, but inside we're still the gleeful child who never wanted to leave the pool.
Wearing armbands in the big pool on holiday…in Turkey
Graduating from the kids' pool to the big pool was a serious deal – you knew you'd finally made it. A Turkey holiday is the ideal choice to let your little ones have the same experience. With tons of hotels that offer swimming pools for all ages, including shallow splash pools, lagoon-style pools and even waterslides, there's no better destination for children to spread their water wings.
Making a holiday friend…on the Costa Blanca
Whether the friends you made abroad were a brief flash of fun, or you still exchange Christmas cards every year, holidays are great at bringing us together with new people. As kids we formed friendships easily, happily playing and chatting with children we'd just met. The lively, friendly resort towns in Costa Blanca set the scene for channelling your inner child and sparking up some conversations. Benidorm, Alicante, Torrevieja and beyond – you might just meet your new best friend.
Joining in with holiday entertainment…in Gran Canaria
Strutting your stuff at the mini disco. Enthusiastic attempts to play games. Getting up on stage during an interactive show. As a kid, there was nothing more exciting a day of fun in the sun. Whisk your little ones away to a family-friendly hotel in Gran Canaria, so they have the chance to make those memories too. Alternatively, get involved with the entertainment for adults, such as karaoke or quiz nights, and create some new memories for yourself.
Building sandcastles in…Greece

With over 13,000km of coastline, Greece is made for building sandcastles. You can choose from island paradises like Corfu or Mykonos, or head to beautiful mainland regions such as Halkidiki or The Peloponnese – they all have stunning stretches of sand in common. Pack your bucket and spade no matter what age you are, sandcastles are for children and grown-ups that refuse to grow up.
Long hot summer holidays in…Majorca
The mercury in Majorca reaches highs of 30°C in August, making this Balearic Island the perfect candidate for a long, hot summer holiday. Book a relaxing break and fill your days with sun bathing, swimming in the sea, exploring the island and enjoying the company of your family or friends – it's the recipe for a holiday you'll never forget.
Learn more about your favourite childhood memories.