Hot tubs. They're pretty special, right? Just like private plunge pools or swim up hotel rooms, they are a true sign of the relaxation you find on luxury holidays. Usually, a hot tub can be found in a wonderful spa alongside a nice sauna, swimming pool and a load of candlelit massage rooms with gentle music flowing through your ears. But hot tubs don't only belong there. They belong anywhere where there is a chance to escape day-to-day life and have a bit of chillout time. Holidays are the perfect place. And why not have your own private one? And why not have it in your room? Sounds like pure bliss to us and because of that, we've pulled together our favourite hotel rooms with hot tubs!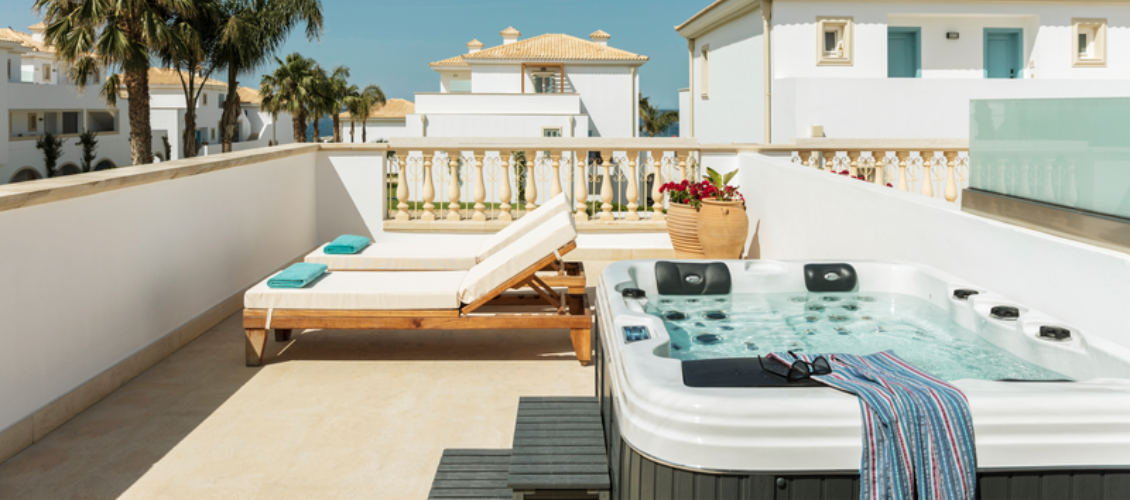 Mitsis Laguna Resort & Spa
Five-star, family-friendly. A perfect combination. The Mitsis Laguna Resort & Spa hotel offers a bungalow-style room type that comes with some beautiful amenities, one of them being a Jacuzzi-style hot tub. With extra space and family-friendly options, this hotel room puts some added pizzazz on to an already delightful holiday resort. Head to the spa and chill in the sauna and then come back to your room and get in the hot tub because why not? It's your holiday.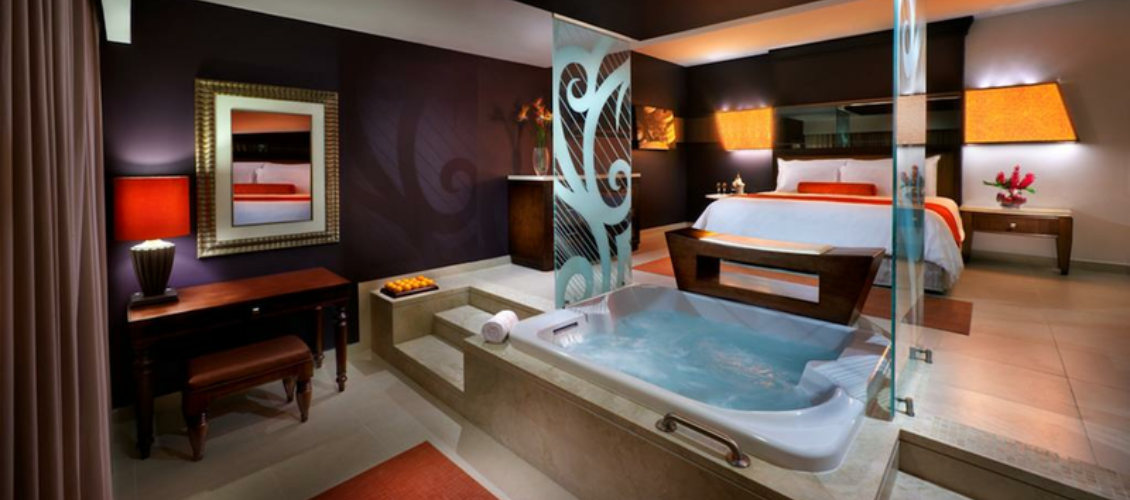 Hard Rock Hotel & Casino Punta Cana
What do you want most after waking up? A cup of tea? Breakfast? How about a dip in the hot tub? With these hotel rooms at the Hard Rock Hotel & Casino Punta Cana, you can climb out of your bed and into the hot tub. Yep, the epitome of rock 'n' roll luxury, we must say. Or, you can sip on some champagne whilst soaking in the bubbles before heading for a sleep in an unbelievably comfortable bed – the perfect way to unwind after a tough day sitting on the beach with a cocktail. The room itself comes with a coffee maker, air conditioning, LCD TV and even FREE Wi-Fi. Superb.
Dreams Aventuras Riviera Maya
This hotel is a thing of dreams. After all, dreams are in the name. We're specifically looking at the honeymoon hot tub rooms, the ones with a hot tub on the terrace overlooking the sea. Yep, those. Do you need to be married to book this or can we get a solo holiday booked? Asking for a friend, of course, because if not, said friend will have to find someone to marry (or even just a first date, if you're looking to take things slow). Whether or not you're jetting off after the big day, you have to admit that the rooms at Dreams Aventuras Riviera Maya are beauty defined.
We're not sure how else we can possibly pitch to you that hotel rooms with hot tubs in them are the best of the best. Whether it's a wake-up dip or a relaxing soak before bed, a hot tub is ideal for increasing those luxury levels on your holiday. Cut out the walk to the spa and the awkwardness of sharing a hot tub with others and instead, opt for a room with your own private one for a bit of peace and quiet whilst also taking advantage of being lazy on holiday.
Looking for your next jolly? Check out our package holidays.