Vicky and Beth are home safe and sound after a gruelling week climbing to the roof of Africa. Here's Vicky's account of their incredible trip…
WE MADE IT!!! On the 8th February, Beth and I embarked on our charity climb to the summit of Kilimanjaro. Simply put – it was the hardest thing we have EVER done, but the most rewarding and AMAZING experience by an absolute mile!!!
This is a rather epic description of our trip, but we were keen to bring it to life as much as we could, to ensure the people who have sponsored us get to see that every penny was deserved! :o) Apart from my words, check out the links at the bottom of the email for a photo and video diary that visually brings our adventure to life!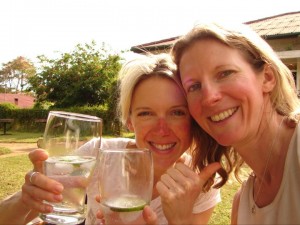 So, where to start….?! As we flew down from Nairobi to Kilimanjaro at the start of our trip, we passed Kilimanjaro and our pilot helpfully pointed out that we were actually flying LOWER than the summit!! Our hearts simultaneously flipped with adrenalin and trepidation as to the enormity of the challenge ahead! But we were buzzing on it all too, and after so many months of planning, we were just desperate to get going!!
We embarked on our trek up Kili via the Machame route – which is aptly nicknamed "the whisky route", because the ascent and descent terrain are far tougher than the mainstream Marangu "tourist route". But it's a path which also covers a much more beautiful and diverse range of landscape and scenery (and, as it happens, one which tends to treat its climbers to a slightly warmer climate, and less inhospitable weather – a definite bonus for us!). For 6 days we hiked an average of 6 hours a day – covering about 90km in all, and covering a mix of terrain which had us clambering up a rocky riverbed one day, then skating down a solid lava stream, swiftly followed by a physical climb up a sheer wall of rock the next!! A route which certainly isn't "a slow uphill walk, which doesn't require too much fitness" as some describe the more popular Marangu route as! All the time we were carrying 4litres of water in our backpacks, plus our lunch, some extra snacks, first aid kit, loo roll (essential!), sun-cream, waterproofs and some warmer layers of clothing just in case!
One of our main fears about the mountain was the elements, but miraculously, the temperature stayed relatively mild and dry considering the altitude, with us just adding layers progressively day by day and at night times, but always managing to keep warm. Even on the final summit climb 90% of the time I could (unexpectedly) feel my fingers and toes (perhaps something to do with the Michelin-man type layering system I had employed, with 5 layers of clothing on my legs, and 6 on my upper body!!) But we were lucky, as other climbers we met after the trip who had taken easier longer routes up the other side of the mountain, spoke of 3ft snow drifts, wet freezing sleeping bags, and hyperthermia stopping them even attempting the final summit push!! Boy, were we glad we'd booked that "whisky route"!! :o)
Our other big worry in the preparation for the climb was the impact of the altitude on our stomachs, heads and general energy levels. After hearing tales of Martina Navratilova being stretchered off the mountain only a week before us, with pulmonary oedema and severe mountain sickness, at the last minute we'd both decided to take Diamox (the anti-altitude sickness drug) and thankfully, it did its job and until the final descent (where absolute exhaustion and dehydration were more to blame we think) neither of us got sick at all. We didn't even get a blister, or suffer from achey legs – all those months of training hard in the gym, and walking at weekends to test and break in our gear, had most definitely paid off! The only thing we did both have to contend with, was some epic sunburn across our hands and faces (the last thing we thought we'd have to worry about!).
Apart from the drugs, the other thing that kept us well was our commitment to drinking the recommended 5 litres of water a day, plus plenty of food to keep our energy up, and just taking each day's walk "pole pole" – Swahili for "slowly slowly!" The downside of the drinking all that water though (in addition to the diuretic effect of the Diamox and the altitude) was the frequent need to leave the tent for the midnight use of the loo with a view! :o) Our crew kept us extremely well fed, serving us 3-course breakfasts and dinners in our very own dining tent (complete with candle when it got dark!), plus preparing a hearty packed lunch for us each day. We even managed to keep ourselves feeling relatively clean with the copious quantities of wet-wipes we'd packed, although those showers back at the hotel at the end of our trip were the best thing ever!! (or maybe that was the G&T, hmm.. it's a tough call!) :o)
Talking of the crew and their cooking skills … There was only Beth and me on our little expedition, although we did see many people on our daily hike and at each night's camp. But in our merry little crew-for-two, we headed up the mountain with a Guide, Assistant Guide, a cook and 5 porters, who between them carried (mainly on their heads!) our big rucksacks, tents, sleeping bags, their tents, all the cooking gear and food and water (which some of the time had to be collected en-route and carried to camp! Watching them nimbly zip up the rocks with up to 35kg on their head and shoulders, and without using their hands to steady themselves was an impressive sight in itself!
The camping was great fun – and our super-dooper sleeping bags kept us warm each night, even at the higher altitudes. The camps were basic, with often uneven ground, and a long-drop loo (of varying cleanliness, depending on how many campers' suffered altitude sickness at the time…!) Every night we camped with the silhouette of the Uhuru summit looming over us, which was particularly eerie at Barranco camp, the night before the summit climb, because the mountain seemed almost to taunt me as my nerves kicked in, and my breathing difficulties really started to affect my spirits.
As for Summit day… that is officially known as THE LONGEST DAY EVER!!! It was the climax of the whole trip, and took place across day 4 and 5, as you trek through the day, and then through the night reaching the summit in the early hours of day 5. Just like every other aspect of the Machame route, this final section of our journey was harder than the more mainstream "tourist route". Across those 2 days we were on our feet for 19 of about 36 hours – 14 going slowly slowly upwards, and 5 coming down considerably faster! I had no idea what the word "exhaustion" meant until the final night summit hike…. 4 days of full on climbing, and 7 hours already on our feet that day too (half of which involved climbing a rock face!), whilst breathing, no panting, like you're running a marathon, had left me ABSOLUTELY SHATTERED!! Just making it to the Barafu base camp where you start the night climb was a MASSIVE achievement for me, and when we arrived there at about 3pm I wasn't even sure I'd be able to start the summit hike. Doing anything was a huge effort on my breathing by that stage. But after a few hours rest and a good dinner, my spirits yet again lifted and I was game to attempt it.
But only a few hours into the night hike I was having one hell of a mental battle just to keep putting one foot in front of the other, wondering all the time "what the hell am I doing here, 5000m up, in the middle of the night, on the side of a flippin' mountain!" No matter how much I panted, slowed down, or took breaks, I couldn't seem to get enough oxygen inside my lungs, and although my breathing stabilised whenever I did stop, by about 3am I was certain I was going to pass out any minute. Beth was having her own battles, particularly managing her footing in the dark on the climbing parts of that final ascent, but her breathing was better than mine, and I think years as a marathon runner perhaps stood her in better stead for the mental battle of these hardest hours. My head-torch failed, but thankfully I had a back up so I could keep following that snake of little lights slowly plodding up the mountain ahead, but it was still metaphorically a very dark, dark point for me.
Other climbers were turning back, unable to go any further, and I was sorely tempted to join them, although I think I was partially put off by the thought of descending in the pitch black! But in the end I kept thinking of why we were doing this, of my Gran, and all the support you guys had given us; Beth kept me stuffing snacks into my mouth to give me a precious little bit more energy; and then ultimately my iPod saved me, as I managed to keep going, a very, very, slow, slow step at a time, with the music sending me almost into a meditative state, drowning out my exhausted breathing and calming my panic just enough to allow me to keep going. Just before 6am I made the fatal mistake of asking how much further we had to go… "Probably an hour and half" was the reply… we both nearly collapsed on the spot, as our hearts plummeted, unable to take much more. But at about 6am, the sun started to drench the floor of Africa behind us – and although we were so out of it we almost failed to notice just how spectacular it was, it gave us both just enough of a boost to keep us focused on the remaining mission ahead – to get to the crater rim… THE SUMMIT!
Many people ask why you do this, the hardest part of the whole Kilimanjaro climb at night, when that makes it all the harder. Some reports say it's because the shale is easier to walk on at night. But the truth of the matter is that if climbers could see in daylight just how much of a distance was ahead of them, then a far greater proportion would drop out, than those which drop out due to additional night time exhaustion! :o)
We finally reached the summit at a place known as Stella's Point (named after the first female summiteer!) at 7am on day 5, Saturday 11th February, 2011. I had nothing left to give when I got to that crater ridge, 5735 breathtaking, heart-wrenching metres up, and so promptly burst into tears! Beth and I slumped against a rock, and were treated to a very welcome cup of tea and a few biscuits which our Guide had carried to the top with him. The actual peak of Kilimanjaro is 150m higher up at 5895m at Uhuru, an hour's walk along the crater rim. But I had already made a pact with myself in those last few hours, that if I could just get myself to that crater rim, that would be enough, I would let myself stop. I simply had nothing left to give when it came to going uphill, I was too exhausted from the 7 hours we'd just done to even try, and I honestly felt that whilst I might get to the peak, I also wouldn't get back down! And with the words of our hotel owner's safety briefing echoing in my head, about the essential need to "respect the mountain and ultimately be responsible for your own safety and welfare", I decided I needed to just focus my last reserves of energy and will-power to get me the 5 hours back down to the next nights camp, and out of the altitude for my own good!! After all, there are only 2 ways down from the mountain – either on your own feet, or on a wheeled-stretcher with the porters!
Beth had enough strength to go on, and although at first said she should come back with me, I encouraged her to keep going if she felt she could. We'd come so far, she had to at least try! But before she went on towards the peak with one Guide, and I started my speedy 2 hour descent back to Barafu with the other, we paused briefly for a few summit photo's, including one holding aloft an "On the Beach" banner advert we'd made and carried all the way from the UK, in honour of a hefty sponsorship donation from my employers! This was the money shot – that once in a lifetime moment to be captured on camera, and to prove to all those who had sponsored us and supported us back home, that we'd made it!! … Only later (too late!) we found out our guide couldn't operate my camera, and what we ended up with was a few zoomed in, blurred, up close shots of our heads, and the just the middle of our poster!!! It was a painful lesson in checking you're happy with your pic's before you leave the summit! Ah well, you gotta laugh really, and we weren't looking our best anyway!! (see the photo links to check out the comedy evidence!) :o)

At the highest Uhuru peak, Beth saw the spectacular views of the Kilimanjaro glaciers, and of course got a look at that ultimate view from the roof of Africa. Then, an hour and half behind me, she too descended back to Barafu base camp. We were both feeling pretty horrendous by the time we got down – but after some food, we got back on our feet and headed another 3 ½ hours further down to the Mweka camp at 3000m, where we were to spend our final night. We were like the walking dead really, with Beth particularly suffering from dehydration sickness, but our instinct to get down from altitude was strong, and kept us both going as quick as we could, hammering our knees on the rocky descent somewhat in the process! We collapsed by 6.30pm that night into our very inviting sleeping bags, and then rose the next day to make our way the final 3hours to the gates of the national park, where our mini-bus awaited to take us back to the hotel. To warm showers, alcoholic beverages, and comfy beds! And more importantly, to "normal" altitude once more! In the days that followed we then headed off on a camping safari into The Lake Manyara, The Serengeti, and The Ngorongoro Crater National Parks, with many more fab and fun experiences to come, as we rested our legs and instead bobbed about in the back of a 4×4 spotting the Big Five, and getting plastered in dust as we went :o)
But to sum up the Kilimanjaro part of our trip….. WOW. WOW. WOW. It was an utterly PHENOMENAL experience and something we're both really so proud we managed to do, physically get ourselves up there, seeing everything we did on the way, and just feeling so damn lucky to have had the chance to experience it all, and raise so much money with all your help along the way! It was bloody hard. But in the end, it was bloody good!!! To date, with gift aid included, we've raised just over £4,100 for Railway Children, which will help them continue their vital work to help homeless and vulnerable children in the UK, Africa and India. Thank you thank you thank you to all of you who have been so so generous in helping us raise that money! For anyone still wanting to contribute, our sponsorship page will be open for another week or so, so just click here – and don't forget – all of the cash is going to the charity, as we paid for the trip ourselves: http://uk.virginmoneygiving.com/team/Vic_and_Beth
Vic & Beth xxx
PHOTO & VIDEO LINKS