This charming city simply has it all. It's one of the few places you can escape on an explorative city adventure, whilst still getting a chance to sip on a cheeky strawberry daiquiri at the beach and head out for an unforgettable night of bar hopping along with a spot of Spanish dancing. It's easy to spend three days getting lost in this sunny city paradise, Barcelona's brimming with beautiful architecture, historical monuments and stunning stretches of golden sands. Along with a vibrant energy that radiates through the city's friendly locals and magnificent artwork dotted around the streets.
So if you're seeking a trip to tick all the boxes here's some top tips from our three fabulous days in the city…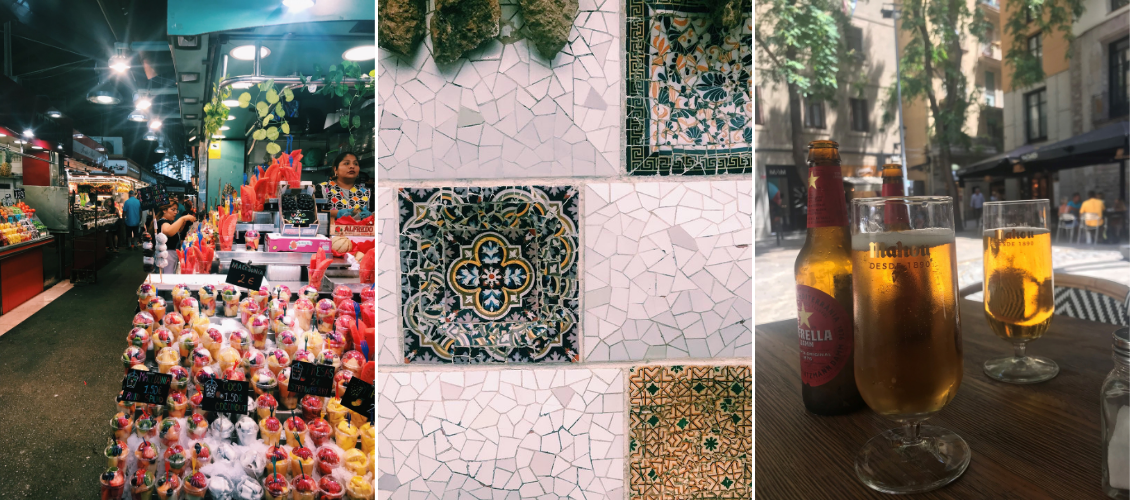 Day 1
When you reach the centre of the city, be sure to take a wander down the famous Las Rambla boulevard. This bustling street is brimming with visitors from around the world, expect a sea of different accents as you stroll the endless shops, cafes, bars and restaurants that call it home.
While you're here a visit to the Mercado de La Boqueria is a must! You'll be greeted by a welcoming explosion of brightly coloured fresh fruits, vegetables, nuts and fish. We decided to treat ourselves to a pot of juicy pineapple, which was the perfect mid-morning snack.
With a long list of places we were eager to explore, we grabbed a ticket and hopped on the open-top red bus tour. The first of our stops was the iconic La Sagrada Familia and it's safe to say we were very impressed. The magnificent church towers high up into the sky with wonderfully detailed sculptures that embellish the huge stone walls – it's a sight that's simply breathtaking.
Next up was Park Güell, where we wandered through pretty flower bushes, cobbled pathways and spiralling trees that set the perfect scene for an afternoon stroll. The park also boasts unbeatable panoramic views of the city below, along with a spectacular collection of famous Catalonian architect Gaudi's unique mosaic style creations.
After a quick trip back to the hotel, we hunted down a traditional tapas eatery, where we tucked into some tasty patatas bravas, washed down with a pint of the nations well-loved Estrella of course!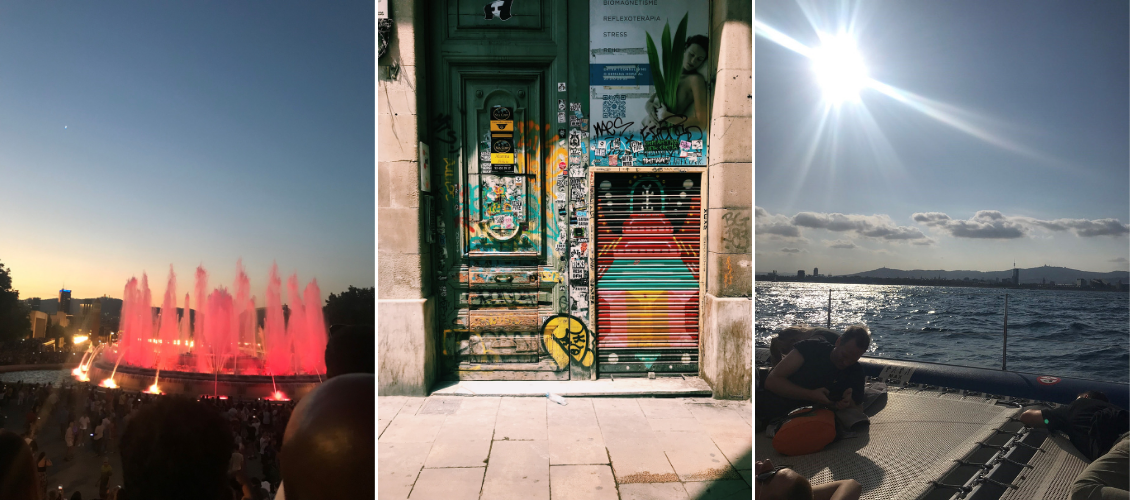 Day 2
There's no better way to start a day in the city than with a visit to one of the many patisseries that sit on almost every corner. You can choose from chocolate sweet treats, delicious smoked meat sandwiches and freshly baked croissants. We grabbed ourselves a table and enjoyed the morning sunshine.
With the sunny Barcelona weather in full-swing, we headed to the beach to spend the day catching a tan. The shimmering shorelines are home to plenty of seafood speciality restaurants and chilled out Chiringuitos. Although, our personal favourite had to be the juicy burger joint 'Makamaka' where you can dig into one the best burgers in town whilst enjoying the blissful beachfront views.
Locals flock to the beaches in the evening to skate, surf and you may even spot some sensational Spanish dancing going on here too. So be sure to grab yourself a glass (or two) of juicy sangria and find a good spot on the sands to watch the sunset.
We jumped into a taxi and made it to the Magic Fountain just in time for the evening show. The skies lit up in a dazzling display of water, colours and music with stunning views of the city in the distance.
We were excited to see what a night out in the city had to offer… and we certainly weren't disappointed. We stumbled upon lively Irish bars like The Temple, quirky cocktail bars with creative menus like Marmalade and El Paradiso and funky tunes at Marula Café, where you can dance like a local until the early hours of the morning.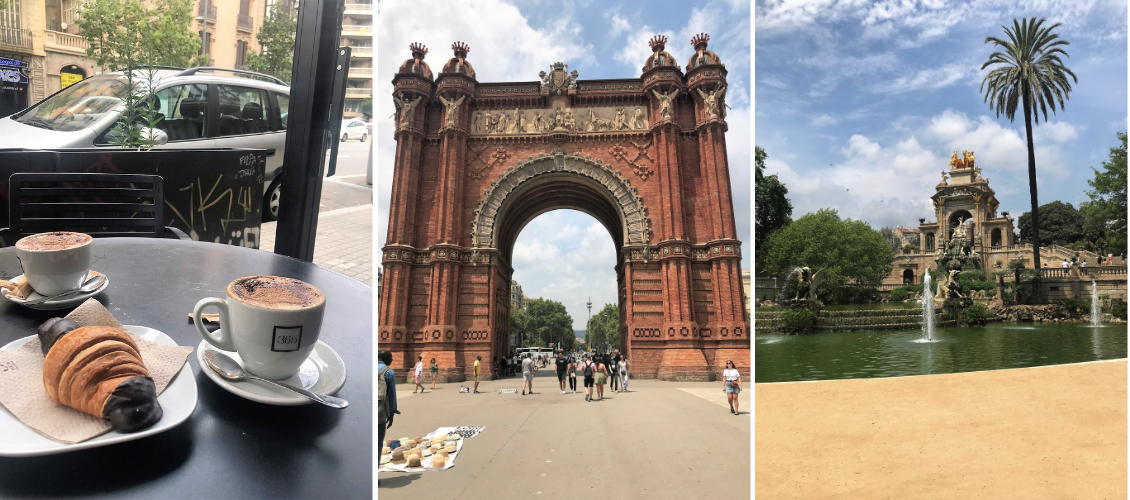 Day 3
With slightly sore heads, we woke up to our final day in the city. Set for the arc de triumph, we strolled the pretty city streets of El Bourn where we stumbled across local café's, small shops with handcrafted gifts and high-rise apartment blocks dotted with bright, fascinating graffiti. We stopped off for a lovely lunch of fresh pasta in a small square where we met some lovely Spanish locals who were very helpful in recommending some good places to grab a beer.
After snapping a quick touristy shot in front of the fabulous Arc de Triumph, we took a stroll around the Parc de la Ciutadella. Hidden in this lush little green space you'll find an impressive fountain, famous sculptures and even an idyllic lake where you can rent a rowing boat.
To end the trip we took a sunset cruise across the coastline, where we were treated to spectacular city views, accompanied by some chilled out jazz music and a cold beer, it certainly was a great way to end a fantastic holiday!
If you fancy a fabulous city break with a spot of Spanish sun, check out our bargain breaks in Barcelona here!