When it comes to picking a hotel for your holiday, nothing beats a first-hand review. So, we packed our bags, boarded a short 4 hour flight and went along to the 5* Mirabello Beach and Village in Crete to share all about what you can find there…
On arrival
The 5* Mirabello Beach & Village has two distinct areas: the shared facilities such as the restaurants, shop and reception, and a separate area for all of the rooms, suites and private pools. After checking in with the really helpful staff at reception, our suitcases were loaded onto a golf-style buggy and we were whisked away to the other side of the village to have a gander at our rooms.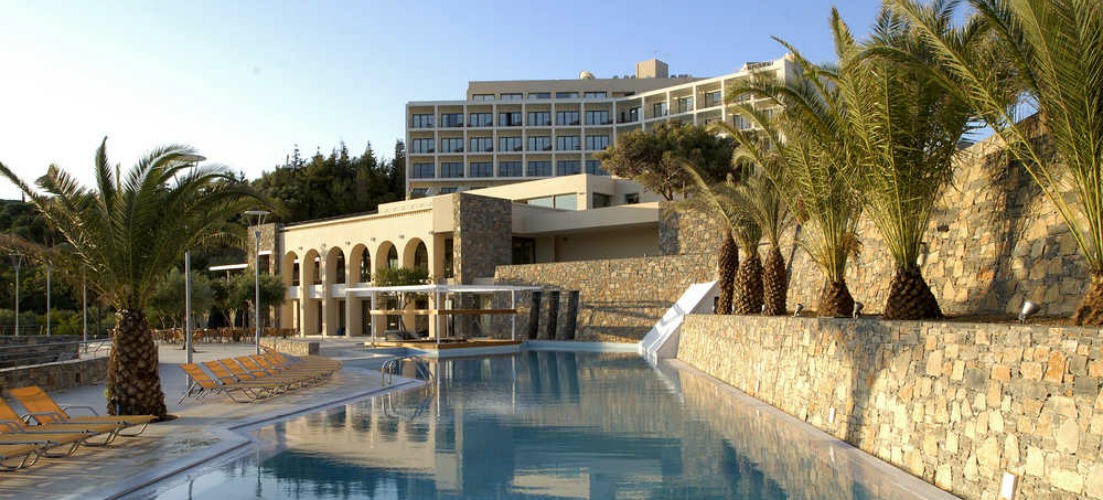 The rooms
The rooms are bright and modern yet warmed with grey-stone walls and your very own open-air balcony. Luxuriously, I had a whole room all to myself, which included a sitting area, large and firm double bed (scattered with rose petals, I might add) and a beautiful bathroom with power-shower to boot. The complimentary refreshments, including succulent baklava, cake and other sweets, were delicious too…
Although varying in size, the rooms are all really high quality. Some of the rooms even have two floors if you fancy a change of scenery.

The facilities
Alongside the numerous options for food and drink, the Mirabello has a breadth of facilities available including an in-hotel shop selling unique jewellery and accessories. There are many pools dotted around the main accommodation area; private pools, infinity pools shared by a few guests and larger public pools are all available to use.
Our favourite chill-out area was the bay-style private beach surrounded by deckchairs facing the sea… with refreshments within an arm's reach, this is such a perfect spot for whiling away the hours under the Cretan sunshine…

The food and drink
Starting your day off at the Mirabello is an absolute treat; the breakfast buffet selection is out of this world. It contains pretty much everything you could possibly want for breakfast, meaning we obviously had a three course breakfast on a daily basis.
We gorged on freshly made waffles with dollops of nutella, crunchy dried banana slices with sticky dates, dried cereals and toasted seeds. For those more inclined to savoury starts to the day, there were soft-yolk fried eggs with freshly baked seeded slices of toast and all the essential trimmings of a full continental breakfast.
Sirens restaurant is also open for buffet-style dining at breakfast and dinner, where you can watch your food being cooked in live action. Or for a change of scenery, you can head to Il Patio a la carte restaurant where you can try truly exquisite cuisine surrounded by ultra style decor inspired by Crete's landscape.

The area
Only about a 10 minute drive from Agios Nikolaos marina, Mirabello isn't too far from some mainstream bars – including karaoke, I might add. In May, the bars weren't overly crowded and there weren't too many tourists knocking around, but we expect visiting in the peak of July would be a different story.
Heraklion is also reasonably close by… we spent a fair bit of time exploring the area, including attractions such as the archaeological site of Knossos, the museum of Heraklion and a truly spectacular restaurant: Peskesi.
Read more about what and where to eat in Crete here.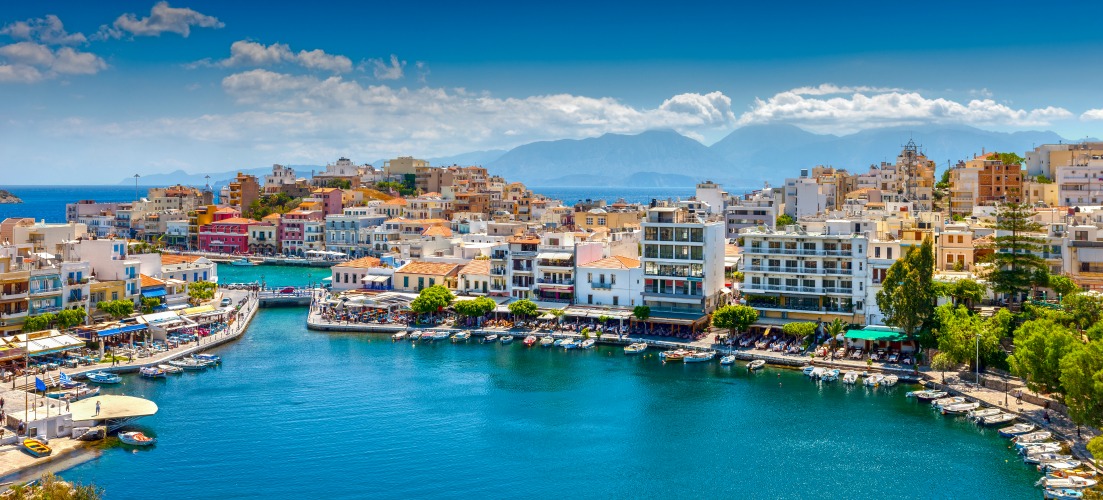 A special thanks to the team at Avra Tours for organising our stay, and the staff at the 5* Mirabello Beach & Village for making it so memorable.
Read more about the 5* Mirabello Beach & Village and book your stay here!