If you haven't already seen, we're super excited to be sponsoring Roundhouse Beach this summer. From 15th – 29th July, the iconic venue will also be showing a selection of great films, old classics and new favourites including Withnail and I and Moana.
Some of these films are set in beautiful beach locations so we decided to delve a little deeper and hand-pick 50 of the best beaches that have served as movie sets. We then pinned them onto an easy-to-navigate interactive map for you to explore. With a single click, each marker allows you to learn more about the film, its location and even see famous clips from the many classics listed… Click the image below to have a go!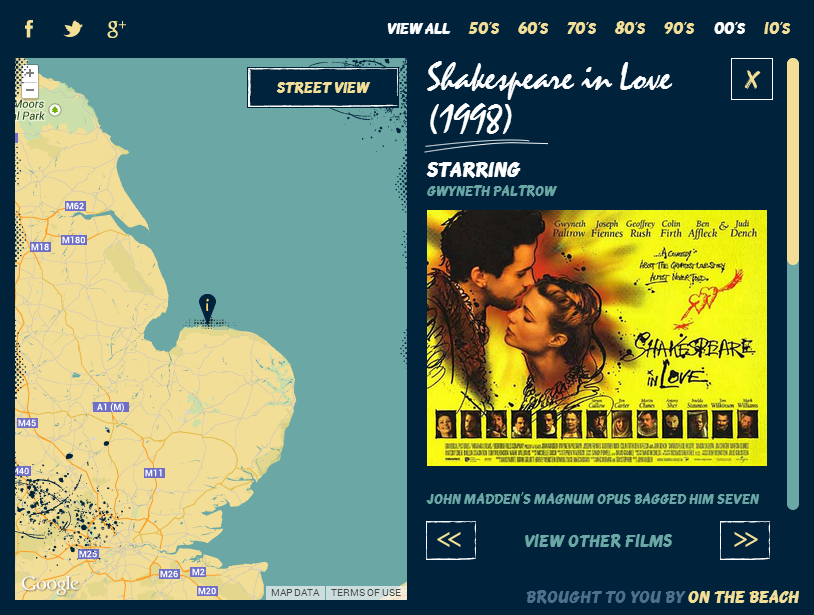 Try using Google's Street View allowing you to explore countless entries on our list. From the stretching sands of St. Andrews to the mind-blowing island paradise of Ko Phi Phi Lee in Thailand, this is the best way of combining your love of film with exploration.
Naturally, there are plenty of popular hotspots for directors over the last 70 years, whether it's the sunny Mediterranean, rugged western US coastline or the bright and breezy Caribbean. Find out which six blockbusters were filmed next door to one another in California, find out how Norfolk made our list, or discover which beaches pretended to be other locations thousands of miles away.
Alternatively, you can search films by decade by using the sorting tool at the top of the page, allowing you indulge your love of movies and holidays in one go…
If you're not going to any of these famous movie beaches this summer, you could always head to the Roundhouse Beach for some beach film fun!
Let us know if you can think of any great beaches we've missed…