Beach holidays are the best, and part of the fun is coming back with an enviable tan! But how well do you look after your skin in the sun? We've teamed up with the skin experts at Simple to give you the best kept secrets in skincare and travel, which will guarantee you a truly radiant summer.
Simple are giving beach fans a free Simple Skin Health Check worth £8.99 AND the chance to win a £2000 voucher for the holiday of your dreams courtesy of On the Beach.  Visit the Simple website for your free personalised assessment and enter the promotional code OTB, and for your chance to win £2000 towards that dream holiday.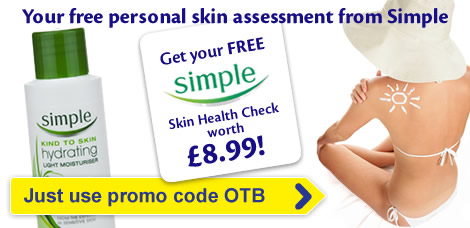 The regular use of a moisturiser is essential to boost skin hydration level. Use Simple's Kind to Skin Hydrating Light Moisturiser to keep your skin looking in tip top condition before you hit the beach.
Exfoliating is a great way to prepare skin for your best tan ever. Use Simple's Kind To Skin Exfoliating Body Wash to refresh your body before you hit the beach.
Give your tan a head start with Simple's Kind To Skin Sun-Kissed Moisture Cream, a perfect blend of vitamin goodness and gentle tanning agents to give daily moisturisation and the confidence to bare your golden skin on the beach!
Whilst in the sun, you should apply sunscreen every one or two hours and use around 40ml of lotion for a total body cover.
The skin on the face is more delicate and exposed than the rest of your body: so use a specially formulated facial lotion, like Simple's Regeneration Age Resisting Day cream with SPF 15, all year round to help care for your skin, not just on sunny days.

Simple is a Trade Mark of Simple Health & Beauty Ltd.