The sun is shining and it's time to start planning your summer holiday – we're thinking sea, we're thinking sand and we're thinking swimwear.
If, like us, you love to chill out on the beach but don't have a supermodel body (we wish!), it's vital to find swimwear that suits you and makes you feel like a goddess. Here's a look at our favourite swimwear styles and how to make a statement on the beach this summer!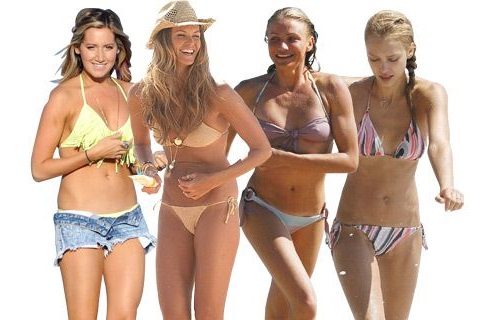 Prints
A simple printed halterneck bikini like Jessica Alba's is a suitcase essential. A small or subtle pattern won't draw attention to any particular part of your body, and if you're conscious of any problem areas, there are lots of styles with built-in support. Just slip a plain summer dress over the top if you are wandering around or kicking back on the beach.
Shape
A sporty bandeau style bikini is great if you have an athletic figure like Cameron Diaz, and is not only flattering but also comfortable across your chest. Steer clear of this style if you have a bigger chest, though, as it may not give much support. If you are top heavy, opt for a bra-style bikini top. If you are a new mum or feel a little conscious of your tummy, shop for a pretty swimsuit – there are so many to choose from now they don't have to be 'mumsy'.
Accessories
Elle McPherson styles her nude bikini with a straw cowboy hat and accessories. A hat is a great way to keep yourself cool and avoid sunburn – a red nose and cheeks never look good at your romantic meal in the evening! Sarongs are a fab way to cover up on the beach, too, especially if you enjoy walking up and down the sea front rather than tanning all day long. Take advantage of all the different prints and try something new!
Colour!
Ashley Tisdale opts for a colour pop in neon green tassels, looking very laid-back and cool! This style bikini is for those of you wanting to try something different on holiday this year! Just team it with a pair of denim shorts or a pretty summer skirt.
So get packing – summer's just around the corner and whatever your style, there is something for you!