With just a few months to go until the brand new 5* Royal Hideaway Corales Resort opens its doors in Tenerife, the final details are almost finished on what promises to be a spectacular hotel.
The Concept
With an innovative concept and a modern, cutting-edge design, the hotel was decorated by a famous London studio and built by a prestigious Spanish architect.
The resort will be divided into an adults-only hotel and a family-friendly hotel for all guests. The area consists of more than 10,000m2 of luscious gardens, a number of heated salt-water pools, a varied culinary offering, a regular entertainment programme, a spa and wellness centre and everything else that you would expect from a top of the range 5* hotel. Coral reefs are the inspiration behind the idea of imitating nature and creating a unique atmosphere with the idea of bringing the natural beauty of the marine world to land.
The resort was recently named the Best Future Hospitality Building 2018 at the European Hospitality Awards.

The Location
Located on the southern tip of the island in the popular resort of Costa Adeje, the hotel offers great views of Playa Enramada beach and is just short distance from the town of La Caleta.
What's Nearby?
50m – Playa Enramada
300m – La Caletavillage
2.7km – Playa del Duque
2.7km – Shopping centre
6.8km – Siam Park
22km – Los Gigantes
23km – Tenerife South Airport
40km – Teide National Park
Royal Hideaway Corales Beach
If you're looking for a romantic escape, a peaceful break or just want to relax in style, the adults-only 5* Royal Hideaway Corales Beach is the place for you. You'll find swimming pools, restaurants, bars, a wellness area and an extensive fitness and fun programme.
The Junior Suites offer great views of the ocean and put a real focus on ensuring maximum privacy. Owing to the large windows that allow sunlight to pour into the suite, the outdoor area is an extension of the inside area. Junior Suites are also equipped with a large double bed and bathrooms include high quality finishes as well as a tub and a separate shower.
Restaurants
There are 5 restaurants available at the adult-only resort to choose from:
West To East – Atlantic buffet serving breakfast and dinner
Asian Restaurant – A la carte restaurant specialising in Asian cuisine
Cadence – A la carte restaurant with stunning sea views
Cascade – Mediterranean a la carte terrace restaurant with an infinity pool overlooking the Atlantic
Wet Bar – with an infinity pool overlooking the ocean
Find out more: Royal Hideaway Corales Beach

Royal Hideaway Corales Suites
Thinking of a luxurious break in the sun with the family? The family-friendly 5* Royal Hideaway Corales Suites has just what you need. Guests here can enjoy an unforgettable break surrounded by nature and unique architecture.
The Deluxe Suites are the perfect combination of a spacious one-bedroom apartment with a terrace that boasts ocean views. The apartments include a spacious sitting room, fully-equipped kitchen-dining room and a furnished terrace.
Suites are available with 1, 2 or 3 bedrooms and all feature ocean views. 54 of the Suites also include a private heated pool.
Restaurants
There are 5 restaurants available at the Royal Hideaway Corales Suites:
Olivia – Mediterranean buffet-style restaurant
Starfish – Pool bar/ snack bar with ocean views that serve grilled meat and fish
Brasserie – A la carte terrace restaurant with ocean views that serves grilled meat and fish
Alice – Library cafe style lobby bar
La Gelateria – Traditional Italian ice cream shop
Find out more: Royal Hideaway Corales Suites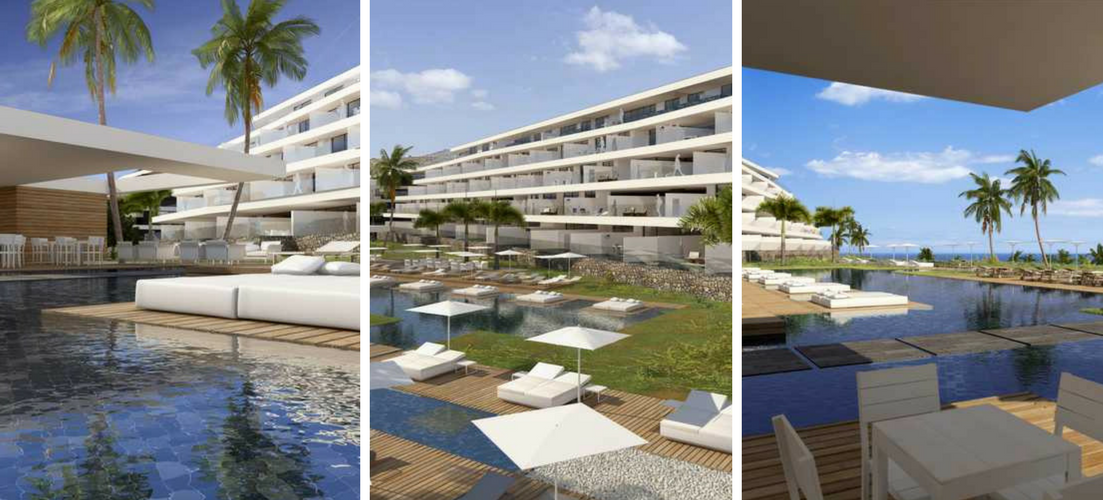 What do you think of this brand new resort? Let us know in the comments below…