Sharing our travel secrets with you is one of our favourite pastimes, and this week we're turning our attention to one of the UAE's best kept secrets: Ras Al Khaimah. This little-known gem translates to 'top of the tent,' thanks to its northern location. While Dubai is the all-singing, all-dancing city that everyone's heard of, Ras Al Khaimah sits just an hour away, home to desert dunes, swish shopping malls, dark-sand beaches and the highest mountain in the UAE. From ziplining over mountains to spotting flamingos at the waterfront, this destination has plenty to keep you occupied on your 2022 holiday – so why don't we show you exactly what you're missing out on?!
Sledding on holiday – yes, it's a thing!
Forget lugging your flimsy plastic sledge to the nearest hill in winter – it's time for the real deal. Sitting comfortably on a low-slung track, Jais Sledder is for those of us who like to see everything in a short space of time. Travelling at a heart-pumping speed of 40km per hour, you'll get to see the best of Ras Al Khaimah's scenery, from mountaintops to the rugged coastline, all in just eight minutes! What's more, we're offering a FREE ride with bookings to Ras Al Khaimah (see terms and conditions), because we believe everyone needs to give this a try. You're welcome.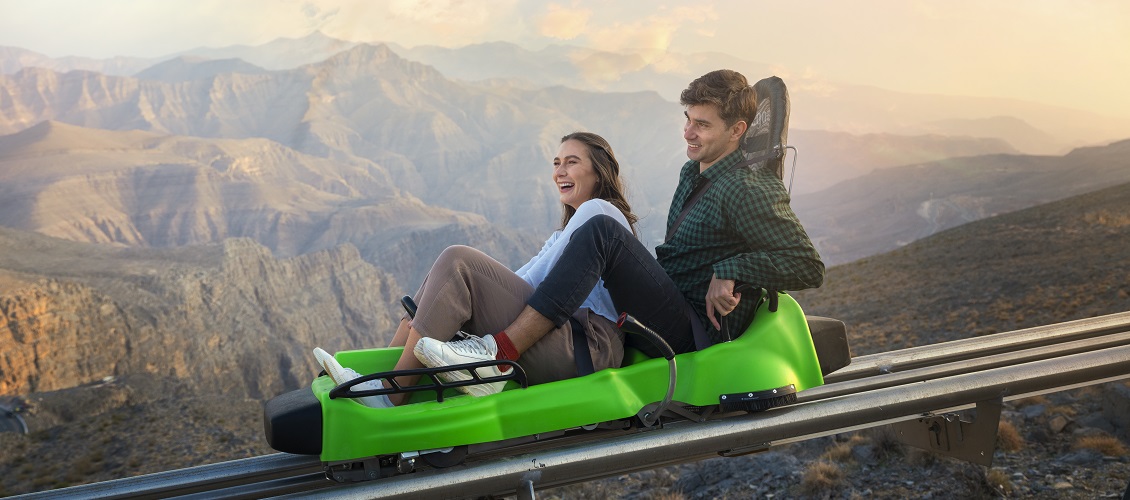 History lessons with a view
History isn't for everyone, but with views as breathtaking as this, Dhayah Fort sure is. A set of wide, gradually-sloping steps will lead you to this historical landmark, jutting from the landscape in all of its 18th century glory. Not only is it the only remaining hill fort in the UAE, but thanks to its elevated location, you'll be rewarded with views of the rustic mountains and palm-lined coast once you reach the top. Now that's a win-win!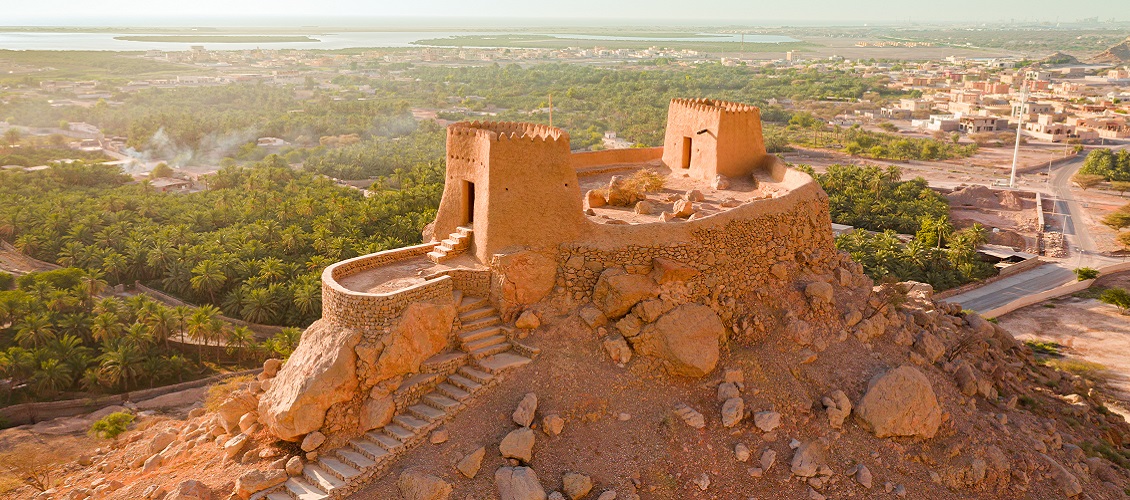 Lay down a towel at Flamingo Beach
It's no secret that we love a beach day, and Flamingo Beach in Ras Al Khaimah is one of the best in the region. Named appropriately after the two large flamingo statues that you'll find greeting you as you arrive, this easily-accessible stretch of coast has everything you need for a classic beach day, with shallow shores ideal for kids, palm trees providing the perfect amount of shade, local cafes to explore and a large, free car park.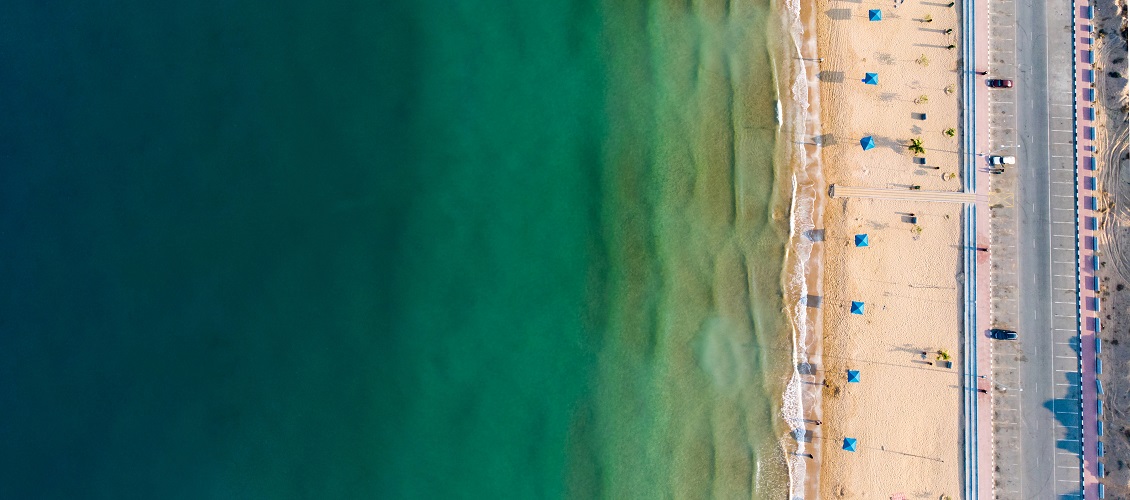 Wander along the waterfront
Right in the heart of Ras Al Khaimah, you'll find Al Qawasim Corniche – a stretch of protected mangroves which frame the coast and provide home to a variety of wildlife – including flamingos! Lined with restaurants and friendly cafes, there are plenty of places to grab a bite or stop for an ice cream, and the child-friendly area in the scenic park is sure to go down a treat with the little ones. Plus, if you're way too cool to explore on foot, then you'll find a variety of water activities in the area. Kayak, anyone?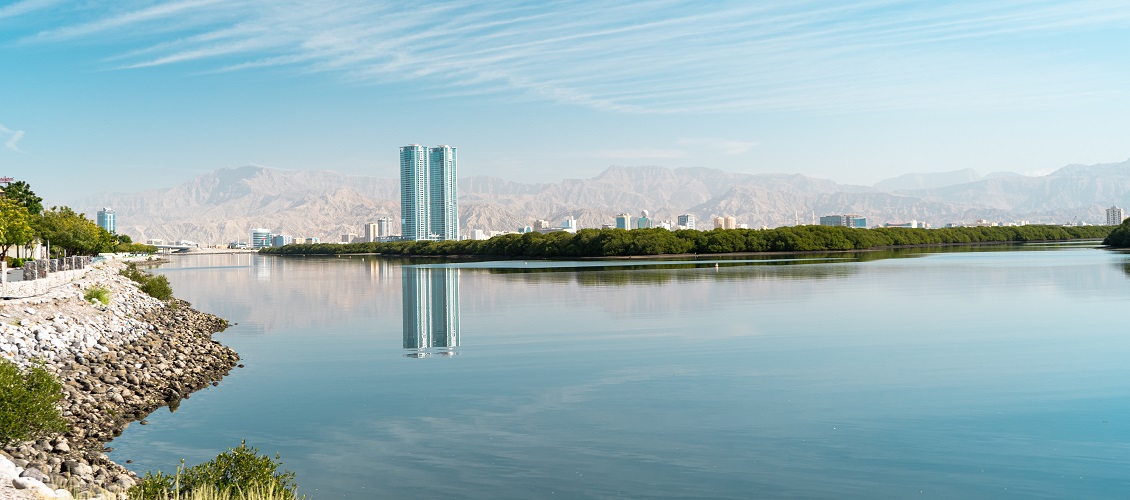 Take in the sights from the world's longest zipline
This one's for all the adrenaline junkies – if you like a bit of adventure on your travels, then get a load of this. How does soaring above the Arabian Gulf at around 150km per hour sound? Jais Flight takes the title of longest zipline in the world, offering a bird's-eye view of the jagged mountain peaks and canyons beneath. Zoom down this 2.83km-long zipline and you'll definitely get your fair share of scenic views along the way.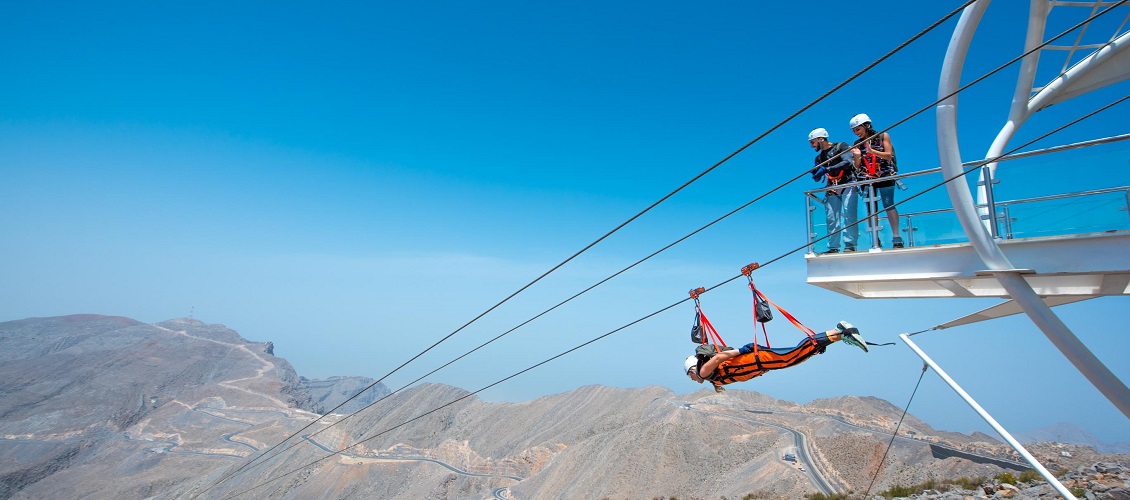 Everything you need to know about Ras Al Khaimah
Local time: 3 hours ahead of the UK
Flight time: Approximately 8 hours
Currency: UAE Dirham
Language: Arabic
Good to know: Although Ras Al Khaimah is served by Dubai Airport, it sits in its own region, around an hour north of Dubai.
If all that has sparked your curiosity, then here's a snippet of what else to expect on your Ras Al Khaimah holiday…
Eager to jet off? We know the feeling. For an escape to remember, book Ras Al Khaimah for your last-minute holiday.