Have you ever fantasised about impressing your friends with your impressive Spanish lingo skills on holiday? We've got your back, no problem – or as the Spanish would say: No hay problema.
Every week, we'll share a new Spanish phrase that is typically unknown to your average Brit. You know… phrases like "it's raining cats and dogs" which technically don't make any sense, but in the real world do an excellent job of telling everyone precisely what you mean.
This week's phrase is…

Literal translation: Dress me slowly, because I'm in a hurry
Meaning: More haste, less speed
Pronounced: Beastehmeh despathyoh, keh ten-goh preesah
Last week's phrase was…

Literal translation: The one who bothers himself, eats garlic
Meaning: If the cap fits, wear it
Pronounced: El ke seh peek-ah, ah-hose come-eh
Older phrases…

Literal translation: Once a year does not hurt
Meaning: Once in a while can't hurt
Pronounced: Oona Beth al anioh noh ahthe danyo

Literal translation: There are four cats
Meaning: There's a handful of people
Pronounced: Aye kwatroh gahtoss

Literal translation: It's in the fifth palm tree
Meaning: It's miles away
Pronounced: Kehdah en el kintoh peenoh

Literal translation: Throw the house through the window
Meaning: Push the boat out
Pronounced: Teera la kahsah pour la bentahnah

Literal translation: In case the flies
Meaning: Just in case
Pronounced: Pour see las mosscars

Literal translation: When the river sounds, it carries water
Meaning: Where there's smoke there's fire
Pronounced: Kwandoh el Rio suenah, ahwah yeahbah

Literal translation: To bread, bread, and to wine, wine
Meaning: To call a spade a spade
Pronounced: Al pan pan, ee al beeno, beeno

Literal translation: In good time, green sleeves
Meaning: About time
Pronounced: Ah bwenas oarass, mangas berdes

Literal translation: Each mad person with their own theme
Meaning: To each his own
Pronounced: Kahdah locko con su tehma

Literal translation: In bad weather, good face
Meaning: Put a brave face on it
Pronounced: Al mal tiempoh, bwenah carah

Pronounced: Es pan come-ee-doh
Literal translation: It's eaten bread
Meaning: It's a piece of cake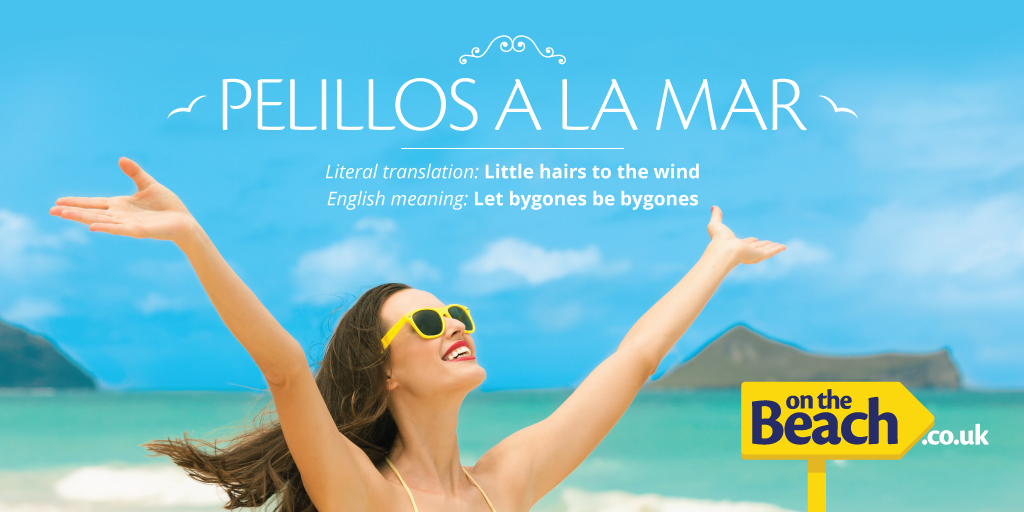 Pronounced: Peleeyos ah Lamar
Literal translation: "Little hairs to the wind"
Meaning: Let bygones be bygones
Have you ever heard these phrases before? Let us know in the comments below!