Nothing intensifies a craving for a family holiday on the beach more than a long, cold winter and now's the time to consider your beach break options. However with so many destinations on offer, how do you choose? Well, here are a few of our top tips for planning your perfect family holiday by the sea.
First of all, depending on personal preferences and budget, you'll have to decide on the type of accommodation and holiday that suits your particular family (short or long haul, self catering, hotel, resort, villa, all-inclusive). Then consider location. Find out about the coastal terrain of your destination – and whether it will meet your family's needs. Sand, pebbles, rocks, big waves, shallow water, lush vegetation, natural shade; beaches come in all shapes and sizes and it's important you find the right one for you and your kids. If you have very young children, sheltered coves or bays with shallow, calm water and gentle shelving are perfect, while older children might prefer somewhere more suitable for water sports.
Look for places with international Blue Flag awards and lifeguard patrols for peace of mind and make sure you are aware of local tide times too. If being on the beach is on the daily itinerary it needs to be within easy walking distance of where you are staying. Some hotels or resorts have private beaches, providing the ultimate convenience of being able to return to your rooms for showering and siestas to avoid the hottest part of the day! Other facilities such as toilets and showers on the beach make life easier, but these locations are also likely to be the most crowded. Cafés and restaurants on or close to the beach front make meal times simple, and if air conditioned, are a great way to cool off as well.
When packing for a beach break protection from the sun is a real priority. Cover up with light T-shirts, together with a high factor sun cream (ideally SPF50) is best both in and out of the water! Don't forget lip balm with at least SPF15 and sunglasses. Kids' beachwear with UV protection is readily available these days and Legionnaire style or wide brimmed hats are a must to protect faces and necks. The sand can get unbearably hot so pack some footwear such as jelly shoes. A UV pop up tent is fairly light to carry, and ideal for little ones to rest and play in. Parasols or wind-breakers are difficult to bring unless you're driving to your destination however, you can often buy or rent them at the beach. Beach bags should contain a few plasters and some antiseptic cream too, as well as after sun cream and sanitising hand gel. Always useful for family trips!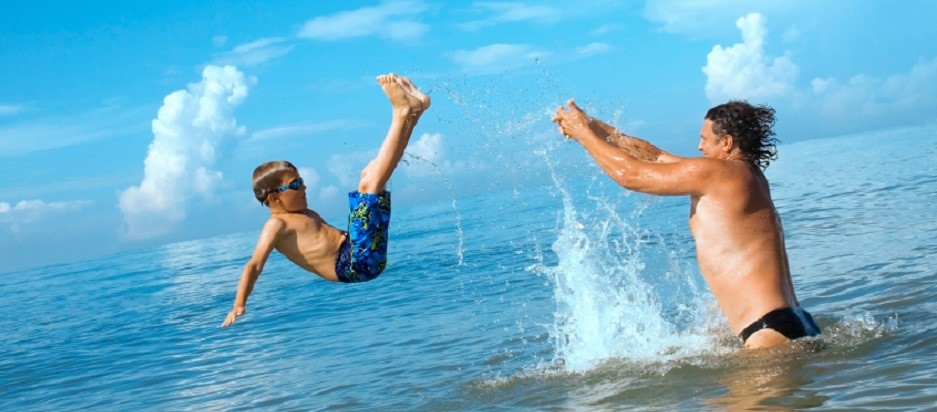 The great thing about the beach is that children will be happily occupied for hours with a bucket and spade whether they're building sandcastles, digging holes, beach-combing or making beach art masterpieces. In and around the water youngsters will enjoy swimming, rock-pooling, fishing and snorkelling while ball games, Frisbee or flying kites all make for great beach-based family entertainment too. Suffice to say that close supervision of children when in or near the water is essential at all times – and remember that inflatable beach toys are not life aids.
You might be close to the sea but try to make sure you have copious amounts of bottled water to hand – children dehydrate easily in the sun. Watery fruits such as grapes and melons make for tasty snacks that also help keep children hydrated in the heat. And finally take some plastic bags with you – not just for wet sandy clothes, but also for collecting shells and pebbles which you will no doubt want to bring home as a small memento of your beach holiday together.
Check out some of our recommended family beach holiday destinations below:
We love the look of Sani Beach Hotel and Spa in Greece, perfectly located just 30m from the beach and also Aquis Zorbas Village in Crete where you can fall out of bed onto the beach which is just 5m away! Tenerife is another family favourite and for a bit of luxury, the Costa Adeje Gran Hotel comes highly recommended.
But don't let us distract you, dive in and decide for yourself!
About our Guest Author:
Nirmala Suman-Chauhan is the Cambridge Editor for Childfriendly.co.uk. She loves discovering new and fun places to take the kids both on holiday and in her local area, and is one of Childfriendly's top contributors.