We all know how much you need that break in the sun…
A punishing cycle of daily life, work and family pressures take it out of every single one of us. Some people going away for a well earned break love nothing more than a few cocktails by the sea and quality time with their loved ones… Others go for the parties!
Here at On the Beach, we want all our customers to have the most incredible holiday; so let your hair down and have fun, but please always be completely aware of your own safety and that of others.
Get insured!
Hopefully you won't need it. But in the cases of injury, being taken ill, being burgled or assaulted in some way, you are going to thank your lucky stars that you took out some decent cover.
TIP: Be sure to read through your policy very carefully. Remember, that if you have an accident after drinking alcohol (even one glass), your insurance company is unlikely to pay out. You need to really know where you stand from the offset – for your own sake.
In addition to travel insurance, we also recommend that you apply for free European medical support, using an EHIC card (European Health Insurance Card). There are some things that aren't covered, and not every country is part of the scheme (Turkey for example), but on the whole, this is fantastic additional peace of mind.
Respect the locals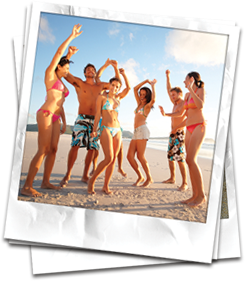 Our reputation abroad precedes us Brits sometimes. We are notorious for partying all over the globe and with that carnage, often comes some pretty ugly scenes. Our foreign neighbours tolerate a lot from the hoards of Brits descending upon their pretty villages and really it is common sense that we should fully respect the locals. So leave the 'Moonies' and the football chants at home.
Don't get nicked – you will most definitely regret it
Getting arrested in a tourist destination is really not advisable, or cool. In the event that either you (and/or a mate) do get in trouble with the local police, then first of all – stay calm. A British Consul will be able to offer you sound advice and assistance. This will be a lifeline as they can explain how the country's justice system works and organise lawyers and interpreters. Contact can be made to family members via the Consul so you will not be completely on your own.
Countries generally have very strict laws in place for public drunken disorder and the penalties can be very severe. Responsible drinking is a sure-fire way to avoid a lot of the idiotic shennanigans that often land people in hot water whilst they are away.
Stay safe
Some Brits find themselves in hospital after drinking far too much. It is so easy to get into the holiday vibe and sink back more booze than humanly possible, but try to set a limit and eat plenty of food; before, during and after you have had a good skin-full. Drinking lots of water is also crucial to avoid de-hydration, especially in hotter temperatures.
Stay protected
An accidental pregnancy or STI is really not the best of souvenirs to be bringing back home from your holiday. It is common for people to let their guard down on holiday and take more risks than they would do normally, back home. Often, people leave their common sense in the UK, but this is so dangerous and can lead to all sorts of health problems. Infections such as syphilis and HIV can be much more common and interestingly, most cases of HIV diagnosed in heterosexuals, reveals that the majority were acquired overseas. This makes for some pretty shocking reading.
Not wanting to sound like the fun police, we just want to drive the message that something as simple as being prepared with condoms, will help to keep you safe on your holiday.
The Foreign Office's 'Know Before You Go' website provides you with lots of useful advice to ensure you are completely clued up before you head off on your trip.
Enjoy living 'La Vida Loca' on your next holiday abroad, just please make sure you return back in one piece with the most legendary memories of your party in the sun!