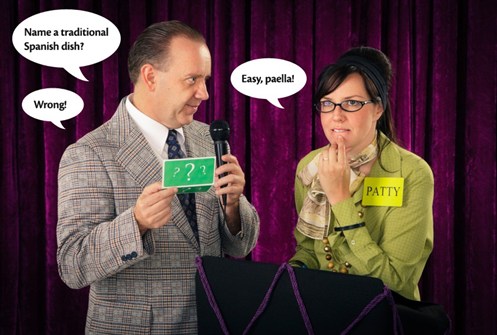 Wrong. Although we Brits love to think of our Spanish friends regularly tucking into a large helping of rice, vegetables, et al, paella is in fact a regional recipe of Valencia and not really recognised as a 'traditional' dish elsewhere in Spain.
Yet having said that if you go into any Spanish restaurant in Madrid or Barcelona, or even along the eastern coastline, you're bound to find quasi-paella dishes offered on the menu. Why? Because whilst on holiday us tourists can't get enough of it, that's why. Paella is a staple in many of our holiday diets: it's incredibly filling, you certainly get your money's worth (because of the huge portion sizes) and, above all else, it's delicious.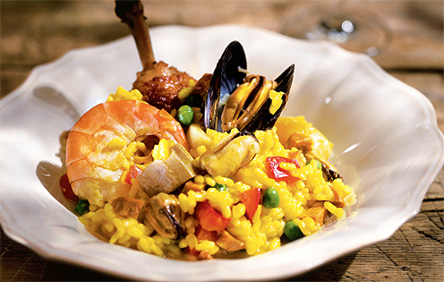 You don't even need to visit Spain to get a slap-up paella meal. Tourists these days can order paella on their Greece or Turkey holidays– anywhere!
Naturally Valencia would be the first port-of-call as the regions inhabitants adamantly lay claim to the dishes creation. But what about further afield? Up and down the Spanish east coast for example, towards Barcelona and the Costa del Sol, where millions of us spend our summer holidays each year? Which resorts, towns, small villages scoop up portions of 'paella perfection' amidst a backdrop of picturesque splendour? Where are the best places to dig your spoon into a full paella bowl?
Here are five of our favourite places to pick up paella:
1) Barcelona, Catalonia- Las Ramblas
Any visit to Barcelona must include a steady stroll down Las Ramblas. The prices of meals in Las Ramblas are generally a little higher compared to lesser frequented tourist destinations in Barcelona, so expect to pay more for paella in lavish restaurants here. However there are dozens of food stalls to be found walking along the strip; each offering a range of traditional Spanish foods including small bowlful's of paella!
2) Lloret de Mar, Catalonia
Situated in Catalonia, 75 kilometres outside Barcelona, Lloret de Mar is one of the most popular holiday resorts along the Costa Brava. Of course with a resort of this size and popularity, there are plenty of bars and restaurants awaiting hungry tummies. The most expensive places tend to be found along the sea front, so as a general rule: 'the further away from sea, the cheaper it be!'
3) Benidorm, Alicante
Its two main beaches: playa de poniente and playa de levante are among the most popular along the White Coast (Costa Blanca) and arguably remain the resorts biggest attraction. Yet there are golf courses, water parks and shopping malls located in and around the resort too: basically there's something for everyone in Benidorm!
4) Benalmádena, Malaga
Located 12 miles west of Malaga, Benalmádena is fast becoming one of Spain's most premier holiday destinations. Probably one of the most popular attractions in Benalmádena is its marina bay, home to hundreds of luxurious yachts and boats. There are dozens of restaurants, bars and shops to be found here too. The promenade walk-way is also populated with Spanish and Moorish restaurants, offering tourists slap-up meals on the cheap but also romantic views of the sea (especially during evening twilight hours).
5) Calpe, Alicante
It's no surprise this place is slowly becoming more and more popular with tourists: its white sandy beach is far less crowded than other playas along the Costa Blanca and the views atop of the steep lying cliffs deserve photographic attention.
Yet Calpe isn't all about the beach and panoramic cliff views. The town is also home to well-preserved Roman and Arab historical sites; perfect for culture vultures and family's who dig a bit of archaeology.
All-in-all Calpe is the ideal place for a paella de marismo (seafood paella).