Sun, sea, sand and cigars; holidays in Cuba are more a revelation than a revolution these days! Cuba has become one of the most sought after tourist destinations in the world and travellers head there in droves to take in the country's stunning tropical climate and scenery, pick up on that South American vibe, dance the night away to salsa music and unwind at the end of it all with a glass of Cuban rum on the beach.
For many travellers, finances put a dream holiday to Cuba out of reach, but not any longer thanks to On the Beach's Viva La Blog! competition. Entrants could be in with the chance of winning our top prize of an once-in-a-lifetime two-week, all-inclusive holiday for two in Cuba at the beautiful 4-star BlueBayCayo Coco resort!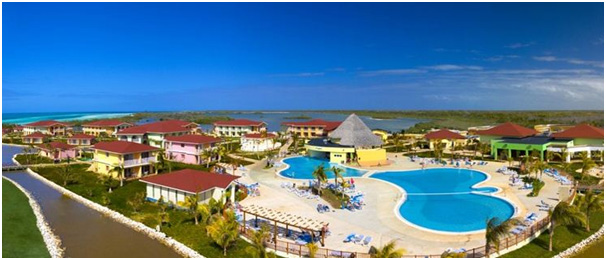 That's not all! We'll also be awarding two runner up prizes of holiday vouchers worth £200 to put towards your next vacation to the entrants who get the most 'votes' across the social networks Twitter, Facebook, Digg, Reddit, Delicious, StumbleUpon and even your own blog comments. Any time someone bigs up your blog, or re-blogs it, we'll count that as a vote towards your entry, so make sure your social networks see your blog to increase your chances of winning!
These prizes sound too good to be true – surely you'll have to do something difficult or complicated to win, right? Wrong! All we want from you is to write your own "Motorcycle Diary" -a blog of at least 300 words on the subject of "saving money on holiday" and you could be winging your way to Cuba at the start of July.
Entry Requirements:
You must write a completely original blog post on the topic of "saving money on holiday" and publish it on your blog.
To submit your entry you need to have a Twitter account, follow @onthebeachuk and tweet "I'm blogging for a chance to win a trip to Cuba with @onthebeachuk" along with a short form link to your blog post (we recommend services such as bit.ly)
Your blog must have been live since April..
Your competition blog entry must include "I'm blogging for a chance to win a trip to Cuba with On the Beach! Check out their competition at the On the Beach blog." This can either form part of your overall blog or can be in your introduction to your blog post – please ensure you include both links.
The word count of your blog must be no less than 300 words and no more than 800 words.
You must be available to travel between 7 July and 21 July, to fly from Manchester.
The competition is open now, closing on 16 June 2011, so get your thinking berets on, your finger tips on your keyboard you could soon be in Havana Heaven! Good luck!
Entries So Far

1. Squeaky Baby
11. Final Transit
12. Pommie Travels
15. Frag Like A Girl
Terms and Conditions
The Promoter(s) of the competition are On The Beach Limited, Spectrum House, Towers Business Park, Wilmslow Road, Didsbury, M20 2SE
Participants enter the competition by writing a blog post on their own blog as specified above, and tweeting a link to it to @onthebeachuk.
The following persons are not eligible to enter the Competition: (i) employees, volunteers, interns of any business involved or associated with the Competition (including On the Beach and its associated companies and partners) and (ii) any such person's family or household members. On the Beach reserves the right to verify the eligibility of all entrants.
Incomplete entries, those that are not in accordance with the entry instructions or those are received after the closing date will be invalid.
Multiple entries per person are permitted, each entry must be on a separate blog you own.
The winner will be selected and contacted via Twitter by the 16th June 2011.
Shortlisted entrants will be selected and contacted between the competition closing date and the 16th June 2011.
The two shortlisted and winning blog posts will be featured on the On the Beach blog.
The winner's name will be made available on the website on/after 16th June 2011.
The competition opens on Tuesday 31st May 2011 and closes on Monday 16th June 2011, 6pm (GMT)
Your entrance to this competition constitutes acceptance of these Terms and Conditions, competition rules as published on the competition page and our Policy on Privacy and Use of Information.
You agree to use this site only for lawful purposes, and in a manner which does not infringe the rights of On the Beach, or any third party (including without limitation any Plan partner, sponsor or sponsored children) or the use and enjoyment of the site by any third party.
On the Beach can change these Terms and Conditions at any time by posting changes online under this section "Terms and Conditions". Your continued use of this site after changes have been posted constitutes acceptance of the modified terms.
On the Beach takes no responsibility for the content of external Internet Sites linked to or cited as part of this competition. The author bears full responsibility for the accuracy of the entry's content.
Any communication or material (including without limitation any data, questions, comments and suggestions) that you transmit to, or post on any public area of this site (including without limitation uploaded photographic material and text captions), may be treated by On the Beach in all respects as non-confidential and non-proprietary information unless otherwise stated by On the Beach. We reserve the right to remove without notice any material posted in any public area of the site.
Competition entrants participate in the competition and any prizes or post event publicity at their own risk.  In particular, the winner of any foreign trip accepts that taking part in such a trip involves a degree of personal risk and they will need to take out appropriate insurance to cover insurable risks, but that this cannot cover every eventuality. Except for death or personal injury arising through On the Beach's negligence, On the Beach shall in no event be liable for any loss, injury or damage suffered by any competition entrant, winner or runner up including, without limitation, loss of income, damage to property or lost and delayed entries, personal injury or any indirect or consequential damages whatsoever arising from or in connection with their entry in the competition, their use or enjoyment of any prizes awarded, including participation in any prize trips or post-event publicity or any other aspect of their involvement in the competition.
You must be 18 years old or over on the date you enter the competition.
Entries must be original content.
We make every attempt possible to safeguard your details given to us via our website and unless otherwise stated or agreed, will not make it available to anyone without your consent. By providing your personal data to us you are consenting to its use in accordance with our Privacy Policy.
These Terms and Conditions shall be governed by and construed in accordance with the laws of England and Wales. Any disputes shall be subject to the exclusive jurisdiction of the Courts of England and Wales.
COPYRIGHT
The copyright of all contents on this website is owned by On the Beach with the sole exception of participant blog posts for which copyright remains that of the author.
By entering the competition you grant to On the Beach a non-exclusive, worldwide, irrevocable, sub-licensable right to use any photographs you submit as your entry (the "Entry") (without payment to you or any third party), for a period of five (5) years after you submit your Entry, for publicity and marketing purposes to promote Plan UK, as follows:

To publish, make available to the public, display, reproduce, distribute and otherwise use your Entry in any and all media (whether now known or invented in the future) worldwide.

To host, store, copy, modify, adapt, edit, translate, create derivative works from, incorporate into other works and/or otherwise treat in any way your Entry at On the Beach's discretion.

On the Beach will identify you as the creator or author when your entry appears on any and all media, for example, by displaying your name or any photograph of you that you may have submitted.

To sub-licence their rights in your Entry to third parties in the normal course of their business, for example, publishing the winning or shortlisted Entries on partner websites.

The name of the winners will be available until December 2011 and can be obtained by sending a request and return SAE to the On the Beach address above.
PRIZES
There are no cash alternatives for prizes. Prizes are transferable.
Prizes are subject to change without notice and we cannot guarantee that the prizes advertised will be the prizes received. We will do everything in our power to ensure as little variation as possible.
In the event of unforeseen circumstances On the Beach reserves the right to offer an alternative prize.
Where applicable, we will always send prizes via special delivery requiring a signature on receipt. Whilst we will make every effort to deliver your prize to you On the Beach will not be held responsible in the event of a prize becoming lost in the post.
The judge's decision is final. We will not enter into any disputes or discussions regarding the winning entry.
Winners must claim (accept) the prize by 1st July 2011. How to claim details will be provided with the winner's notification.
In the event a winner fails to claim (accept) a prize within the time limit or is otherwise disqualified from the draw, that prize will be withdrawn and given to the first runner up.
Main prize one (1) winner will be selected and will be awarded the following prize:

1 x trip for two people to Cuba:

Return flights for two (2) people to Cuba from Manchester

All meals and soft drinks provided
The winner will be responsible for:

Travel costs to Manchester.

Ensuring that the contact, travel and immigration details and status provided are accurate and will remain accurate for the duration of the trip.
Second prize two (2) winners will be selected and will be awarded the following prize:

1 x holiday vouchers worth £200
PRIVACY POLICY
We respect your privacy. Usage of personal information is outlined below.

To communicate with you in relation to this or future competitions.

For market research and tracking of sales.

We need to collect and process personal information about you. We will not disclose any personal information without your permission unless legally entitled to do so. By agreeing to our Terms and Conditions you will be treated as having given your permission for disclosures referred to in this policy.