Margaret Lees, a member of our lovely team here at On the Beach, recently returned to sunny Majorca for a special anniversary weekend. She shares her experiences with us in her Melia Calvia Beach review…
Melia – one of the largest hotel companies in the world – have recently opened a beautiful new hotel right on the beach: the 4* Melia Calvia Beach. With the hotel only just opening, we were lucky enough to bag ourselves a very special offer and treated ourselves to an upgrade to Junior Suite.
After a quick flight from the UK on Friday morning, we were speedily checked in and taken to our suite on the 9th floor – by 11 o'clock!  Wow… it had everything; a massive bed, a huge walk in shower and, wait for it – a full size bath tub with a view of the bay.  The cool cream and brown decor was very sophisticated.  Even the toiletries were top class Agua de Lowe.  And that's all before you venture outside onto the massive balcony with a view of the bay… it was just incredible: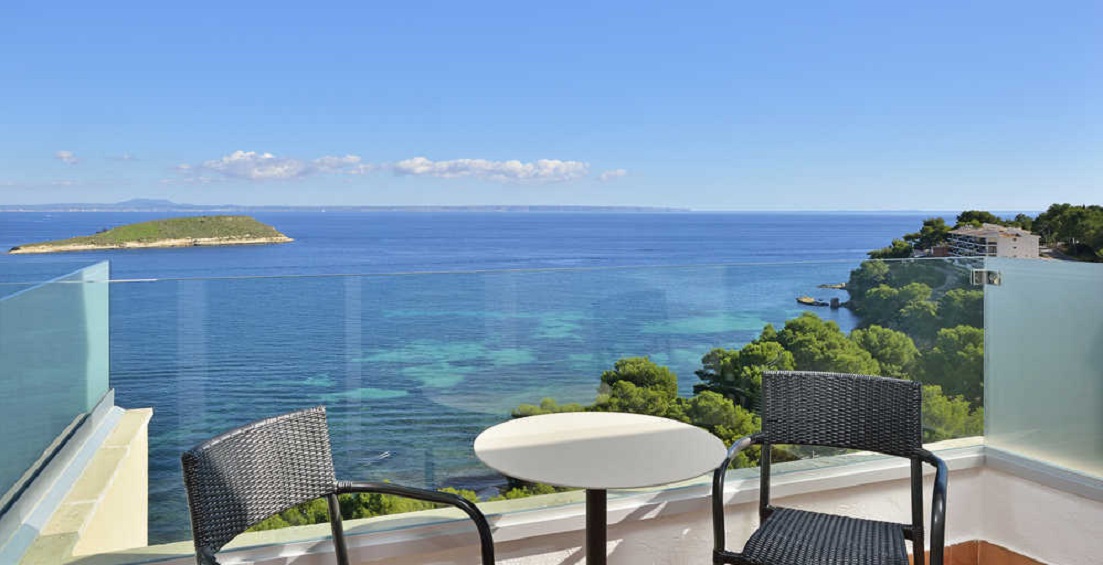 We could hardly bear to leave the room, but after a quick coffee from our own Nespresso machine, we were off to explore. A quick dip in the huge lagoon pool and a lazy day unfolded. Sunbathing, swimming and walking on the beach; we even dined on the beach on seafood, jamon iberico and the best tortilla we have ever eaten.
Saturday dawned hot and sunny again and we laid in bed just gazing at the view before venturing down to investigate breakfast.  Wow! Everywhere we went in this hotel we just kept saying… Wow!
Set out towards a little market, where there was everything we could possibly want: fresh fruit salads served in dinky little pots, breads, cheeses, hams, smoked salmon, cereals, yoghurts and even a chef to freshly prepare pancakes, omelettes and  even a full English breakfast, should you wish! To top it off, it was all served on a massive terrace overlooking the beach.  It was tempting to stay for one more coffee, but chatting to the friendly waitress (all the staff were relaxed and happy), we made another discovery… Our special room also gave us access to "The Level"; an exclusive club with its own terrace, luxury sun beds and another pool.   We were starting to feel very spoilt and that's before we discovered the concierge serving free soft drinks.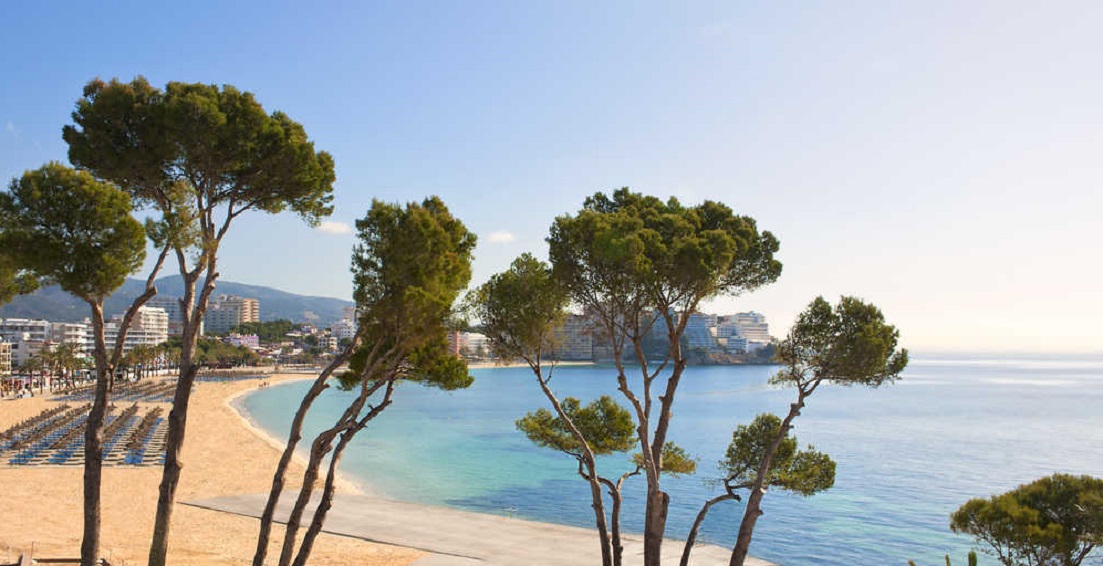 We managed a walk to Palma Nova to explore and walk off our rather generous breakfast.  We had a beer in the shade and then made our way back to our luxury terrace for a sunbathe and another swim in the sea.   5 o'clock brought another unexpected surprise, a glass of wine and some very classy canapés… all on the house. Melia Calvia Beach certainly know how to treat their guests!
Managing to tear ourselves away, we caught a quick bus into Palma City to explore the narrow, medieval, winding streets behind the cathedral. This island is so special to us; it was in Cala Deia in the mountains 6 years ago that we became engaged with a romantic proposal on the beach and 5 years ago we returned for our wedding night.  It's was lovely to stroll and reminisce down the quiet streets before dining on tapas in our favourite restaurant.
Our final full day was our anniversary and we augmented our wonderful breakfast with some bucks fizz to toast each other. Having retired to our VIP Level, we found that Sunday brought a new treat: people-watching.  One by one we watched luxury yachts come into view round the headland and moor in the sea beneath the hotel.  Tenders ferried their millionaire occupants to the super exclusive Nikki Beach Club just next to our hotel, where the rich and famous party the day away before being whisked back to their yachts before sailing off into the distance.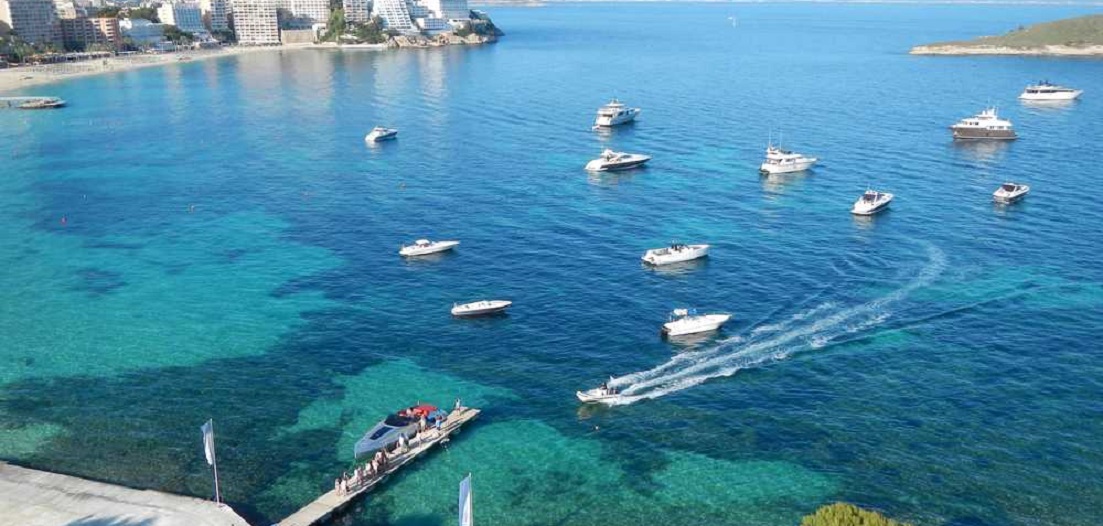 We didn't need a luxury yacht because we were being so spoilt by Melia Calvia Beach! By evening we were dining on champagne and canapés so beautiful it seemed a shame to eat them; tiny pieces of lobster, miniature burgers and cute mini dishes of cheese and olives.
We dined in the hotel on beautifully presented dishes and afterwards sat at the bar chatting to our fellow guests with a glass of wine.  Everyone we spoke to was delighted with the hotel and even those who hadn't upgraded to a room as posh as ours reported their rooms were also stunning with massive televisions (we had one too but were too busy to switch it on!), luxury beds and bathrooms.  Nearly every room had a magnificent sea view set off by the gleaming glass balconies.  There was an indoor pool, a brand new gym, luxury spa and even spinning bikes on the terrace which a fellow guest was using to train for an iron man event.  Kids could share a beautifully equipped kids club with their own nannies to entertain them.
Monday – our final day – came all too quickly, but we managed just one last delicious breakfast before we left (even cheesecake added to the feast today) and then we were whisked back to the airport.  The real world seems very… well real and Melia Calvia Beach like a beautiful dream.
Have you stayed at this hotel too? Let us know your thoughts on our Melia Calvia Beach Review!