Join us on a trip around Malta and Gozo to explore the culinary delights that make the islands' food and drink scene irresistible. Using the Malta Gastronomy Trail below, we've picked out our favourite venues where you can experience traditional Maltese cuisine and revel in the fresh produce that the islands pride themselves for.
Warning: If you're feeling hungry now, you might find yourself on a flight to Malta by the end of this article…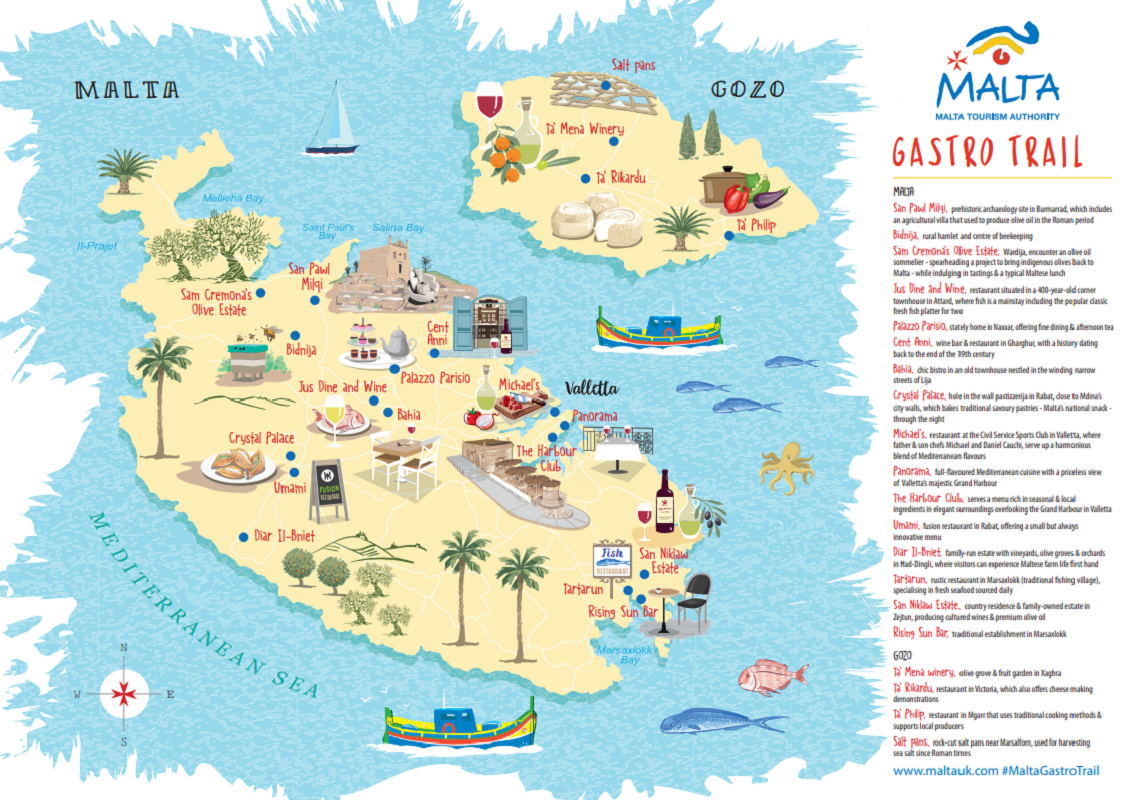 Diar Il-Bniet
Experience Maltese farm life at Diar Il-Bniet, a family owned estate filled with history, olives and rich dishes made from hand-picked produce. If you're simply looking for an excellent restaurant serving traditional Maltese delicacies, this property's dining venue will blow you away. With a menu for every mood and time of day, there is an array of dishes to be discovered. The chefs aren't the only ones cooking on the estate, as they offer cooking classes and courses so you can learn the magical ways of cooking Maltese cuisine.
Cent Anni
A piece of history, premium wine bar and delightful restaurant all in one. Located in the small town of Gharghur, Cent Anni is a beautifully rustic venue dating back to the 19th Century. Wine connoisseurs can revel in the choice of over 170 boutique bottles, sourced from individual producers. For foodies, the restaurant serves fine meals made with locally sourced produce and platters featuring exclusively imported meats and cheeses. Keeping its original décor alive, this is a perfect choice for an intimate evening with friends, family or loved ones, with delicious cuisine and wines to sample together.
Crystal Palace
A quaint pastizzerija in Rabat, Crystal Palace (in no relation to the Premier League team…) is the place to go to discover Malta's savoury snacks, pastizzi. This is no Greggs we're talking about, these little pockets of pastry are usually filled with ricotta cheese or mushy peas and are something quite special. With an age of over 100 years, this small establishment is a national gem and finds customers from over the island travelling there for the handsomely hand-made bites. Aside from the scrumptious product being sold, the pastizzerija's charm is a great presence, being passed down through generations of a family and open through the night, closing only for two hours a night on weekdays.
Tartarun
Serving fresh fish from the Mediterranean sea, Tartarun is a family run restaurant located in Marsaxlokk, a traditional fishing village in the South East. The seafood and fish are sourced daily, so no matter what you choose off the menu, you know you are eating one of the freshest meals you've ever enjoyed. From traditional twists to exclusive specials, there is a reason why Tartarun is so highly recommended.
Ta' Philip
Ta' Philip is considered one of, if not the best restaurant on the island of Gozo. Located near the harbour in Mgarr, the menu focuses on Maltese, Gozitan and Mediterranean specialities. Suckling pig, fresh fish and home-made soups of the day are just some of the previous items on the menu, all served in a relaxing atmosphere. The establishment also supports local producers, so you know that you're getting the true taste of Gozo.
If this has left your mouth watering as much as it has ours, take a look at our favourite places to stay in Malta.